IFOY Patronage
IFOY Sponsor
The VDMA Materials Handling and Intralogistics Sector Association is sponsor of the International Forklift Truck of the Year (IFOY).
IFOY Partner
The world's leading trade fair for industrial technology.
CeMAT, the world's leading fair for intralogistics, is an exclusive IFOY partner and the platform for the award presentation.
CHEP is official partner of the IFOY Award.
Fronius International GmbH is official partner of the IFOY Award.
TX3 3-wheel counterbalance truck

UniCarriers Europe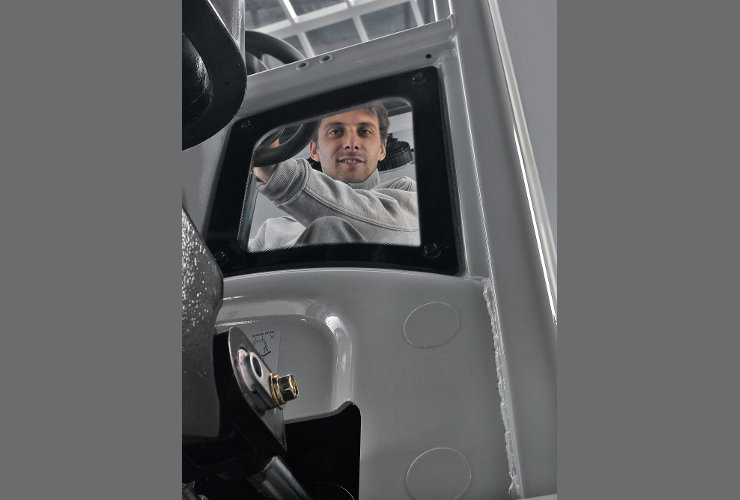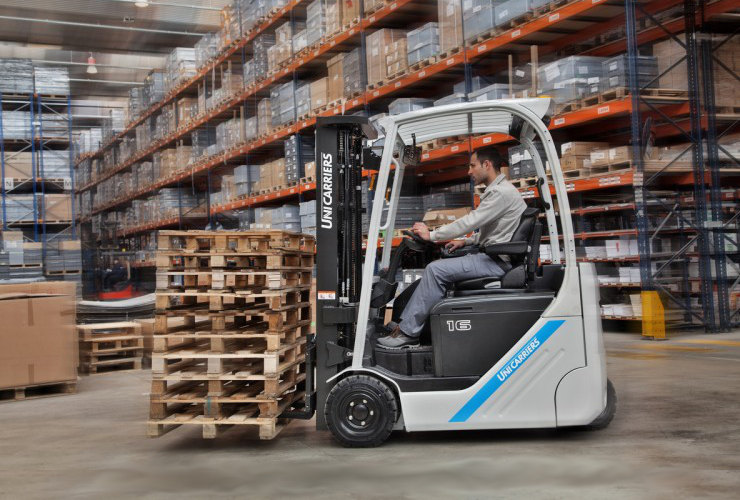 Einfacher Einstieg
UniCarriers
IFOY-Kategorie
Counter Balanced Truck
Zusammenfassung
Der neue TX Gegengewichtsstapler rückt den Fahrer in den Mittelpunkt. Charakterisiert ist er durch einen niedrigen Energieverbrauch, hervorragende Ergonomie und hohe Handhabungseffizienz. Dies macht ihn zu einem der wirtschaftlichsten Elektro-Gegengewichtsstapler auf dem Markt.
Der TX hebt viele Sicherheits- und Ergonomiefunktionen auf ein neues Niveau. Das Chassis ist präzise auf den Fahrer zugeschnitten und bietet ergonomisches Design und Komfort der Spitzenklasse. Das Design von Mast, Fahrerschutzdach und die transparente Instrumententafel wurde nach dem UniCarriers ProVision Concept entwickelt und optimieren die Rundumsicht für den Fahrer. Diese erleichtern die sichere Bedienung und ermöglichen somit einen höheren Warendurchsatz.
Beschreibung
Mit der neuen TX-Serie bietet UniCarriers seinen Kunden eine multifunktionale Staplermodelreihe für den Innen- und Außeneinsatz an.
Die drei- und vierrädrigen Elektro-Gegengewichtsstapler von 1,3t bis 2,0t sind für unterschiedliche Mehrzweckanwendungen geeignet.
Die neue TX-Serie passt perfekt in ein breites Anwendungsspektrum und bietet eine Produktivitätssteigerung bei gleichzeitig geringem Energieverbrauch, hohem Fahrerkomfort und geringem Wartungsaufwand.
Das von UniCarriers entwickelte ProVision-Konzept wurde bei der Konstruktion von Chassis, Fahrerschutzdach und Mast verwendet, wodurch der Fahrer eine 360°-Ansicht erhält. Die niedrige Instrumententafel und die beiden Fenster in der Frontplatte, die eine zusätzliche Sicht ermöglichen, sind bisher einzigartig auf dem Markt. Die für die TX-Serie entwickelten ProVision-Lösungen optimieren die Sicht des Fahrers auf die Gabelspitzen und die wichtigen Ecken und Kanten einer Ladung.  Dadurch lassen sich Palletten besonders präzise und sicher zu handhaben. Darüber hinaus reduziert das neuartige Design den toten Winkel um rund 10 Prozent. Der neue Triplex-Mast, die schlanken Fahrerschutzdachsäulen und die abgeschrägte Vorderkante des Daches tragen zu einem optimalen Sichtfeld bei.
Der Einstieg ist niedrig, der Kabinenraum geräumig und mit vielen Funktionen ausgestattet, welche dem Bediener einen höchst ergonomischen Arbeitsplatz bieten. Der Fahrer kann somit den ganzen Tag einen erhöhten Komfort genießen, selbst für große Fahrer bleibt dabei jede Menge Beinfreiheit.


Video: UniCarriers' new TX3 - 48V electric 3-wheel counterbalance truck
---
Datenblatt
Gerätetyp
Technische Daten (alle Geräte)
| | |
| --- | --- |
| Antrieb | Elektro |
| Tragfähigkeit | 1600 kg |
| Eigengewicht | 3120 kg |
| Bedienung | Sitz |
| Fahrgeschwindigkeit mit Last | 16 km/h |
| Fahrgeschwindigkeit ohne Last | 16 km/h |
| Hubgeschwindigkeit mit Last | 0.43 m/s |
| Hubgeschwindigkeit ohne Last | 0.58 m/s |
| Senkgeschwindigkeit mit Last | 0.53 m/s |
| Senkgeschwindigkeit ohne Last | 0.53 m/s |
| Max.Hubhöhe | 4750 mm |
| Energieverbrauch nach VDI-Arbeitsspiel | 4.2 kWh/h |
| Elektro-Trucks | |
| Batteriespannung | 48 V |
| Batteriekapazität | 625 Ah |
| Batterieanschluss | DIN FEM 320 MALE |
| Batteriegewicht | 856 kg |
| Leistung Fahrmotor | 5.5 kW |
| Leistung Hubmotor | 9.3 kW |
| Schlepper | |
| Nennzugkraft | N |
| Kommissionierer/Kombigeräte | |
| Max. Greifhöhe | mm |
Sonstiges
Innovationen
Um den Marktbedürfnissen gerecht zu werden und einen echten Kundennutzen zu erzielen, war UniCarriers gefordert, neue Konzepte für Rundumsicht, Energieverbrauch und Ergonomie zu entwickeln und diese in der Gestaltung der neuen Serie anzuwenden.
Um das Fahrerlebnis zu verbessern, verfügt der neue TX eine perfekter Ergonomie für den Fahrer. Das Betreten des Staplers ist einfach, der Fuß wird durch eine niedrige erste Trittstufe getragen, ein spaltförmiges Oberschutzgitter bietet Kopffreiheit und eine schlanke Lenkradsäule bietet zusätzlichen Platz für die Beine.
Der Fahrer fühlt sich im TX sicher. Dank der brandneuen vollelektrischen Servolenkung ist das Fahrgefühl im Stapler ist überragend: der TX reagiert mit präzisen Bewegungen.
Es gibt zwei verschiedene intelligente Lösungen für die Steuerung der TX-Serie.
Der Standard: ein vollelektrisches Lenksystem mit einem herkömmlichen Lenkrad. Unterstützt wird es durch eine proportionale Kraft-Rückkopplungslösung, die dem Fahrer hilft, den Stapler bei hohen Geschwindigkeiten in einer geraden Linie zu halten und somit das Kurvenfahren intuitiv zu gestaltet.
Die Option: eine einzigartige Lösung: die bewährte UniCarriers Ergonomie-Lösung – eine freischwingende Armlehne mit Mini-Lenkrad. Dies ermöglicht müheloses Manövrieren in langen Schichten und schont somit Arme, Nacken und Schultern.
Schließlich wurde die Betriebssicherheit mit der Einführung einer vollelektrischen Parkbremse erhöht. Die Bremse wird automatisch bei Stopps betätigt und ermöglicht es, den Stapler auf einer Rampe vollständig anzuhalten und die Bremse durch eine einfache Wiederanlauffunktion zu lösen. Wartung, Fahrbarkeit und Effizienz wurden somit durch das Entfernen der mechanischen Bremse verbessert.


Marktrelevanz
Sicherheit ist zweifellos die wichtigste Anforderung aller Staplerkunden. Unser neuer elektrischer Gegengewichtsstapler ist extrem vielseitig einsetzbar - sowohl in der Fertigung als auch in der Handelsindustrie - Innovationen im Bereich sind ein entscheidender Wettbewerbsvorteil.
Um die Sicherheit durch eine verbesserte 360°-Rundumsicht zu unterstützen, hat UniCarriers das ProVision-Konzept entwickelt. Die revolutionärste Innovation in diesem Konzept ist die durchsichtige Frontplatte mit zwei Fenstern, die eine direkte Sicht auf die Palettenkanten ermöglicht. Tests, die von unabhängigen Unternehmen durchgeführt wurden, haben gezeigt, dass dies einen neuen Standard in der Welt der Gabelstapler setzen könnte.
Der zweite Schwerpunkt für die Kunden ist die Produktivität, und als Premium-Anbieter von produktiven Flurförderzeugen entwickeln wir unsere Produkte für Flottenbesitzer, für die ein sicherer und zeitsparender Betrieb entscheidend ist. Dabei müssen jedoch Sicherheit und Produktivität stets Hand in Hand gehen.
Das Handling der Last ist jenes Risikoelement, das sowohl sicher als auch produktiv sein muss. Der neue TX verfügt über eine brandneue Hydrauliksteuerung.
Die mechanischen Hebel, die freischwingende Armlehne mit Fingertipp-Bedienhebeln, Monohebel oder Ergologic Joystick stehen ganz im Zeichen der Ergonomie – ohne jede Kompromisse.
Das Design des Ergologic Joystick wurde auf der Grundlage wissenschaftlicher Erkenntnisse über die ergonomische Arbeitshaltung optimiert, beginnend mit der Neutralen Körperhaltung (NBP), die der menschliche Körper in der Schwerelosigkeit natürlich einnimmt. Die NASA führte mit Skylab, der ersten amerikanischen Raumstation, Forschungen über NBP durch und veröffentlichte später Spezifikationen dafür. Der ergonomische Joystick ermöglicht es dem Bediener, in einer neutralen Körperhaltung zu arbeiten, indem er Arm, Hand und Finger in einer entspannten Position hält. Dadurch wird die Belastung von Gelenken, Muskeln und Sehnen minimiert.


Kundennutzen
Der TX ist ein vielseitig einsetzbarer Stapler und ist für Kunden in folgenden Bereichen relevant:
Sicherer Betrieb, immer und überall.
Rundumsicht: die Vorteile des ProVision-Konzepts wurden bereits beschrieben.
Energieeffizienz zur Optimierung der Stapler-Nutzung.
UniCarriers bietet die energieeffizienteste ECB ihrer Kategorie (Prüfzyklus nach VDI 2198, 60 Zyklen). Kunden können mit einer Batterie länger arbeiten und somit weniger Geld für kWh pro Palettenbewegung ausgeben.
Und am wichtigsten, da die Kosten für die Fahrer den größten Teil der Gesamtbetriebskosten (TCO) ausmachen, haben wir eine breite Palette innovativer Ergonomie-Lösungen entwickelt, um die Vorteile eines gesunden und produktiven Fahrers zu nutzen.
Die neueste Ergonomie-Innovation für Stapler: eine freischwingende Armlehne mit Mini-Lenkrad, die ab sofort für die gesamte TX-Serie erhältlich ist.
Als einziger Anbieter dieser Lösung für Schubmaststapler und Fahrersitzstapler haben wir uns entschieden, die Messlatte für einen ergonomischen Gabelstaplerarbeitsplatz höher zu legen und sind nun bereit, unsere einzigartige Lösung auch für Gegengewichtsstapler einzuführen.
Das einzigartige Benutzererlebnis, einen Gegengewichtsstapler mit schwimmender Armlehne und Mini-Lenkrad zu fahren, wird die Art und Weise, wie wir Stapler in diesem Segment betreiben, neu definieren.
Der Fahrer hat die einmalige Möglichkeit eine völlig neutrale Körperhaltung (NBP)im Arbeitsalltag zu erreichen. Beide Arme des Bedieners ruhen auf den Sitzarmlehnen und bieten maximalen Komfort bei minimaler Belastung von Gelenken, Muskeln und Sehnen.
Aufgrund der umfangreichen Erfahrungen aus dem Einsatz der freischwingenden Armlehne mit Mini-Lenkrad im Bereich der Schubmaststapler präsentieren wir ein noch präziseres Fahrerlebnis, sowohl bei niedriger als auch bei hoher Geschwindigkeit. Um ein Höchstmaß an Sicherheit besonders bei hohen Geschwindigkeiten zu gewährleisten, wurde das Fahrerschutzdach um einen Sicherheitsbügel erweitert, welches den Fahrer im Falle eines Frontalaufpralls schützt.
Sonderausstattung (IFOY Test-Gerät)
Der IFOY-Testtruck ist eine typische UniCarriers-Kundeneinheit. Nchfolgend die optionalen Komponenten:
Triplex-Mast 3F475
4 Hydraulikfunktion
Fingerspitzen-Bedienhebel
Bewegliche Armlehne mit Mini-Lenkrad
Integriertes, gut sichtbares Zinkenverstellgerät
Anzeige für horizontale Gabeln + Schalter für horizontale Gabeln
- Nicht herstellende Reifen
Batteriewechselsystem für elektrische Handpalette*.
Halbkabine (Front- und Rückwand)
Batteriehaubenabdeckung
Hoher Komfortsitz
Neigezylinderstiefel
Rote Rückleuchte, hinterer Arbeitsscheinwerfer, Beacon
USB-Ladebuchse
Panoramaspiegel
*TX ist auf einem Chassis aufgebaut, das es dem Bediener ermöglicht, die Batterie mit einem Handgabelhubwagen oder einem Elektrogabelhubwagen auszutauschen, ohne dass zusätzliche Ausrüstung erforderlich ist. Optional ist eine eine klassische Rollenbahnlösung für eine perfekte Integration in jede gängige Batteriewechselanlage im Angebot.
TX3 3-wheel counterbalance truck

UniCarriers Europe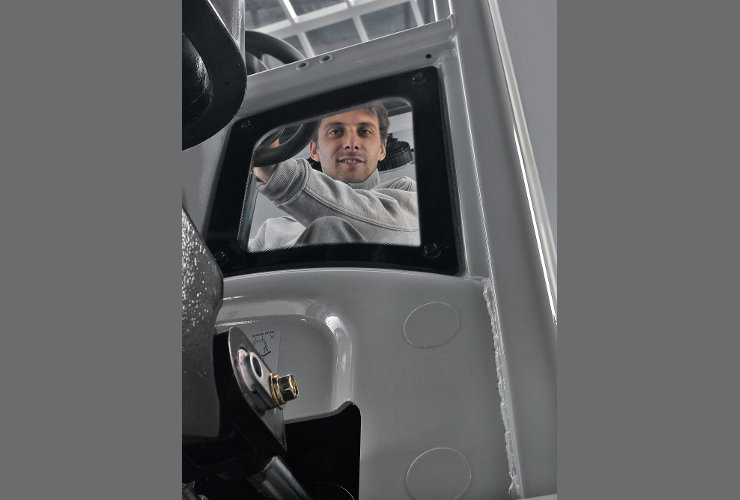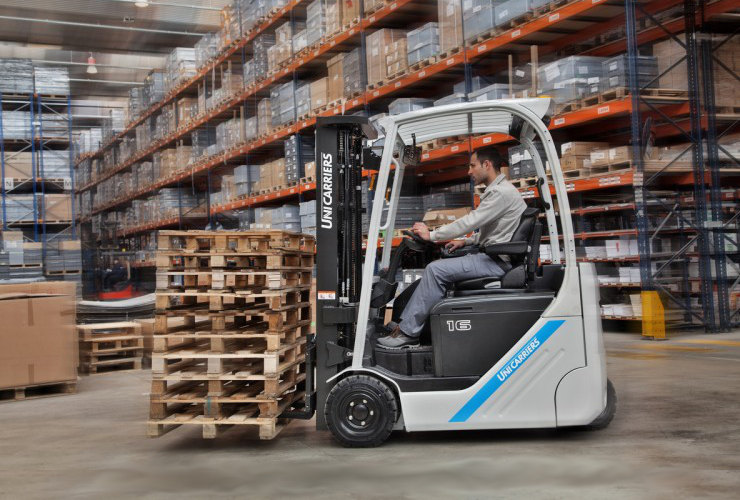 IFOY Category
Counter Balanced Truck
Summary
The new TX Counterbalance is characterized by Low Energy Consumption, excellent Ergonomics and high handling Efficiency. This makes it one of the most economical electric counterbalance truck ranges on the market.
It boosts many safety and ergonomic features to new interesting standard levels. The body of the TX has been tailored to the driver with precision and offers top class ergonomic design and comfort. The design of the mast, overhead guard and the transparent instrument panel is developed according to the UniCarriers ProVision Concept and optimizes the all-round visibility.
Description
With the new TX series, UniCarriers offers a multifunctional range for indoor and outdoor use. The three and four wheel electric counterbalance trucks from 1.3t to 2.0t are typical for multipurpose applications.
The new TX series fits perfectly into the wide range of applications required and offers an increase of productivity with low energy consumption, high comfort and low maintenance.
The ProVision concept, developed by UniCarriers, has been used in the design of the chassis, overhead guard and mast, giving the driver the benefit of a 360° view. The low instrument panel and the two windows located in the front panel, allowing additional visibility, are unique in the market to date. The ProVision solutions adopted on the TX series optimise the driver's view of the fork tips and the important edges and corners of the load. The result is the ability to handle goods in an exceptionally precise and safe manner. In addition, the novel design reduces the blind spot by around 10 per cent. The new Triplex mast, the slim overhead guard columns and the roof's chamfered front edge also provide an optimal field of vision.
The entry steps are low, the cabin room is spacious with lots of ergonomic benefits, providing the operator a true place of work. The truck driver can now enjoy an elevated level of comfort during a full work day, and there's plenty of legroom for tall drivers too.
Video: UniCarriers' new TX3 - 48V electric 3-wheel counterbalance truck
---
Data Sheet
Truck Model
Technical Data (all trucks)
| | |
| --- | --- |
| Truck Type | electro |
| Lift capacity/load | 1600 kg |
| Truck weight | 3120 kg |
| Operation | seated |
| Driving speed with load | 16 km/h |
| Driving speed without load | 16 km/h |
| Lifting speed with load | 0.43 m/s |
| Lifting speed without load | 0.58 m/s |
| Lowering speed with load | 0.53 m/s |
| Lowering speed without load | 0.53 m/s |
| Max. lift height | 4750 mm |
| Power consumption according to VDI cycle | 4.2 kWh/h |
| Electro-trucks | |
| Battery voltage | 48 V |
| Battery capacity | 625 Ah |
| Battery connector | DIN FEM 320 MALE |
| Battery weight | 856 kg |
| Drive motor | 5.5 kW |
| Lift motor | 9.3 kW |
| Tow Truck | |
| Nominal towing capacity | N |
| Orderpicking/Combitrucks | |
| Max. picking height | mm |
Miscellaneous
Innovations
To meet the requirements and bring true customer value, UniCarriers was forced to invent new concepts in key areas such as visibility, energy consumption and ergonomics, and apply them in the design of the new range.
To improve operator experience, the new TX welcomes the driver with perfect ergonomics.
Entering the truck is easy, the instep is supported by a low first step, a cleaver shaped overhead guard providing head clearance, a slim steering wheel column giving extra space for the legs.
An operator in the TX feel safe, operating the truck with precise movements and feelings at rest thanks to the brand new fully electric power steering system.
There are two different smart solutions to manoeuvre the TX series. The standard one: a full electric steering system with a conventional steering wheel. It is assisted by a proportional force feedback solution which helps the driver to keep the truck in a straight line at high speeds and makes cornering intuitive.
The Option: a unique solution: the proven UniCarriers ergonomics solution –  a floating arm rest with mini steering wheel. This allow effortless manoeuvring during long shifts, and put minimal strain on the arms, neck and shoulders.
Finally, the safety of operation has been increased with the introduction of a fully electric service and parking brake. The brake is applied automatically at stops and allows the truck to be completely stopped on a ramp with release of the brake by an easy restart function. Maintenance, driveability and efficiency has been improved with the removal of the mechanical brake.


Market relevance
Safety is without any doubt the most important implication for all customers and since the electrical counterbalance truck is so versatile and can be used in both manufacturing and in the distribution industry, the innovations linked to safety are key. To support safety through improved all-round 360° visibility UniCarriers developed the ProVision concept. The most revolutionary innovation in this concept is the see through front panel with two windows that provide direct visibility of pallet edges. Test conducted by independent companies has shown that this could set a new standard in the forklift world.
The second key area for customers is productivity and as a premium supplier of productive materials handling equipment we develop our products for fleet owners for whom a safe, time saving operation is key, but safety and productivity must go hand in hand, and load handling is a risk element that must be safe and productive. Thus, the new TX comes with brand new hydraulic controls.
The mechanical levers, the modular armrest with fingertip levers, mono levers or Ergologic joystick are all focused on ergonomics without any compromises.
The Ergologic's design has been optimised based on scientific findings regarding ergonomic work posture, starting from the Neutral Body Posture (NBP) which the human body naturally assumes in microgravity. NASA conducted research on NBP using Skylab, America's first space station, and later published specifications for it. The Ergologic joystick allows operators to work in a neutral body posture, using their arm, hand and fingers in a relaxed position. As a result, strain is minimised on joints, muscles and tendons
Customer Benefit
The TX is a multi-application truck and is relevant to customers in following areas:
Safe operation, always and all situations.
The benefits of the ProVision concept have been described earlier.
Energy efficiency to optimise truck utilisation.
UniCarriers offers the most energy efficient ECB in its category (test cycle according to VDI 2198, 60 cycles). Customers can work longer with one battery and spend less money on kWh per pallet movement.
And most important, as the cost of operators is the biggest part of the TCO, we have developed a full line of innovative ergonomics solutions to bring benefits of a healthy, productive driver.
On this topic we are pleased to present the latest ergonomics innovation, the floating armrest with mini steering wheel, now available for TX.
As the only supplier of this solution for reach trucks and sit on stackers, we have decided to raise the bar for what can be described as an ergonomic workplace in a forklift truck and are now ready to introduce our unique solution for this range of counterbalance products.
The unique user experience of driving a ECB with floating armrest and mini steering wheel will reinvent the way we operate counterbalance trucks in this segment.
What we offer is an opportunity for the driver to access a fully Neutral Body Posture (NBP).
Both arms of the operator will rest on the seat armrests and offer maximum comfort with minimum strain on joints, muscles and tendons.
Due to the extensive experience from the use of floating armrest with mini steering wheel in Reach Truck operations we present a precise driver experience, both at low and high speed. To ensure maximum safety, a safety bar has been added to the overhead guard to protect the driver in case of a front impact.
Optional items (IFOY Test Truck)
The IFOY test truck is a typical UniCarriers customer unit. Blow the main optional components are:
•    Triplex mast 3F475
•    4 hydraulic function
•    Fingertip Control lever
•    Floating armrest with Mini-Steering Wheel
•    Integrated high visibility Fork Positioner
•    Horizontal Forks indicator + Horizontal Forks switch
•    Non-making Tires
•    Battery exchange system for electric hand pallet*
•    Half Cabin (Front and rear panel)
•    Battery hood cover
•    Hight comfort Seat
•    Tilt cylinder boots
•    Red rear lamp, Rear working light, Beacon
•    USB charger port
•    Panoramic mirror
*TX is built on a chassis that allow the operator to exchange the battery with a hand pallet truck or an electric powered pallet truck, no additional equipment required. We also offer a classic roller bed solution, as option for a perfect integration to any current battery change over installation.