IFOY Patronage
IFOY Sponsor
IFOY Partner
Messe Dortmund is official partner of the IFOY AWARD.
Cascade is official partner of the IFOY AWARD.
CHEP is official partner of the IFOY AWARD.
LTG is official partner of the IFOY AWARD.
The HERMES.Wirtschafts.Forum is official partner of the IFOY AWARD.
STILL EASY Drive

STILL GmbH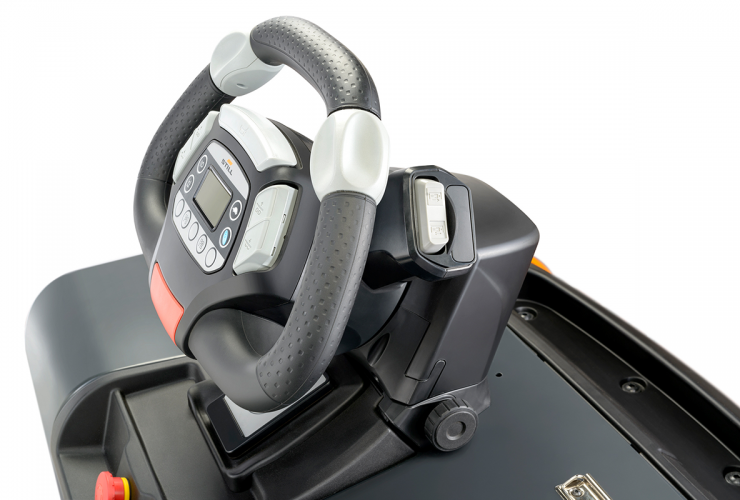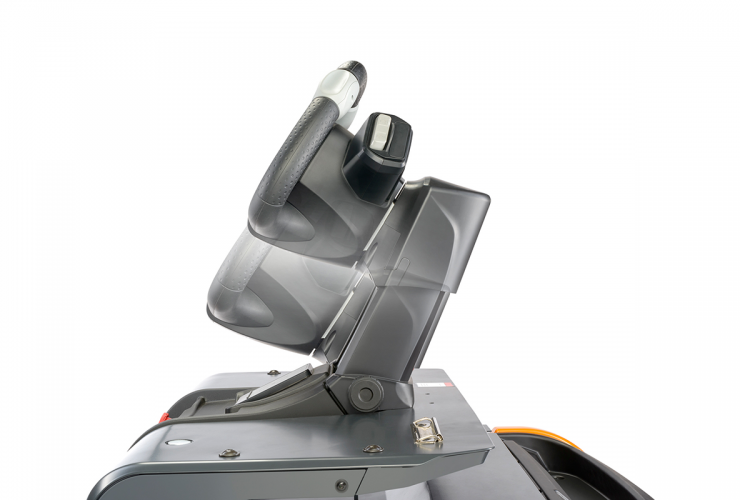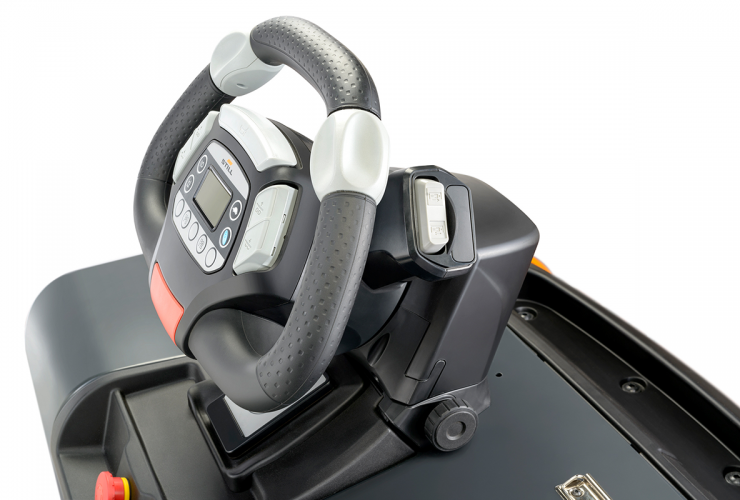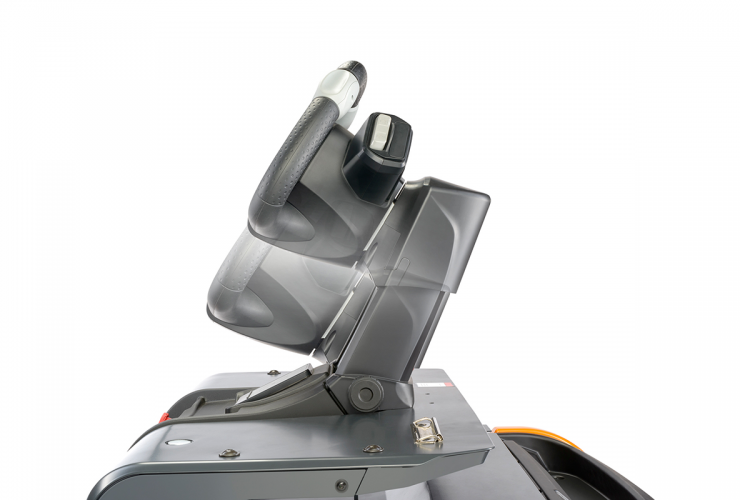 STILL EASY drive
Still GmbH
IFOY-Kategorie
Special of the Year
Zusammenfassung
STILL EASY Drive ist das neue Mensch-Maschine Interface, das Still für den Horizontalkommissionierer OPX entwickelt hat, um gewachsenen Kundenansprüchen gerecht zu werden. Es verwirklicht ein komplett neues Produktdesign, in dessen Entwicklung alle Kundenanforderungen hinsichtlich Sicherheit, Ergonomie, Komfort, Robustheit und Servicefreundlichkeit eingeflossen sind. Die spezielle Form des STILL EASY Drive ermöglicht eine Bedienung aller Funktionen, ohne dabei umgreifen zu müssen und bietet eine optimale Übersicht.
Beschreibung
Generell ermöglicht das STILL EASY Drive die Bedienung von Lagertechnikgeräten durch ein völlig neues Bedienkonzept. Still hat sich dafür entschieden, eine spezielle Lenkradform anstelle des vorherigen Deichsel-Konzeptes zu verwenden. Das neue Design ermöglicht eine einfache und intuitive Verwendung aller Funktionen auch während des Lenkens und Fahrens. Alle hydraulischen Funktionen sind mit einer Hand gleichzeitig bedienbar – egal ob Vor- oder Rückwärtsfahrt. Durch die symmetrische Anordnung gilt dies sowohl für Links- wie auch für Rechtshänder.
Das ist vor allem während des Kommissionierens von Vorteil, da der Fahrer sich voll und ganz auf das Kommissionieren konzentrieren kann, und optimiert gleichzeitig den Kundenprozess. Das mittig positionierte Display ermöglicht dem Bediener stets eine optimale Sicht auf alle wichtigen Funktionsanzeigen. Abhängig von der Fahrzeug- und Ausstattungsvariante ist das Lenkrad mit Schaltwippen ausgestattet, um neben Fahrschalter und Initialhub weitere Hydraulikfunktionen bedienen zu können. Die STILL EASY Move Schaltwippen befinden sich hinter dem Griff des Lenkrades und sind somit ebenfalls ohne umzugreifen erreichbar.
Innovation
Die größte Neuerung im Vergleich zum Vorgängermodell ist das Konzept des Lenkrades anstelle der klassischen Deichsellenkung. Neu ist auch, dass nun ein einheitliches Bedienkonzept über die komplette Baureihe zur Verfügung steht.
Die spezielle Konstruktion des Lenkradkörpers mit einem ummantelten Stahlkorpus schützt alle innenliegenden technischen Funktionen vor Gewaltschäden, Staub und Spritzwasser. Außerdem sind alle Komponenten einzeln ausbaubar und ersetzbar, es muss bei Gewaltschäden nicht mehr die ganze Bedieneinheit getauscht werden. Sollte doch mal ein Teil ausgetauscht werden müssen, so ist dies aufgrund der servicefreundlichen Bauweise kein Problem. Alle Komponenten lassen sich einzeln Austauschen und sind leicht auszubauen und ersetzen.
Einzigartig im Markt ist die ergonomische, symmetrische Anordnung der Bedienung. Alle Funktionen lassen sich ohne Umgreifen oder Positionswechsel der Hand mit links oder rechts erreichen und gleichzeitig bedienen. Alle Funktionen sind über Magnet- und Hall-Effekt Sensoren gesteuert und damit wartungsarm, Reibungsverlustfrei und gegen Staub und Wasser geschützt.
Durch die gleichzeitige Bedienung von Fahrtschalter und zwei Hydraulikfunktionen lässt sich die Pickzeit verkürzen und die Performance steigern.
Die Proportionalventiltechnik in Verbindung mit dem großen Tastenanschlag ermöglicht ein sehr präzises Bedienen der Hydraulikfunktionen.
Marktrelevanz
Aktuell wird STILL EASY Drive für die Bedienung des Horizontalkommissionierers OPX genutzt. Dieser ist in vielen Branchen zu Hause. Die Einsatzgebiete ähneln sich jedoch über die Branchen hinweg sehr. Die Fahrzeuge werden zu meist in Zentrallagern eingesetzt und bewegen sich dementsprechend ausschließlich im Innenbereich, in oftmals sehr großen Hallen mit langen Kommissioniergängen. Die Kommissionierung kann sowohl in der Bodenebene als auch in der ersten Regalebene erfolgen. Darüber hinaus werden die Fahrzeuge auch für den Warentransport auf langen Wegstrecken eingesetzt.
Haupteinsatzgebiete sind Zentrallager der Handelsunternehmen und der Automobilindustrie genauso wie Distributionszentren der Lebensmittelindustrie oder Lagerwelten der Third Party Logistics.
Der europäische Markt für Horizontalkommissionierer lag 2015 bei 19.000 Stück und 2016 bei rund 23.000 Stück und wächst stetig. Bei einer Lebenszeit von 5 bis 7 Jahren bedeutet das eine Installed Base von circa 110.000 Fahrzeugen im Markt. Die Branche mit dem größten Marktanteil ist der Lebensmitteleinzelhandel.
Die Relevanz des STILL EASY Drive ergibt sich durch die Vorteile, die dieses neue Bedienkonzept bietet. Der Fokus liegt nicht nur auf der Erhöhung der Umschlagleistung durch gesteigerte Performance von Fahrzeugen, sondern auch auf der Entlastung des Bedieners – und genau diese bringt häufig die höheren Einsparungen. Durch die Möglichkeit, Softwareanpassungen vorzunehmen bietet das Lenkrad eine sehr hohe Vielseitigkeit und individuelle Anpassungsmöglichkeiten für die speziellen Anforderungen des Kunden.
Hauptvorteile für den Kunden
Das neue Bedienkonzept ermöglicht eine bessere Ergonomie und damit eine höhere Umschlagleistung. Zudem gibt es ein über die komplette Baugruppe hinweg einheitliches Bedienkonzept. Es wird dem Nutzer also noch einfacher gemacht, unterschiedliche Geräte zu führen, ohne dass dieser sich an neue Arbeitsabläufe gewöhnen muss.
Das PKW-ähnliche Lenkrad STILL EASY Drive sorgt für ein feinfühliges Fahrverhalten sowie eine intuitive Bedienung. Zudem sind die Lenkbewegungen deutlich ermüdungsärmer im Vergleich zu der vorherigen Kombideichsel. Dies zeigt sich insbesondere in den Kurvenfahrten. So muss der Oberkörper für die Lenkbewegung deutlich weniger rotieren als bei der Lenk-Deichsel.
Alle Bedienelemente, wie beispielsweise die Fahrschalter oder die Betätigung des Initialhubes, lassen sich ohne umgreifen oder einen Positionswechsel der Hand erreichen. Da der Griff des Lenkrads im unterem Bereich lediglich an einem Punkt befestigt ist, kann der Bediener dieses über den gesamten Bereich voll umfassen. Das macht sich insbesondere bei der Rückwärtsfahrt bemerkbar. Hierfür benötigt der Bediener nur eine Hand, welche er hierzu oben auf dem Lenker ablegen kann und gleichzeitig mit dieser den Fahrschalter betätigt.
Sobald der Bediener seine Hände von dem Lenkrad löst, bewegt sich dieses automatisch in die Nullstellung, beziehunsgweise in den Geradeauslauf, zurück, was für mehr Sicherheit bei erneutem Anfahren sorgt. Darüber hinaus unterstützt diese Funktion den Bediener dabei, das Fahrzeug bei langen Geradeausfahrten auf Kurs zu halten und sorgt damit für ein ruhiges sowie sicheres Fahrverhalten.
Technische Daten
---
| | |
| --- | --- |
| Truck Name |  STILL |
| Truck Type |  EASY drive |
| Date of Test |  IFOY 2018 |
Testbericht
Bei der Vorstellung der neuen Kommissionierstapler aus der OPX-Serie - ebenfalls nominiert für den IFOY Award - präsentierte Still ein neu entwickeltes, ergonomisches Lenkrad mit integrierter Steuerung und Display: Still EASY Drive.
Die Bedienung des Lenkrads ist intuitiv und vergleichbar mit der eines Pkw. Das moderne Design ermöglicht es dem Benutzer, das Lenkrad unter allen Umständen perfekt zu bedienen. Auf diese Weise erhöht der OPX die Sicherheit mit einfachen Mitteln.
Das Lenkrad ist höhenverstellbar und kann somit an die Größe des Kommissionierers angepasst werden. Dank der diagonalen Höhenverstellung bleibt das Display am Lenker jederzeit gut sichtbar.
Durch das zentral platzierte Display hat der Fahrer immer alle Fahrzeuginformationen wie Batteriestatus und Betriebsstunden im Blick. Wird die Blue Q-Taste gedrückt, zeigt das Display zusätzlich die verbleibende Betriebszeit an, so dass nicht nur energieeffizienter gearbeitet werden kann, sondern der Kommissionierer zudem weiß, wie lange noch (ungefähr) gearbeitet werden kann.
Für Fahrzeuge mit Hubgerüst und Start- oder Plattformlift sorgt Still EASY Move für einen besonders hohen Bedienkomfort. Die in den Satelliten integrierten Wippschalter ermöglichen es, sowohl den Masthub (proportional) zu steuern als auch die Plattform anzuheben, ohne die Hände vom Lenkrad nehmen zu müssen.
Das Still EASY Drive Lenkrad wird zusammen mit der Plattform in die Höhe gebracht. So kann der Anwender nicht nur seinen Arbeitsplatz auf eine höhere Ebene bringen, sondern auch den Stapler bewegen. Gleichzeitiges Heben und Fahren spart Zeit und steigert die Effizienz.
IFOY Testfazit:
Mit dem Still EASY Drive Lenkrad fügt Still einem bestehenden Lenkkonzept eine zusätzliche Dimension hinzu. Das zentral positionierte Display liefert dem Bediener die notwendigen Informationen über den Betriebszustand. Dank der Satelliten um das Lenkrad herum stehen zusätzliche Funktionen zur Verfügung, ohne die Hände vom Lenkrad nehmen zu müssen. Die Form und die zusätzlichen Greifmöglichkeiten des Lenkrads bieten dem Fahrer mehr Möglichkeiten zur Bedienung des Staplers. Dank der Diagonalverstellung bleibt der Arbeitswinkel in jeder Arbeitshöhe gleich. Das Lenkrad hat eine angenehme Struktur und ermöglicht eine intuitive Bedienung.
IFOY Innovation Check
Marktrelevanz
Horizontalkommissionierer haben mit Verkaufszahlen von deutlich über 20.000 Stück pro Jahr allein in Europa eine hohe Marktrelevanz. Somit können viele Kunden von Verbesserungen in diesem Segment profitieren. Bei dem vorgestellten neuen Lenk-/Bedienelement ist es darüber hinaus sogar denkbar, dass dieses auch bei anderen Flurförderzeugen Verwendung findet. Vor allem Schlepper für Routenzüge können von dem ergonomisch optimierten Bedienelement profitieren.
Kundennutzen
Durch die ergonomische Bedienung und präzise Nutzung der Hydraulikfunktionen können Pick-Vorgänge schneller ausgeführt werden, wodurch die Produktivität steigt. Zudem sorgen gut durchdachte Bedienelemente für eine geringere Ermüdung der Arbeiter. Der modulare Aufbau der Lenkeinheit erleichtert zudem die Wartung und Instandsetzung.
Neuheitsgrad
Die Verwendung eines Lenkrades zum Steuern eines Fahrzeugs an sich ist seit mehr als 100 Jahren bekannt und stellt keine große Neuerung dar. Zwar wird bei Horizontalkommissionierern häufig eine Deichsellenkung verwendet, aber auch andere Hersteller greifen mittlerweile bei Schleppern oder Horizontalkommissionierern vereinzelt zum Lenkrad. Diese sind ähnlich wie bei Still symmetrisch ausgeführt und ermöglichen neben dem reinen Lenken auch weitere Funktionen.
Der robuster und modularer Aufbau des EASYdrive Lenkrads von Still erhöht zweifelsohne die Zuverlässigkeit des Bedienkonzeptes. Neu bei Still ist auch das Display im Lenkrad, sowie zusätzliche Schalter/Taster für hydraulische Funktionen.
Funktionalität / Art der Umsetzung
Die Bedienelemente lassen sich gut und intuitiv bedienen. Die Technik macht einen robusten und zuverlässigen Eindruck. Das ansprechende Design rundet den insgesamt sehr positiven Eindruck ab.
---
Marktrelevanz

++

Kundennutzen

++

Neuheits- / Innovationsgrad

Ø

Funktionalität  / Art der Umsetzung

++

++ sehr gut / + gut / Ø ausgeglichen / - weniger / - - nicht vorhanden
STILL EASY Drive

STILL GmbH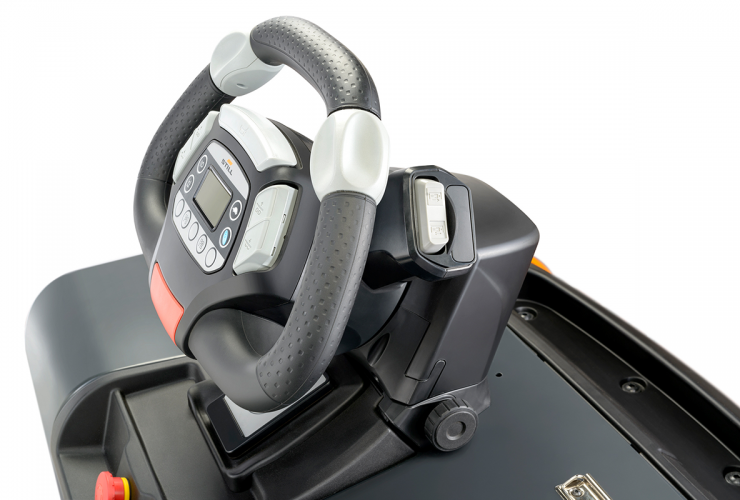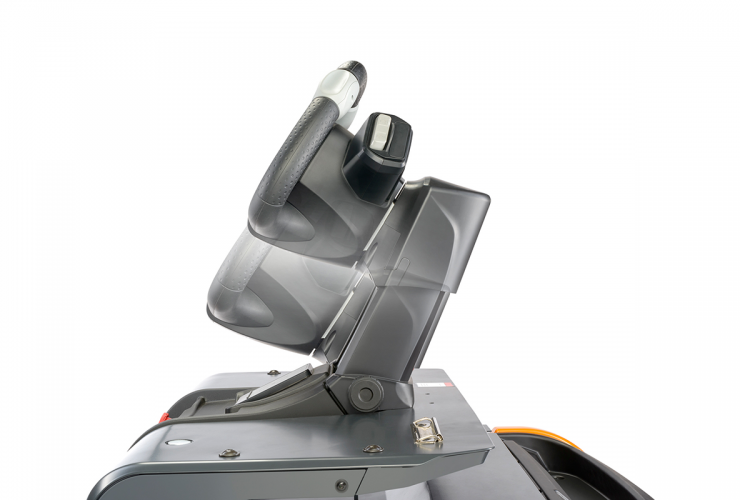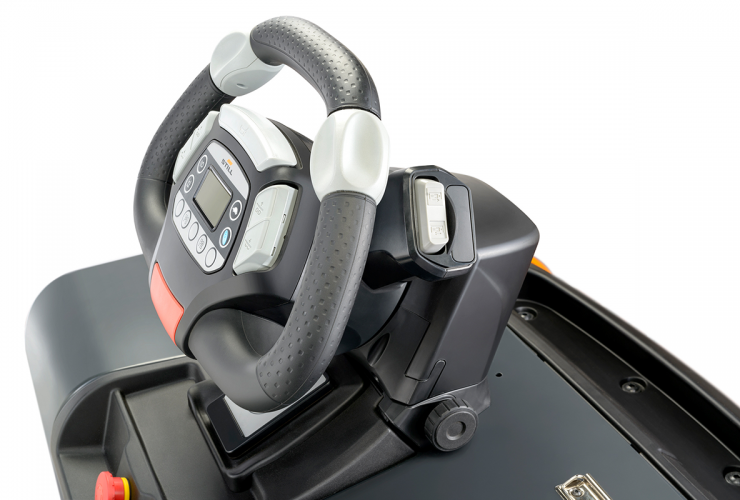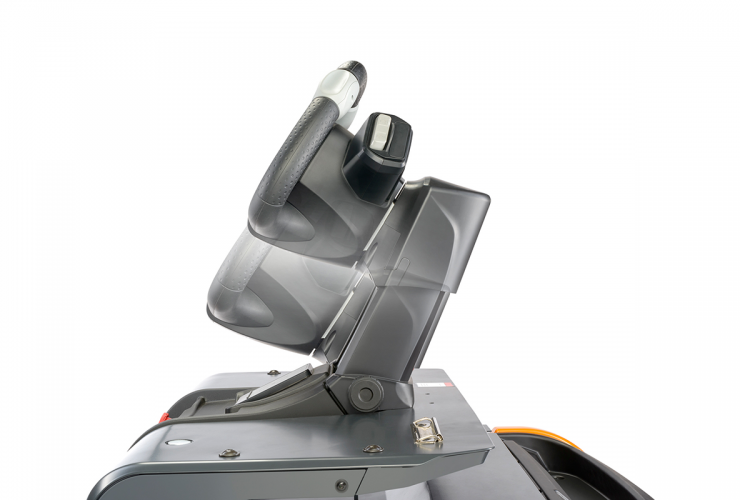 STILL EASY drive
Still GmbH
IFOY category
Special of the Year
Summary
STILL EASY Drive is the new human-machine interface Still developed for the OPX horizontal order picker to meet growing customer expectations. It represents a completely new product design developed to account for every customer requirement in terms of safety, ergonomics, comfort, robustness and service friendliness. The special form of the STILL EASY Drive allows use of all functions without changing grip and provides optimum overview.
Description
The STILL EASY Drive allows operating warehouse equipment with a completely new control concept. Still has decided to deploy a special steering wheel design instead of the former tiller concept. The new design allows easy and intuitive use of all functions, also while driving and steering. All hydraulic functions are simultaneously in reach of a single hand - independent of the driving direction. The symmetric arrangement of the controls allows operation by left- and right handed drivers alike.
This is a particular benefit when order picking because the operator can fully concentrate on picking, smoothing the customer's process. The centrally placed display is well visible for the operator at all times, indicating every important function. Depending on the truck and the equipment version, the steering wheel is fitted with paddle switches to enable simultaneous operation of additional hydraulic functions besides driving and initial lift. The STILL EASY Move paddle switches are placed behind the steering wheel so that they are also in reach without changing grip.
Innovation
The major innovation compared to the predecessor model is the steering wheel concept replacing the conventional tiller steering. New as well is the uniformity of the control concept throughout the complete series.
The special design of the steering wheel with a covered steel body protects all its technical components inside against damage by force, dust and spray water. Besides this, all components can be individually replaced. In case of damage, it is therefore not necessary to replace the complete unit. If a component needs replacement, this is easily possible thanks to the service friendly design. All components are individually replaceable and easy to remove and install.
Unique to the market is the ergonomic and symmetric arrangement of the controls. All functions are in reach without changing grip or changing position with the left or right hand and can be operated at the same time. All functions are controlled by magnetic switches or Hall sensors to provide freedom of maintenance, frictionless operation and protection against water and dust.
The simultaneous operation of the driving switch and two hydraulic functions shortens pick times and increases the performance.
The proportional valve technology in combination with the large button movement allow very precise control of the hydraulic functions.
Marktet relevance
Currently, the STILL EASY Drive is deployed as a control system for the OPX. This truck is at home in many industries. However, across the different industries, the applications as such are very similar. The trucks are mostly used in central warehouses and therefore move indoors only, often in very large halls with long order picking aisles. Order picking is possible from floor level as well as from the first rack level. Besides this, the trucks are also used to move materials over long transport distances. The main areas of application are distribution centres of large retailers and the automotive industry as well as central warehouses for the food industry or third party logistics warehouse worlds.
In 2015, the European market for horizontal order pickers amounted to 19,000 units and in 2016 to 23,000 units and is continuously growing. At a service life of 5 to 7 years, this corresponds to an installed base of approximately 110,000 units in the market. The industry with the largest share are food retailers.
The relevance of the STILL EASY Drive results from the benefits offered by the new control concept. The focus is not only on increasing the turnover speed by enhanced performance, but also on relieving the operator from workload - in many cases this is what leads to the major savings. The possibility to adjust the software makes the steering wheel highly versatile and allows realising individual adjustments to specific customer requirements.
Main customer benefits
The new control concept provides better ergonomics and consequently higher turnover performance. In addition, the complete series is fitted with a unique control concept. It makes it easier for the user to operate different trucks, without having to learn different work procedures.
The car-style steering wheel STILL Easy Drive ensures sensitive driving characteristics and allows intuitive control of the truck. In addition, the steering movements require much less effort than with a combi-tiller, for example. This is especially apparent when cornering. The upper part of the body needs to move much less during steering movements compared to the conventional steering-tiller.
All controls, for example, the drive switch or the control for the initial lift are in reach without changing grip or even the position of the hand. As the handle of the steering wheel is only attached at a single point, the operator can hold it in virtually any position. This is especially beneficiary when reversing. To do this, the operator only needs one hand that he places to the top of the steering wheel and at the same time, it is possible to operate the drive switch.
As soon as the operator lets go of the steering wheel, it automatically returns to the neutral position for straight travel, increasing safety when starting to drive. Beyond this, the function supports the driver to keep the truck driving straight on long stretches, keeping the movements of the truck smooth and steady.
Technical data
---
| | |
| --- | --- |
| Truck Name |  STILL |
| Truck Type |  EASY drive |
| Date of Test |  IFOY 2018 |
Test Report
At the presentation of the new OPX series order picker - also nominated for the IFOY Award - Still introduced a newly developed ergonomic steering wheel with integrated control and display: Still EASY Drive.
The steering wheel operation is intuitive and comparable to that of a car. The modern design allows the user to operate the steering wheel perfectly under all circumstances. In this way, the OPX increases safety by simple means.
The steering wheel is height-adjustable and can thus be adapted to the size of the order picker. Thanks to the diagonal height adjustment, the display on the steering wheel remains clearly visible at all times.
Due to the centrally located display, the driver always has an overview of all vehicle information such as battery status and operating hours. When pressing the Blue Q button, the display also shows the remaining operating time, making it possible to work more efficiently. At the same time the order picker also knows the approximate remaining work time.
For vehicles with masts and starter or platform lifts, Still EASY Move ensures a particularly high level of operating convenience. The rocker switches integrated in the satellites of the steering wheel allows one to control the mast lift (proportional) and raise the platform without having to take one's hands off the steering wheel.
The Still EASY Drive steering wheel is raised together with the platform. In this way, the user can not only take his workplace to a higher level, yet move the forklift truck. Simultaneous lifting and driving saves time and increases efficiency.
IFOY test verdict:
With the Still EASY Drive steering wheel, Still integrates an additional dimension to an existing steering concept. The centrally positioned display provides the operator with the necessary operating status information. Thanks to the satellites around the steering wheel, additional functions are available without having to take one's hands off the steering wheel. The shape and additional grip options of the steering wheel offer more possibilities to the driver operating the truck. As a result of the diagonal adjustment, the working angle remains the same at any working height. The steering wheel has a pleasant structure and allows intuitive operation.
IFOY Innovation Check
Market Relevance
Horizontal order pickers with sales figures of well over 20,000 units per year are highly relevant to the European market alone, meaning that many customers can benefit from improvements in this segment. With the new steering and control element presented, it is even conceivable that it could also be used in other industrial trucks. The ergonomically optimized control element is particularly useful for tow tractors.
Customer Benefit
Ergonomic operation and precise use of the hydraulic functions allow pick operations to be carried out faster, which increases productivity. Well-thought-out controls reduce operator fatigue and the modular design of the steering unit also makes maintenance and repair easier.
Degree of Novelty
The use of a steering wheel to drive a vehicle has been known for more than 100 years and is not a major innovation. Although horizontal order pickers often use a tiller steering system, other manufacturers are using the steering wheel as well in tractors or horizontal order pickers. Similar to Still, these are designed symmetrically and allow for other functions in addition to pure steering.
The robust and modular design of the EASYdrive steering wheel from Still undoubtedly increases the reliability of the operating concept. The display in the steering wheel and additional switches for hydraulic functions are also new elements of Still.
Functionality / Type of Implementation
The controls are intuitive and easy to use. The technology makes a robust and reliable impression. Furthermore, the appealing design completes the overall very positive impression.
---
Market relevance

++

Customer benefit

++

Degree of novelty / innovation

Ø

Functionality  / Type of implementation

++

++ very good / + good / Ø balanced / - less / - - not available