IFOY Patronage
IFOY Sponsor
SP 1500

Crown Gabelstapler GmbH & Co. KG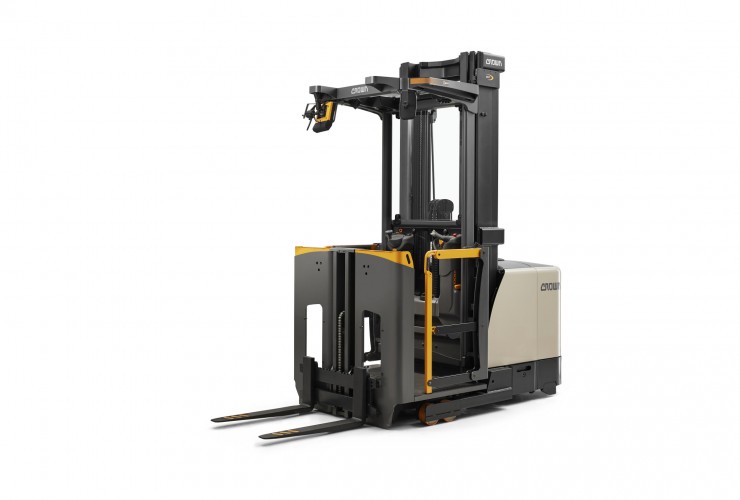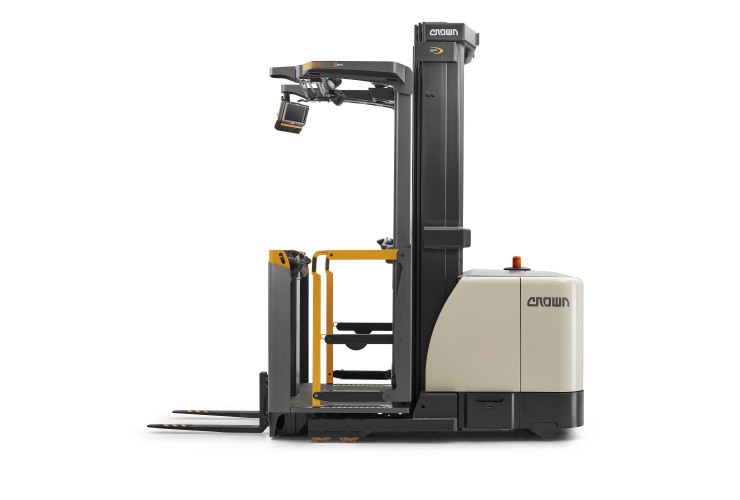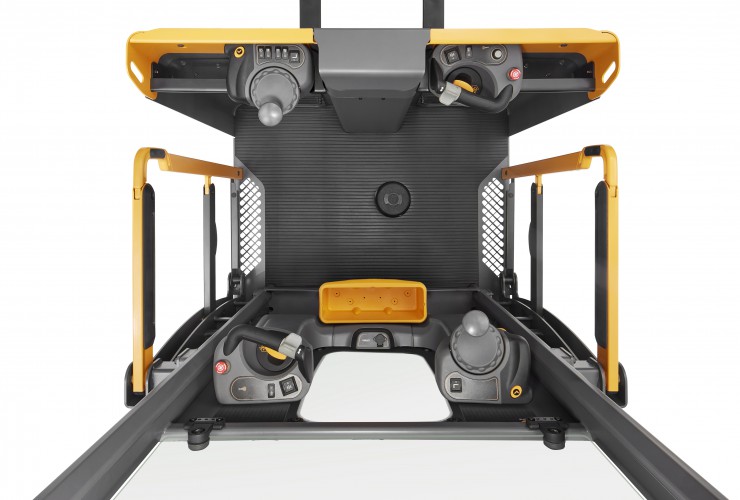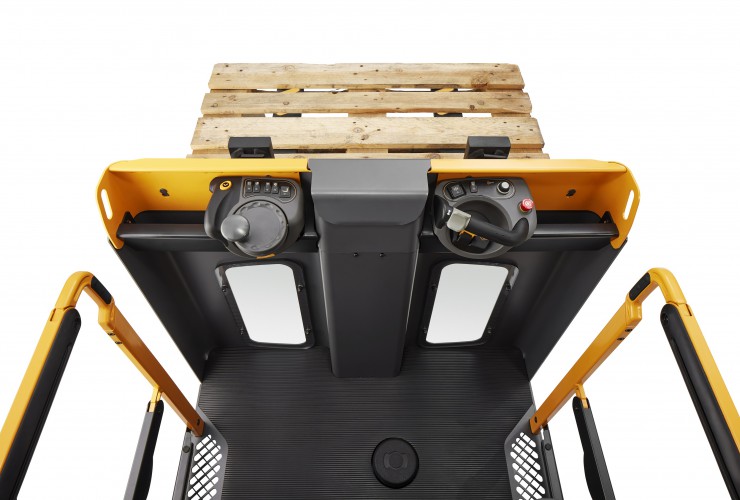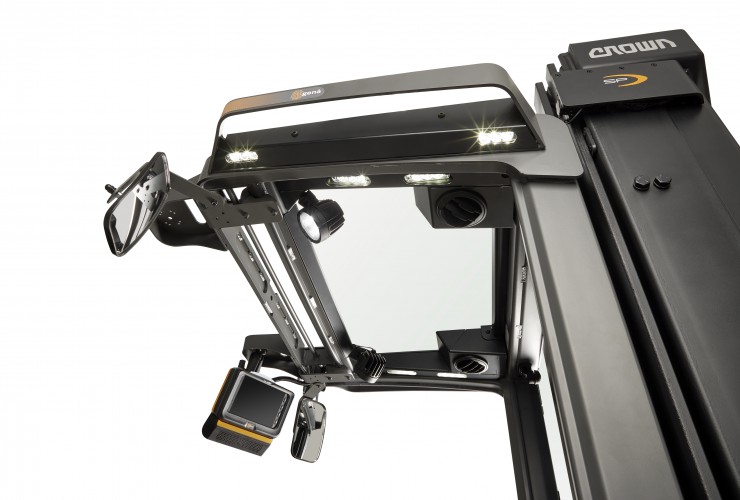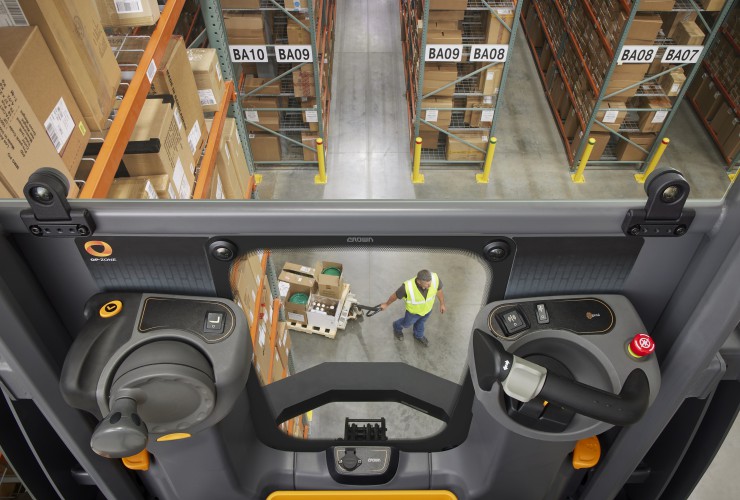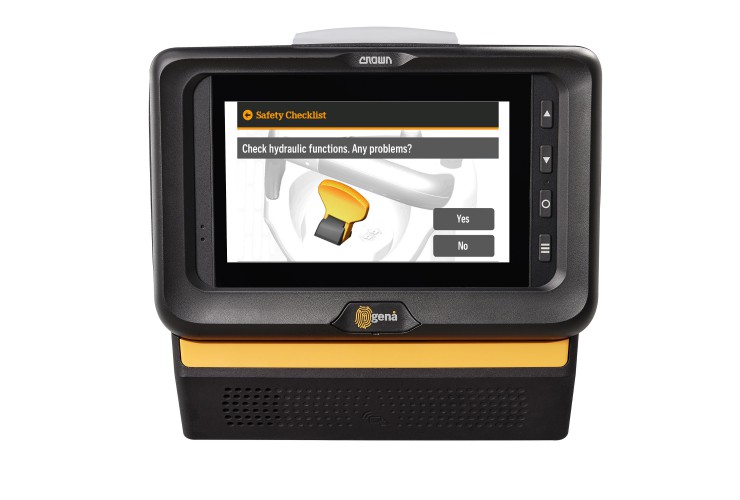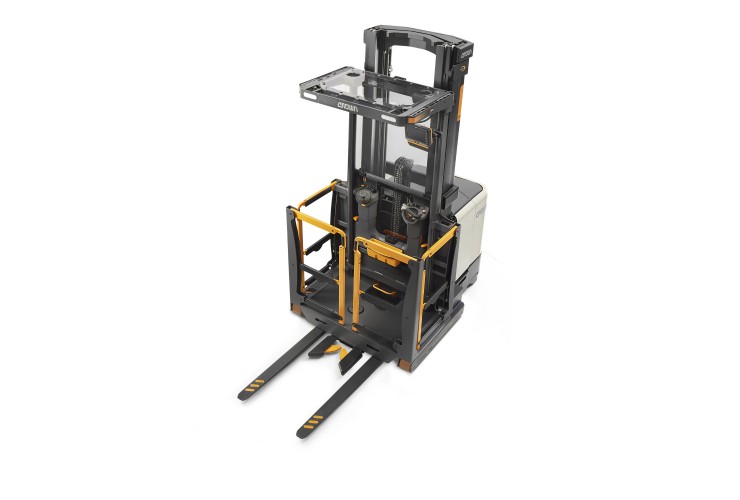 Crown SP 1500 Kommissionierstapler.
Crown Gabelstapler GmbH & Co. KG
IFOY-Kategorie
Warehouse Truck "highlifter"
Zusammenfassung
Der Kommissionierstapler SP 1500 ist Vorreiter in puncto effiziente Kommissionierung.
Der innovative, ergonomische Bedienerbereich wurde für die sich ständig wandelnden Anforderungen des Einzelhandels und des E-Commerce entwickelt. So bietet die SP 1500 Serie branchenführende Rundumsicht, Leistung und Geschwindigkeiten, einen individuell konfigurierbaren Bedienerbereich mit einstellbaren Bedienelementen. Crowns Betriebssystem der nächsten Generation gewährleistet eine optimierte Benutzerführung sowie Anpassungsoptionen, eine hohe Wartungsfreundlichkeit und die Integration des Flottenmanagementsystems InfoLink. Standardfunktionen wie Traktionskontrolle und regeneratives Absenken sowie das optionale Work Assist Zubehör tragen außerdem zur Steigerung von Durchsatz und Effizienz bei.
Beschreibung
Die Kommissierstapler der SP 1500 Serie erfüllen sowohl die Anforderungen der traditionellen Kommissionierung als auch die der sich ständig wandelnden Einsätze im Einzelhandel und E-Commerce. Mit branchenführender Rundumsicht und Leistung, effizientem und ergonomischem Arbeitsplatz sowie individuellen Plattformoptionen ist die SP 1500 Serie für unterschiedlichste Anforderungen geeignet.
---
| | |
| --- | --- |
| Name |  Crown SP 1500 |
| Category |  Warehouse Truck "highlifter" |
| Date of Test |  27.-30. März 2023 |
Testbericht
Mit dem SP 1500 stellt Crown seinen neuesten Hochhub-Kommissionierer vor. Er bietet eine Tragfähigkeit von bis zu 1.250 Kilogramm, Fahrgeschwindigkeiten von bis zu 12 km/h und eine maximale Hubgeschwindigkeit von 0,71 m/s bei einer Hubhöhe bis zu 11,2 Meter. Um den Marktanforderungen gerecht zu werden, hat Crown die gesamte Plattform neu gestaltet  ̶  basierend auf dem Feedback von 250 Kundenbefragungen weltweit. Das Ergebnis ist höherer Komfort, bessere Handhabung und mehr Anpassungsmöglichkeiten für die Nutzer. Das einzige Element in der Kabine, das sich nicht verändert hat, ist das Gena-System, obwohl auf dem Display jetzt eine neue Softwaregeneration läuft.
Zahlreiche kundenspezifische Lösungen ermöglichen es dem Bediener, den Arbeitsplatz dank der Work Assist Rail ganz nach Wunsch einzurichten. In der derzeitigen Konfiguration ist dies jedoch nur mit Werkzeug möglich. Die Schutztüren, die den Zugang zur Kabine ermöglichen, wurden erneuert und sind nun leichter zu bedienen. Die Kabine selbst ist um 150 Millimeter höher, damit auch große Bediener sich nicht so schnell eingeklemmt fühlen oder durch Peripheriegeräte, die am Work Assist angebracht sind, behindert werden.
Zum ersten Mal bei Hochhubwagen bietet Crown die Möglichkeit einer Doppelkonfiguration, die es dem Fahrer ermöglicht, den Stapler von beiden Seiten der Kabine aus zu steuern. Die Bedienelemente sind mit aktiver Sensorik ausgestattet: Wir die rechte Bedieneinheit gegriffen, wird die linke Einheit automatisch aktiviert. Dank der cleveren Positionierung der Bedienelemente können alle hydraulischen Funktionen mit einer einzigen Bewegung bedient werden. Das Lenkrad ist neigbar und kann sowohl in horizontaler (europäischer) als auch in vertikaler Position (Standard in den USA) eingestellt und bedient werden. Die beiden Steuereinheiten auf der Hubgerüstseite sind ebenfalls höhenverstellbar. Ebenfalls neu sind die hellen LED-Leuchten an den Seiten der Kabinenkonturen. Diese beleuchten die Kommissionierpositionen in den oft dunklen Gängen und ermöglichen dem Fahrer eine noch bessere Sicht auf die Ware.
Während der IFOY Testfahrt fällt auf, dass die Sicht beim SP 1500 in einem bisher nicht gekannten Maße optimiert ist. Ein serienmäßiges Mittelfenster, das es nur bei diesen Geräten gibt, sorgt für eine unübertroffene Sicht auch aus großer Höhe nach unten. Zwei große Sichtfenster sind auch auf der Gabelseite vorhanden, während der Kabinenboden mit Gittern versehen ist, die optimale Sicht bieten, ohne dass der Fahrer die sicheren Konturen des Staplers verlassen muss. Zum ersten Mal hat Crown bei Hochhub-Kommissionierern auch ein Panorama-Dachfenster eingebaut, das die Sicht nach oben ebenfalls optimiert.
Das IFOY Testteam hätte gerne gesehen, dass bei der weitreichenden Optimierung der Sichtverhältnisse auch der zentrale Hubzylinder durch zwei in den Mast eingelassene Zylinder ersetzt worden wäre, um eine noch bessere Sicht zu gewährleisten. Laut Crown soll dies bei einer zukünftigen Optimierung berücksichtigt werden. Zudem sei im Moment ein zentraler Zylinder, der bis zu 100 Millimeter kürzer als der bisherige ist, ausreichend.
Eine weitere Verbesserung, die bei künftigen Staplermodellen vor allem in Europa zu erwarten ist, ist eine Fußplatte, die als Ganzes als Totmannschalter fungiert. Derzeit ist der SP 1500 mit einem großen Totmannknopf ausgestattet, der zudem deutlich komfortabler ist als der seines Vorgängers.
Eine weitere Neuerung findet sich unter der Batterieabdeckung. Neben 24-Volt-Geräten liefert Crown den SP 1500 jetzt auch mit 48-Volt-Batterien (von 432 Ah bis 960 Ah). Zum Beispiel für Einsatzsituationen, in denen eine höhere Resttragfähigkeit erforderlich ist oder eine längere Einsatzzeit benötigt wird. Die 48-Volt-Batterien steigern die Leistung des Staplers signifikant und ermöglichen unter anderem das High Performance Lifting. Dabei steigt die Hubgeschwindigkeit auf bis zu 0,71 m/s. Die Standard-Hubgeschwindigkeit beträgt bereits 0,58 m/s, was deutlich über dem Marktdurchschnitt liegt. Ebenfalls serienmäßig ist das regenerative Absenken des Mastes für mehr Energieeffizienz.
IFOY Testfazit
Der Hochhub-Kommissionierer SP 1500 ist der neue Standard für effizientes Kommissionieren. Sichtbarkeit und Übersichtlichkeit sind branchenführend und bringen die größten Vorteile. Aber auch die zahlreichen Anpassungsmöglichkeiten, um den Arbeitsplatz ganz nach Ihren Bedürfnissen zu konfigurieren, sind einzigartig.
Hard Facts
 
Test Truck IFOY Test
Average other trucks
Value 1 to 10
Productivity Max mode (Pallets / 8 h)
 no data
 
 
Productivity Eco mode (Pallets / 8 h)
 

no data

 

 
Energy level Max mode (kWh / 100 plts)
 

no data

 

 
Energy level Eco mode (kWh / 100 plts)
 

no data

 

 
Driving speed with load (km/h)
 

no data

 

 
Lifting speed with load (cm/s)
 

no data

 

 
Sprint speed (time for 10 meters)
 

no data

 

 
Averages soft facts
| | |
| --- | --- |
| First impression |  8,80 |
| Load Safety |  8,00 |
| Entry / exit truck |  8,29 |
| Working position |  8,00 |
| Legg space |  7,75 |
| Activate truck |  8,50 |
| Hydraulics |  8,13 |
| Steering |  8,29 |
| Sight |  9,00 |
| Driving acceleration |  8,80 |
| Driving braking |  8,00 |
| Driving & Turning |  8,33 |
| Parking truck |  8,29 |
| Safety elements |  8,17 |
| General after test |  8,88 |
| Sustainability |  7,00 |
|   |   |
| Total average soft facts |  8,26 |
| Total productivity |  no data |
| Total Energy consumption |  no data |
IFOY Innovation Check

Marktrelevanz
Mit dem SP 1500 setzt Crown neue Maßstäbe innerhalb von Kommissionier-Anwendungen, die durch den immer wachsenden Bedarf zunehmen. Steigende Anforderungen an Leistungsfähigkeit, Effizienz und Ergonomie in E-Commerce und Einzelhandel führen daher zu einer hohen Marktrelevanz.
Kundennutzen
Bei der Nutzung des vollständig neuen Modells können die Leistungsdaten des SP 1500 auf ganzer Linie überzeugen. Bei einer Hubhöhe von über 10 Metern bei hohen Fahr- und Hubgeschwindigkeiten ist eine klare Steigerung der Leistungsfähigkeit zu erwarten. Hinzu kommt die einzigartige Ergonomie mit sehr vielen Konfigurationsmöglichkeiten, welche aus Studien direkt bei Kunden entwickelt wurden. Hervorzuheben sind dabei verschiedene Gangbreiten, eine einzigartig individuell einstellbare Bedienung sowie das hervorragende Sichtfeld. Damit steigert sich für Kunden ohne Zweifel der Komfort bei gleichzeitig hoher Sicherheit während der Kommissionierung.
Neuheit / Innovation
Neben den gesteigerten Leistungskenndaten zeigt Crown einige innovative Features, die in diesem Bereich hohen Neuheitsgrad haben. Durch die hohe Hubhöhe konnte ein regeneratives Absenken zur Steigerung der Energieeffizienz sinnvoll eingesetzt werden, wobei durch die hydraulisch-elektro-generatorische Lösung mit geringem Wirkungsgrad zu rechnen ist. Sehr beeindruckend zeigt sich der Bedienerbereich, der für jede Körpergröße die richtige Einstellbarkeit liefert und durch die Sichtöffnungen im Boden und das Mittelfenster eine Sichtbarkeit aller Gerätegrenzen auch bei maximaler Hubhöhe gewährleistet.
Funktionalität / Art der Umsetzung
Der SP 1500 hält, was er auf dem Papier verspricht und erscheint in einer hervorragenden soliden Ausführung. In jeder Hinsicht werden Anpassungsmöglichkeiten geboten, die ein komfortables Arbeiten versprechen und sogar auf unterschiedliche Belange von europäischem und amerikanischem Markt eingehen. So kann das Lenkrad auf einfachste Weise zwischen vertikal und horizontal wechseln, was mit diesem Beispieldetail die Universalität des Gerätes unterstreicht.
Fazit
Der SP 1500 von Crown überzeugt in jeder Hinsicht und liegt im Marktvergleich vorne.
Marktrelevanz

+

Kundennutzen

++

Neuheit / Innovation

+

Funktionalität  / Art der Umsetzung

++

++ sehr gut / + gut / Ø ausgeglichen / - weniger / -- nicht vorhanden
---
Gerätetyp
Kommissionierstapler: SP 1520 / SP 1510
Technische Daten (alle Geräte)
| | |
| --- | --- |
| Antrieb | Elektro |
| Tragfähigkeit | 1000 / 1250 kg |
| Eigengewicht | 2855 kg |
| Bedienung | Stand |
| Fahrgeschwindigkeit mit Last | 12 km/h |
| Fahrgeschwindigkeit ohne Last | 12 km/h |
| Hubgeschwindigkeit mit Last | 0.43 (48V) m/s |
| Hubgeschwindigkeit ohne Last | 0.71 (48V) m/s |
| Senkgeschwindigkeit mit Last | 0.41 m/s |
| Senkgeschwindigkeit ohne Last | 0.41 m/s |
| Max.Hubhöhe | 10210 mm |
| Energieverbrauch nach VDI-Arbeitsspiel | kWh/h |
| Elektro-Trucks | |
| Batteriespannung | 24 / 48 V |
| Batteriekapazität | 930 Ah (48V) Ah |
| Batterieanschluss | SBE 320 |
| Batteriegewicht | 910 kg |
| Leistung Fahrmotor | 4.8 kW |
| Leistung Hubmotor | 15.0 kW |
| Schlepper | |
| Nennzugkraft | N |
| Kommissionierer/Kombigeräte | |
| Max. Greifhöhe | 11200 mm |
Sonstiges
Es handelt sich um
Vollständig neues Modell
Datum der Markteinführung
27.01.2023
Datum des Produktionsstarts
09.01.2023
Konkurrenzprodukte
Jungheinrich EKS
Linde V
STILL EK-X
Innovationen
Der neu gestaltete Bedienerbereich bietet hervorragende Rundumsicht, Stabilität, Flexibilität und Ergonomie für mehr Vertrauen, Komfort und Effizienz.
Ein branchenweit exklusives Mittelfenster bietet bei angehobener Plattform freie Sicht auf das Fahrzeugende.
Der konfigurierbare Bedienerbereich ist ausgestattet mit einstellbaren Bedienelementen, einer branchenweit einmaligen Einstellbarkeit des Lenkrads und integrierten Halterungen für Zubehör.
Die branchenführende Staplerleistung, einschließlich Hub-, Senk- und Fahrgeschwindigkeiten, in Kombination mit der serienmäßigen regenerativen Absenkung erhöht die Produktivität und die Betriebszeiten.
Das Touch-Display bietet intuitive Menüs, mehrere Sprachen und konfigurierbare Widgets, um die Produktivität zu steigern.
Ein robuster Kommissionierstapler mit maßgeschneiderten Energielösungen für optimierte Einsatzzeiten sowie verbesserte Service-Tools für eine schnellere und einfachere Wartung.
Marktrelevanz
Kommissionieranwendungen erfahren aufgrund der zunehmenden E-Commerce-Aktivitäten ein kontinuierliches Wachstum. Die Kommissionierstapler der Serie SP1500 sind für den Einsatz in einer Vielzahl von Anwendungen konzipiert, wie beispielsweise Einzelhandel, Großhandel, Möbel (montiert und unmontiert), Haushaltsgeräte, Kleinteile, Fertigung, Kommissionierung auf Wagen oder Plattformen usw.
Die Stückzahlen in Europa für diese Art von Kommissionierstaplern liegen bei circa 5.000 Fahrzeugen pro Jahr.
Kundennutzen
Die Hauptvorteile sind:
Höhere Produktivität.
Beste Rundumsicht.
Hervorragende Bedienereffizienz.
Hohe Einsatzzeiten.
Ergonomischer, individuell konfigurierbarer Bedienerbereich.
Intelligente Vernetzung des Staplers und Integration in die Prozesse des Kunden.
Sonderausstattung (IFOY Test-Gerät)
Induktivführung
Lastseitige Bedienelemente
LED-Scheinwerfer (am Fahrerschutzdach montiert)
Blaue Punktscheinwerfer
SP 1500

Crown Gabelstapler GmbH & Co. KG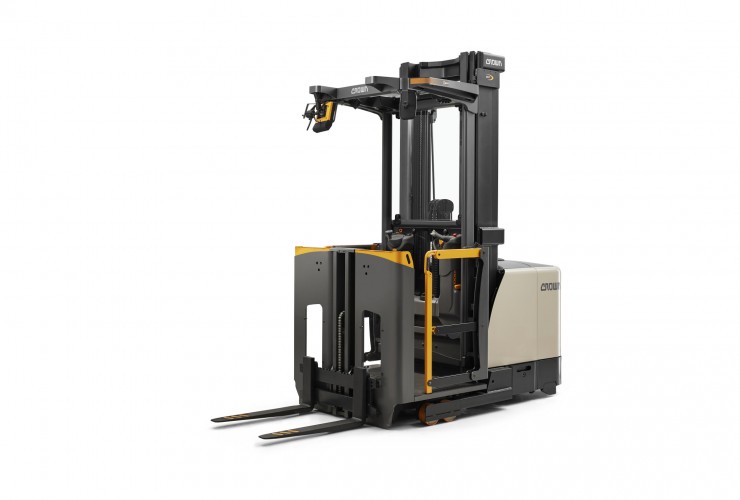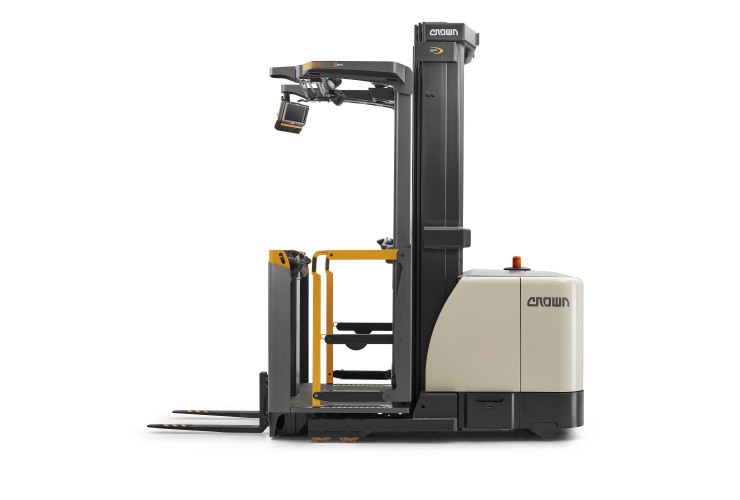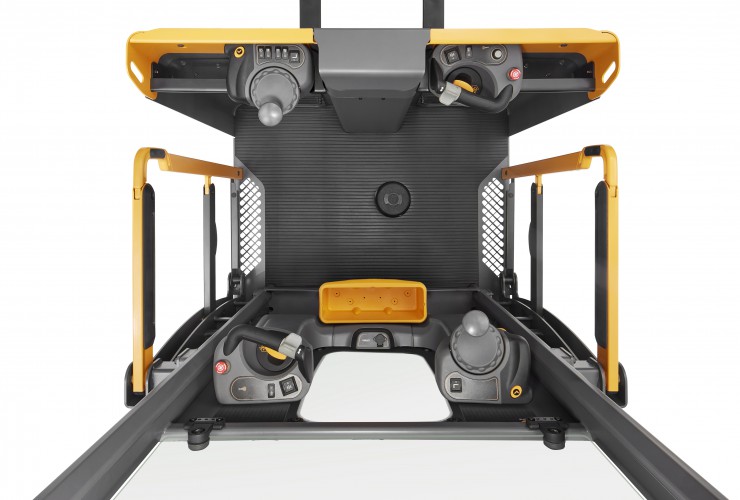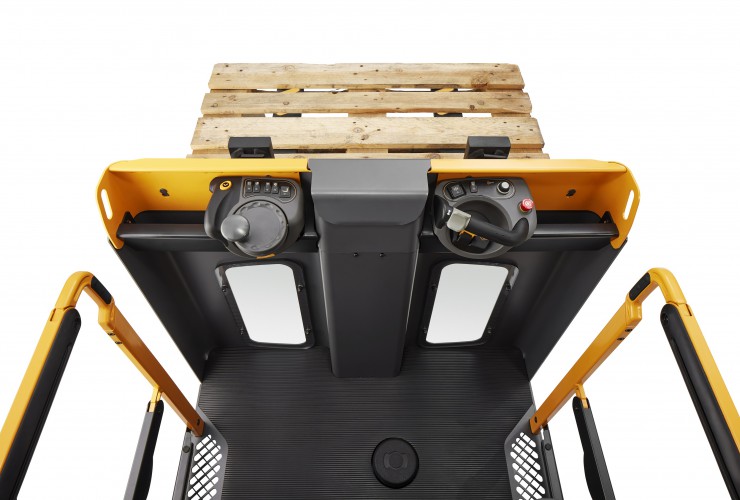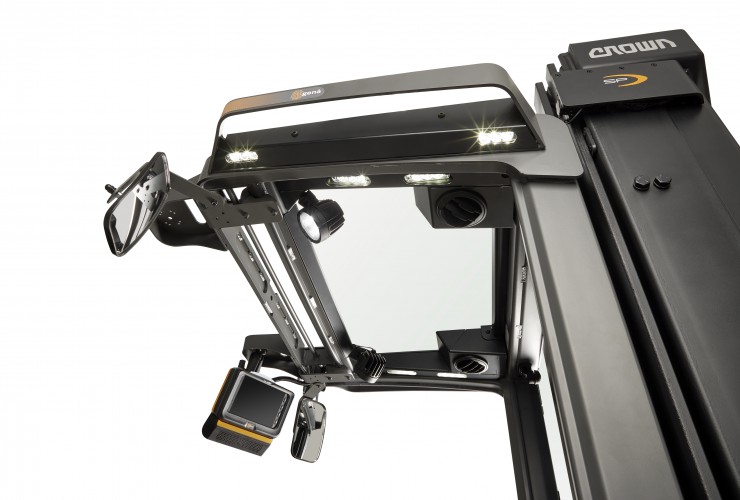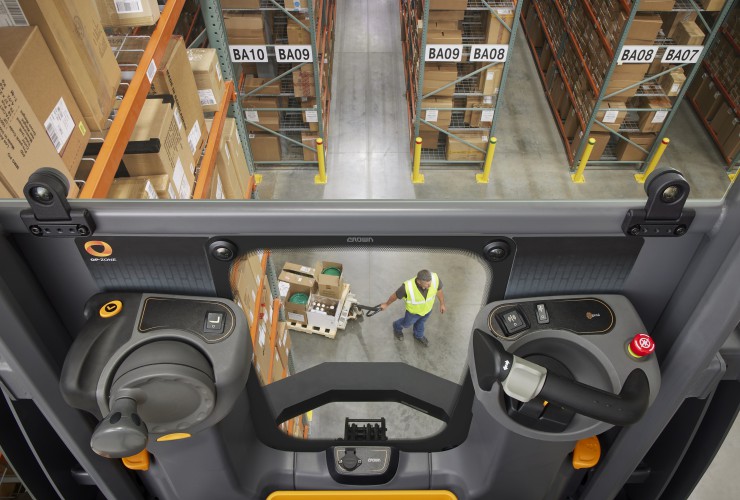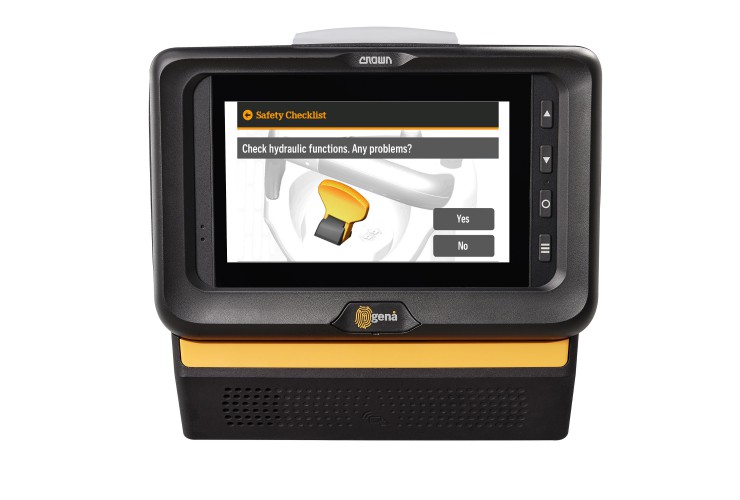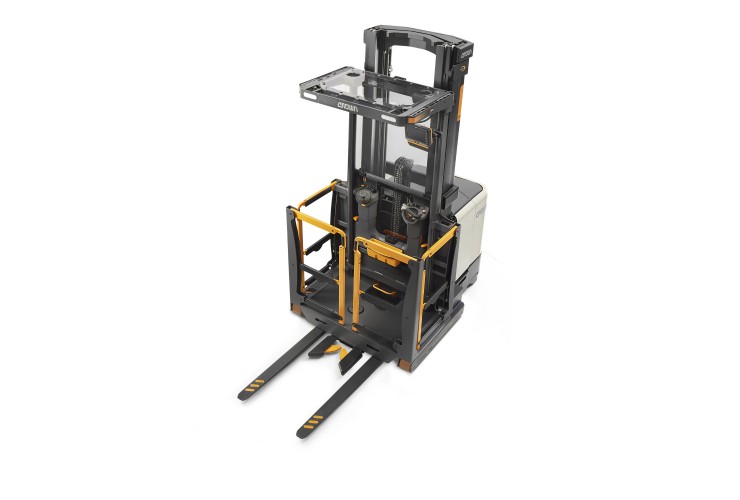 Crown SP 1500 high-level order picker.
Crown Gabelstapler GmbH & Co. KG
IFOY category
Warehouse Truck "highlifter"
Summary
The SP 1500 high-level order picker is the new standard for efficient order picking.
An innovative, ergonomic operator platform designed to address the evolving marketplace needs of store retail and e-commerce order picking with industry-leading visibility, performance and speeds, adjustable operator controls and workspace customisation. Crown's next generation operating system provides optimised user engagement and customisation as well as enhanced serviceability and integrated fleet management hardware. Standard features like traction control and regenerative lowering along with optional Work Assist solutions can be implemented to improve throughput and efficiency.
Description
The SP1500 Series high-level order picker addresses the ever-evolving marketplace needs for store retail and e-commerce order fulfillment in addition to traditional order picking application needs. Providing market leading visibility and truck performance, workspace efficiency and ergonomic operator controls, the SP1500 Series easily accommodates a diverse work force, promotes safe operation, and provides flexible platform solutions to meet multiple customer needs.
---
Name
 Crown SP 1500
Category
 Warehouse Truck "highlifter"

Date of Test
 

March 27 to March 30, 2023
Test Report
The SP 1500 is Crown's latest high-lift order picker. It offers a load capacity of up to 1,250 kilograms, driving speeds of up to 12 km/h and a maximum lift speed of 0.71 m/s at lift heights of up to 11.2 meters. To meet market demands, Crown redesigned the entire platform ̶ based on feedback from 250 customer surveys worldwide. The result is greater comfort, better handling, and more customization options for users. The only element in the cab that has not changed is the Gena system, although the display now runs a new generation of software.
Thanks to the Work Assist Rail, numerous customized solutions allow the operator to set up the workstation entirely as desired. In the current configuration, however, this is only possible with tools. The safety doors that provide access to the booth have been renewed and are now easier to operate. The cab itself is 150 millimeters higher so that even tall operators do not feel trapped as quickly or hindered by peripheral equipment attached to the Work Assist.
For the first time in high lift trucks, Crown offers the option of a dual configuration that allows the operator to control the truck from either side of the cab. The controls feature active sensing: When the right-hand control unit is gripped, the left-hand unit will be automatically activated. Thanks to the clever positioning of the controls, all hydraulic functions can be operated in a single movement. The steering wheel is tiltable and can be adjusted and operated in both horizontal (European) and vertical position (standard in the USA). The two control units on the mast side are also height-adjustable. Also new are the bright LED lights on the sides of the cabin contours. These illuminate the picking positions in the often dark aisles and give the operator an even better view of the goods.
During the IFOY test drive, it is obvious that visibility is optimized to an unprecedented degree on the SP 1500. A standard center window, unique to these trucks, provides unsurpassed downward visibility even from great heights. Two large viewing windows are also present on the fork side, while the cab floor features grilles that provide optimal visibility without requiring the operator to leave the safe contours of the truck. For the first time on high-lift order pickers, Crown has also included a panoramic skylight that also optimizes upward visibility.
The IFOY test team would have liked to have seen the central lift cylinder also replaced with two cylinders recessed into the mast for even better visibility during the extensive visibility optimization. According to Crown, this will be considered in a future optimization. In addition, a central cylinder that is up to 100 millimetres shorter than the previous one would be sufficient now.
Another improvement expected in future forklift models, especially in Europe, is a footplate that acts as a dead man's switch as a whole. At present, the SP 1500 is equipped with a large dead man's button, which is also much more convenient than that of its predecessor.
Another innovation is found under the battery cover. In addition to 24-volt units, Crown now supplies the SP 1500 with 48-volt batteries (from 432 Ah to 960 Ah). For example, for application situations where a higher residual capacity is required or a longer operating time is needed. The 48-volt batteries significantly increase the truck's performance and enable, among other things, high-performance lifting. Here, the lifting speed increases to up to 0.71 m/s. The standard lifting speed is already 0.58 m/s, which is well above the market average. Another standard feature is regenerative lowering of the mast for greater energy efficiency.
IFOY test verdict
The SP 1500 high-lift order picker is the new standard for efficient order picking. Visibility and clarity are industry-leading and bring the greatest benefits. But the numerous customization options to configure the workstation entirely according to your needs are also unique.
Hard Facts
 
Test Truck IFOY Test
Average other trucks
Value 1 to 10
Productivity Max mode (Pallets / 8 h)
 no data
 
 
Productivity Eco mode (Pallets / 8 h)
 

no data

 

 
Energy level Max mode (kWh / 100 plts)
 

no data

 

 
Energy level Eco mode (kWh / 100 plts)
 

no data

 

 
Driving speed with load (km/h)
 

no data

 

 
Lifting speed with load (cm/s)
 

no data

 

 
Sprint speed (time for 10 meters)
 

no data

 

 
Averages soft facts
| | |
| --- | --- |
| First impression |  8,80 |
| Load Safety |  8,00 |
| Entry / exit truck |  8,29 |
| Working position |  8,00 |
| Legg space |  7,75 |
| Activate truck |  8,50 |
| Hydraulics |  8,13 |
| Steering |  8,29 |
| Sight |  9,00 |
| Driving acceleration |  8,80 |
| Driving braking |  8,00 |
| Driving & Turning |  8,33 |
| Parking truck |  8,29 |
| Safety elements |  8,17 |
| General after test |  8,88 |
| Sustainability |  7,00 |
|   |   |
| Total average soft facts |  8,26 |
| Total productivity |  no data |
| Total Energy consumption |  no data |
IFOY Innovation Check

Market relevance
With the SP 1500, Crown is setting new standards within order picking applications, which are increasing due to more and more demands. Increasing requirements for performance, efficiency and ergonomics in e-commerce and retail are therefore leading to high market relevance. 
Customer benefit
Using the completely new model, the performance data of the SP 1500 can convince all across the board. With a lifting height of over 10 meters at high travel and lifting speeds, a clear increase in performance can be expected. The unique ergonomics with a large number of configuration options, which were developed from studies conducted directly at the customer's premises, are another key feature. The different aisle widths, the uniquely individually adjustable operation and the excellent field of vision are particularly worthy of mention. This without a doubt increases comfort for customers while at the same time ensuring a high level of safety during order-picking. 
Novelty / Innovation
In addition to the increased performance characteristics, Crown is showing some innovative features that have a high degree of novelty in this area. Due to the high lift height, regenerative lowering could be used sensibly for the first time to increase energy efficiency, whereby low conversion efficiency is to be expected due to the hydraulic-electric-generative solution. A very impressive feature is the operator's area, which provides the right adjustability for every body size and ensures visibility of all vehicle boundaries even at maximum lifting height thanks to the viewing openings in the floor and the center window. 
Functionality / Type of implementation
The SP 1500 delivers what it promised on paper and appears in an outstandingly solid design. In every respect, it offers adjustment possibilities that promise comfortable work and even address the different needs of the European and American markets. For example, the steering wheel can be switched between vertical and horizontal in the simplest way, which underlines the universality of the truck with this exemplary detail. 
Verdict
Crown's SP 1500 convinces in every respect and is ahead in the market comparison.
Market relevance

+

Customer benefit

++

Novelty / Innovation

+

Functionality / Implementation

++

++ very good / + good / Ø balanced / - less / -- not available
---
Truck model
Stockpicker: SP 1520 / SP 1510
Technical data (all trucks)
| | |
| --- | --- |
| Truck type | electro |
| Lift capacity/load | 1000 / 1250 kg |
| Truck weight | 2855 kg |
| Operation | stand-on |
| Driving speed with load | 12 km/h |
| Driving speed without load | 12 km/h |
| Lifting speed with load | 0.43 (48V) m/s |
| Lifting speed without load | 0.71 (48V) m/s |
| Lowering speed with load | 0.41 m/s |
| Lowering speed without load | 0.41 m/s |
| Max. lift height | 10210 mm |
| Power consumption according to VDI cycle | kWh/h |
| Electro-trucks | |
| Battery voltage | 24 / 48 V |
| Battery capacity | 930 Ah (48V) Ah |
| Battery connector | SBE 320 |
| Battery weight | 910 kg |
| Drive motor | 4.8 kW |
| Lift motor | 15.0 kW |
| Tow truck | |
| Nominal towing capacity | N |
| Orderpicking/Combitrucks | |
| Max. picking height | 11200 mm |
Miscellaneous
This model is a
Newly developed model
Date of rollout
2023-01-27
Start of series production
2023-01-09
Competitive products
Jungheinrich EKS
Linde V
STILL EK-X
Innovations
A redesigned operator platform provides excellent visibility, stability, flexibility and ergonomics for increased operator confidence, comfort, and efficiency.
An industry-exclusive standard middle window provides unmatched power unit-first visibility at height.
An operator compartment that provides a customisable workspace including adjustable operator controls, industry-exclusive steer tiller orientation and integrated accessory mounting.
Industry-leading truck performance including lift, lower and travel speeds combined with standard regenerative lowering enhance productivity and run times.
An intuitive truck user interface provides enhanced and customisable engagement. The industrial grade, display provides intuitive menus, multiple languages, and configurable widgets to enhance operator engagement, productivity, and situational awareness.
A robust truck with customised truck energy solutions to improve runtime along with improved serviceability tools for faster, easier maintenance.
Market relevance
Order picking applications are experiencing continued growth due to the increase in e-commerce activity.  The SP1500 Series order pickers are designed and intended to be utilised in any order picking application including retail, wholesale, furniture (assembled and not assembled), appliances, small parts, manufacturing, cart or platform picking, etc.
The industry units in Europe for this type of high-level order picker are approximately 5,000 trucks annually.
Customer benefit
The main advantages are:

Improved productivity.
Enhanced visibility.
Outstanding operator efficiency.
Increased uptime.
Ergonomic, customisable compartment.
Intelligent connectivity of the truck and integration into customer's processes.
Optional items (IFOY test truck)
Wire guidance
Load-facing operator controls
Blue floor spot light
Overhead guard-mounted LED spotlights