IFOY Patronage
IFOY Sponsor
The VDMA Materials Handling and Intralogistics Sector Association is sponsor of the International Forklift Truck of the Year (IFOY).
Smart Pallet Mover (SPM)

Interroll Group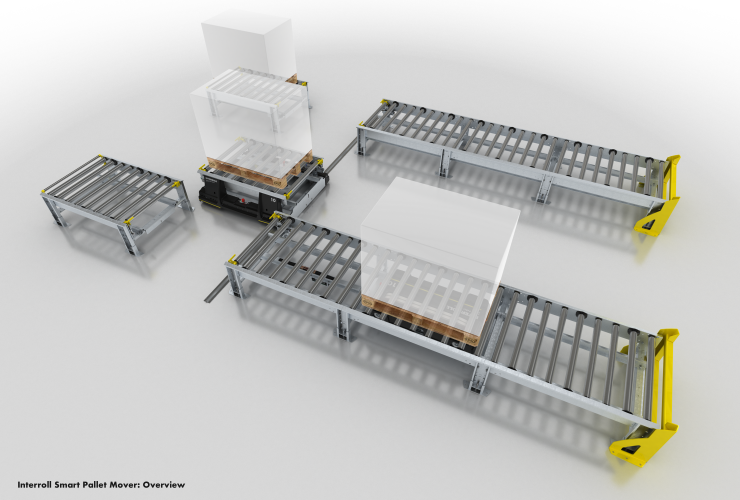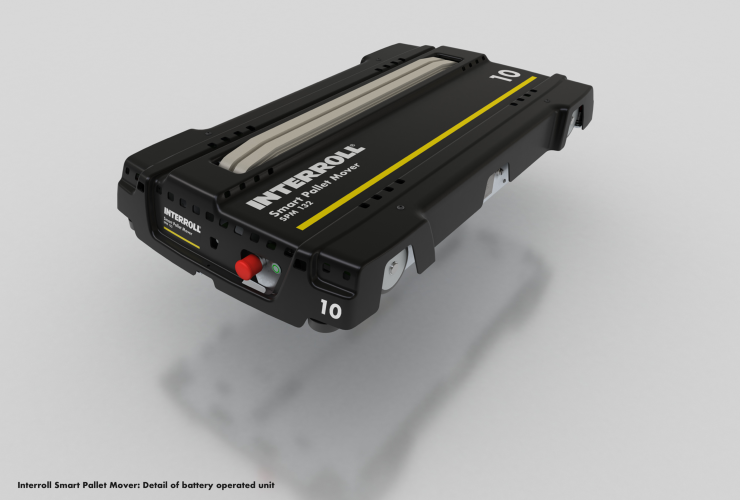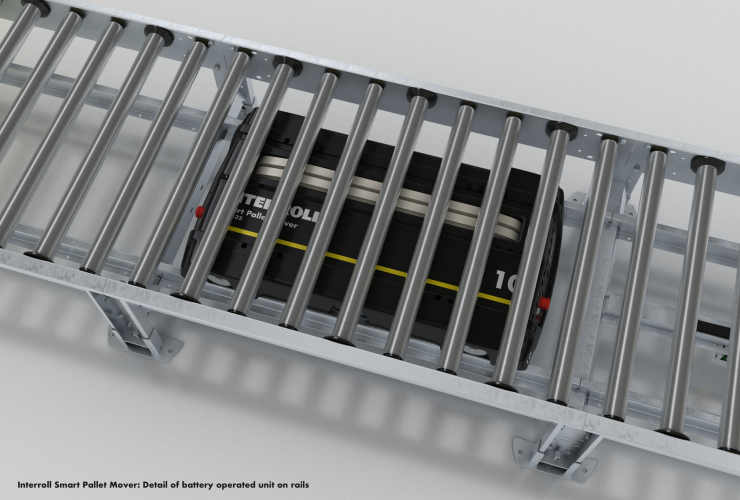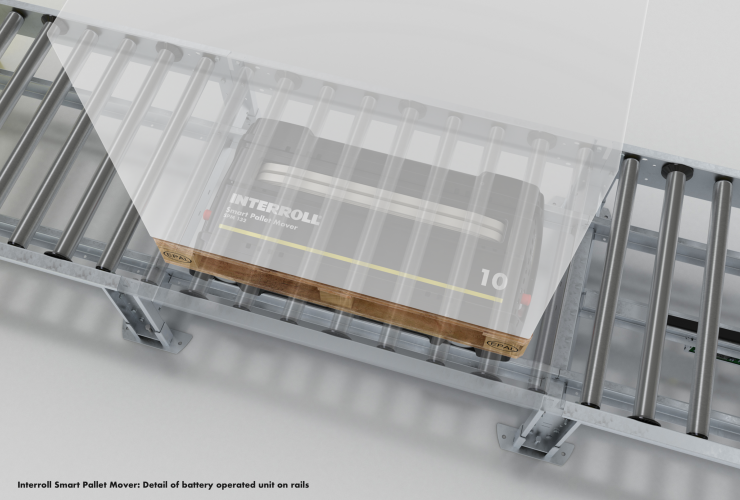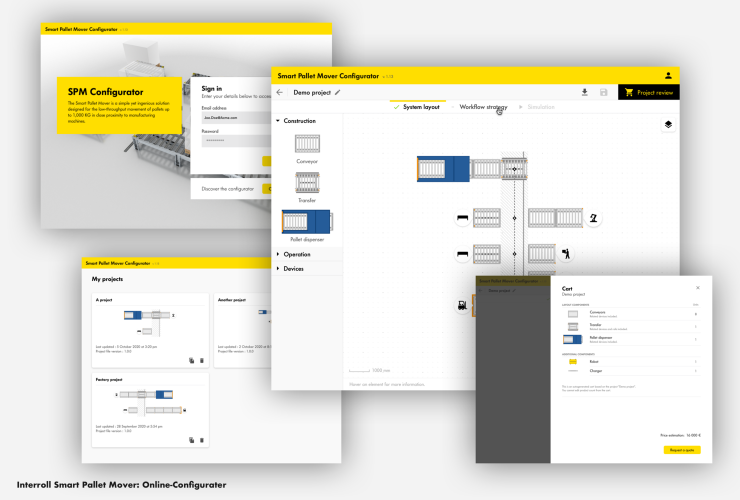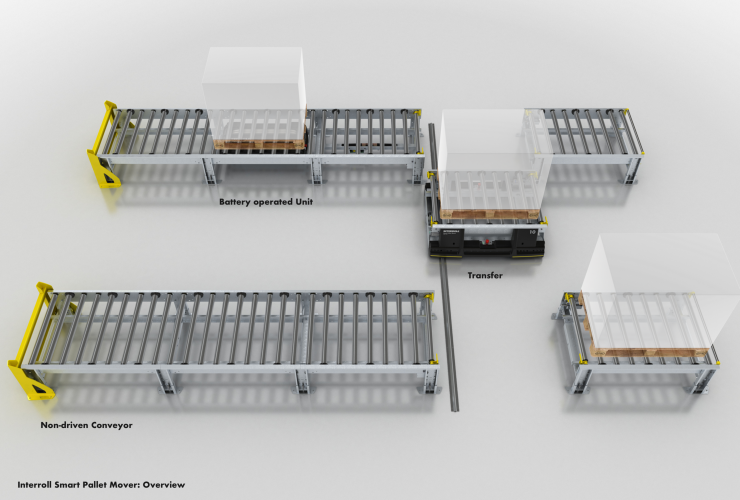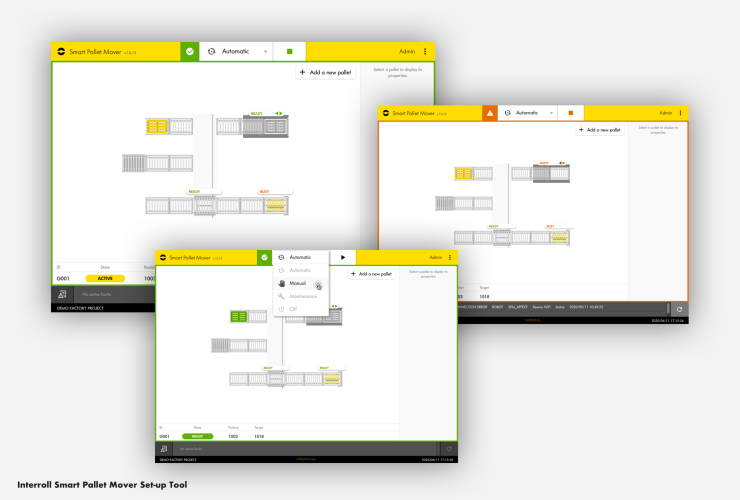 Interroll Smart Palett Mover (SPM): Überblick
Interroll
IFOY-Kategorie
Automated Guided Vehicle (AGV)
Zusammenfassung
Der Interroll Smart Pallet Mover (SPM) steigert signifikant Produktivität und Sicherheit in der Fertigungslogistik, indem er die letzte Meile der Produktion auf eine neue Art und Weise automatisiert.
Beschreibung
SPM ist eine neue, mobile Roboterlösung für die Automatisierung des Palettentransports in den Bereichen Produktionsmaschinen und Kommissionierung.
Das System ist für den Transport von Paletten oder Kisten mit einem Gewicht von bis zu 1000 Kilogramm ausgelegt.
Die flexible und skalierbare Lösung stellt ein mobiles und autonom arbeitendes Transportsystem dar, das beispielsweise als effiziente Erweiterung von statischen Förderanlagen eingesetzt werden kann.
SPM besteht aus nicht angetriebenen Förderern, einer batteriebetriebenen Einheit auf Schienen, einem Transfer und einem Online-Tool zur Programmierung des Systems und zur Schnittstelle mit anderen Maschinen.
Das System bewegt autonom Paletten oder Kisten auf modularen Fördereinheiten und kann so zum Beispiel Gabelstapler ersetzen.
Aufgrund seiner digitalen Konnektivität und hohen Eigensicherheit ist SPM in der Lage, sich in Mensch-/Maschinenumgebungen zu integrieren.
Als modulare Lösung kann es nahtlos mit anderen Komponenten eines Materialflusssystems kombiniert und in bestehende IT-Umgebungen einer modernen intelligenten Fabrik integriert werden.
Ein webbasierter Konfigurator mit einer benutzerzentrierten Schnittstelle ermöglicht die komfortable Planung von SPM-Installationen.
Einrichtung, Betrieb und Wartung folgen einem Plug-and-Play-Prinzip.
Innovation
Der Interroll Smart Pallet Mover (SPM) ist eine komplette Neuentwicklung. Er bietet Anwendern eine Automatisierungslösung für Bereiche des Materialflussprozesses, in denen vergleichbare Technologien bisher nicht verfügbar waren.
Das Design basiert auf einem disruptiven Konzept, das die Funktionen "Tragen" und "Antreiben" voneinander trennt. Dies ermöglicht einen einfachen modularen mechanischen Aufbau, bei dem Antrieb und Steuerung in einem mobilen Roboter vereint werden, der den "tragenden" Förderer steuert und antreibt.
Durch die autonome Bewegung von modularen Fördereinheiten mit Paletten oder Kisten werden Tätigkeiten übernommen, die bislang von Hand oder mit Gabelstaplern durchgeführt wurden.
Marktrelevanz
Auf globaler Ebene werden die weltweiten Lieferungen von Lager- und Logistikrobotern von 194.000 (2018) auf 938.000 (bis 2022) zunehmen. Dabei liegt der durchschnittliche Automatisierungsgrad des innerbetrieblichen Materialtransportes in mittelständischen Unternehmen in Deutschland bei ausbaufähigen 53 Prozent.
Nicht einmal jedes fünfte Unternehmen (19 Prozent) erreicht bei diesen Prozessen einen Automatisierungsgrad von über 75 Prozent.
Beinahe jedes zehnte Unternehmen (neun Prozent) hat sich bisher sehr zurückgehalten und verfügt gerade einmal über einen Automatisierungsgrad von unter 25 Prozent.
Bei der Palettenfördertechnik betrachten die Unternehmen Robustheit (58 Prozent), einfache Bedienung (53 Prozent) und Hightech-Design (35 Prozent) als die wichtigsten Anforderungen.
(Quelle: von Interroll beauftragten Umfrage, die von der Agentur Faktenkontor (Hamburg) durchgeführt wurde. Es wurden 2019 insgesamt 200 Produktionsunternehmen in Deutschland telefonisch befragt. Dabei lag der Fokus auf Betrieben, die 50 bis 500 Mitarbeiter beschäftigen und einen Umsatz von bis zu 500 Millionen Euro erwirtschaften.)
Die wirtschaftliche Belastung durch schlechte Arbeitssicherheit wird auf jährlich 3,94 Prozent des globalen BIP geschätzt (Quelle: Internationale Arbeitsorganisation (ILO), 2019
Hauptvorteile für den Kunden
Der SPM ermöglicht es Unternehmen, automatisierte Smart-Handling-Lösungen in einem vorhersehbaren Budgetrahmen kurzfristig zu integrieren und gleichzeitig Flexibilität und Skalierbarkeit im Betrieb zu gewährleisten.
Steigerung der Produktivität:
Automatische Materialversorgung von Maschinen
Keine Ausfallzeiten aufgrund manueller Tätigkeiten
Bis zu 30 Prozent Produktivitätssteigerung
Sicherheit am Arbeitsplatz:
Hält Arbeiter von unsicheren Bereichen fern
Reduziert Unfallrisiken
Intuitive Steuerung:
Einfache Ersteinrichtung und Konfiguration
Online-Konfigurationswerkzeug
Nahtlose Integration:
Einfache Integration in bestehende IT-Umgebungen und SOA-Installationen
Wi-Fi-Verbindung zu IOT-Hubs innerhalb einer Smart Factory
Flexibel skalierbar und modular:
Leicht an die Standortbedingungen anpassbar
Nahtlose Zusammenarbeit mit AGVs
Leichte Installation:
Kostengünstige, Plug-and-Play-Installation
Keine Unterbrechungen der Produktionsprozesse
Vielseitig und intelligent:
Selbstoptimierende Steuerungen
Ermöglicht vorbeugende Wartung
Langlebig und robust:
Bewährtes, zuverlässiges Produkt
Robuste, langlebige Konstruktion
Konkurrenzprodukte
Gabelstapler und Hubwagen, (Forklifts and palette trucks)
Manuelle Handhabung, (Manual handling)
Video:
PW: interroll
Smart Pallet Mover (SPM)

Interroll Group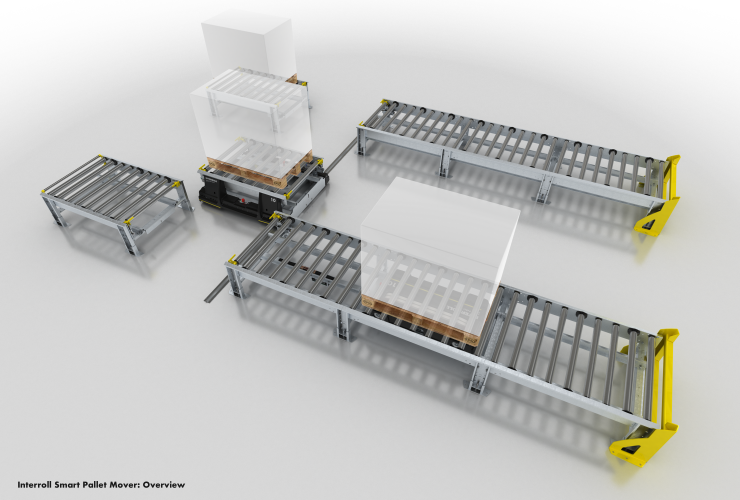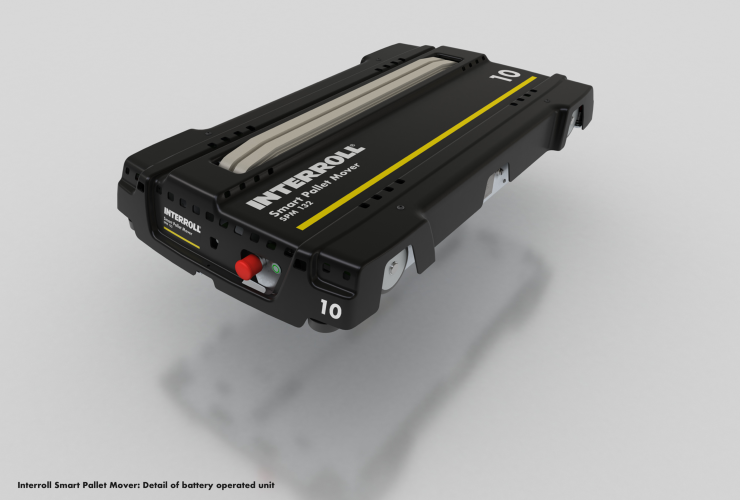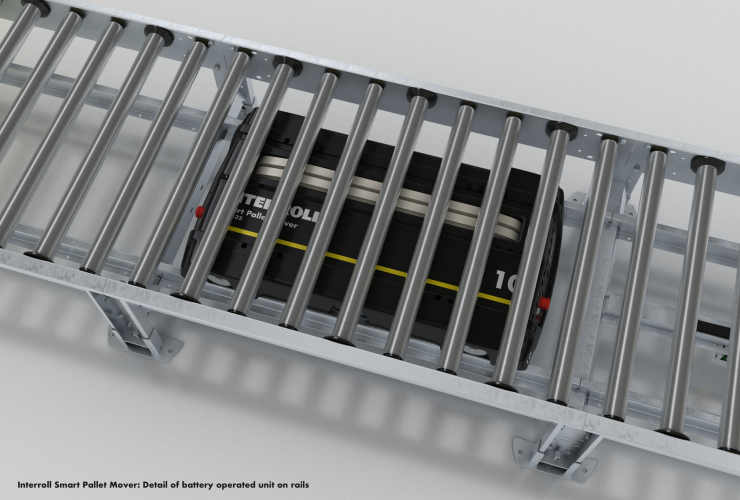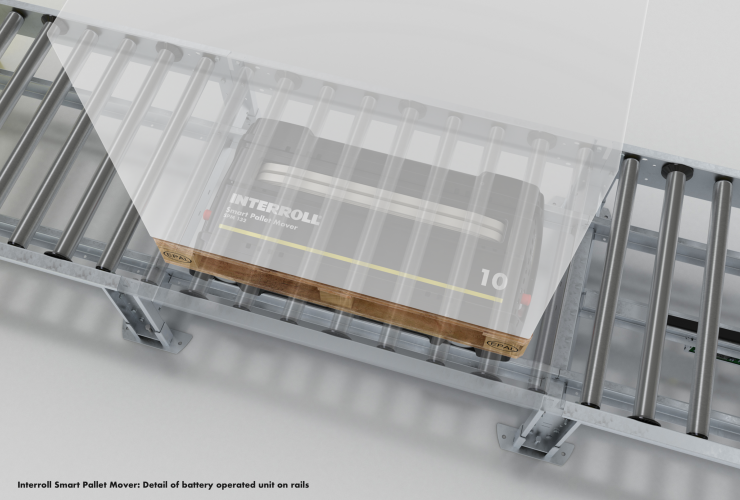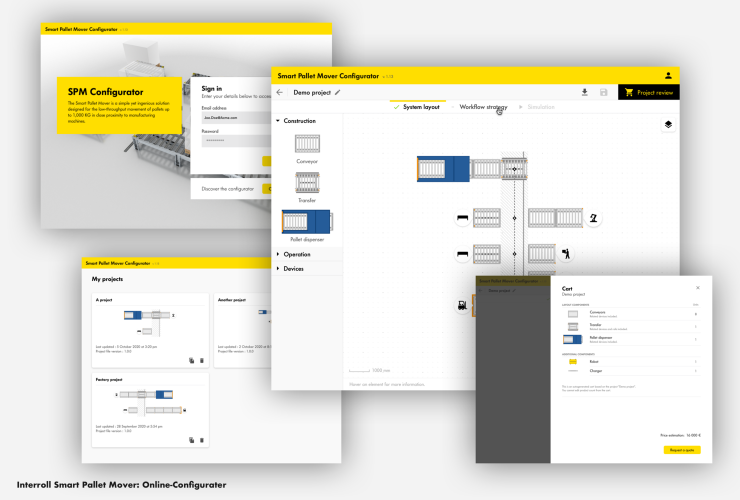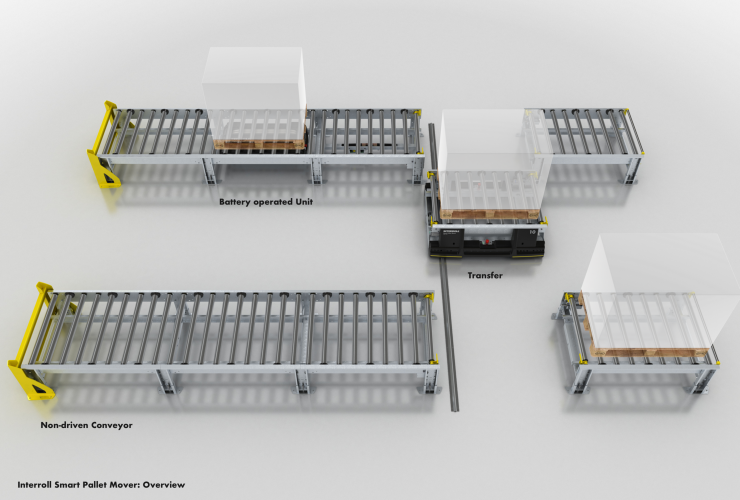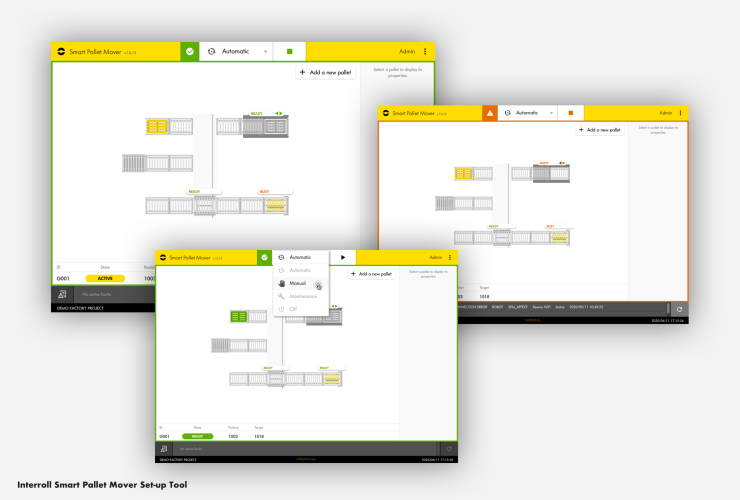 Interroll Smart Palett Mover (SPM) overview
Interroll
IFOY Category
Automated Guided Vehicle (AGV)
Summary
The Interroll Smart Pallet Mover (SPM) increases productivity and safety in manufacturing logistics significantly by automating the last mile of production in a new way.
Description
SPM is a new, mobile robotics solution for the automation of pallet transport in the areas of production machines and order picking.
It is designed to transport pallets or boxes weighing up to 1000 kilograms.
The flexible and scalable solution represents a mobile and autonomously operating transport system that can be used, for example, as an efficient enhancement of static conveyors.
SPM consists of non-driven conveyors, a battery-operated unit on rails, a transfer and an online tool to program the system and interface with other machines.
The system autonomously moves modular conveyor units with pallets or boxes and can replace forklifts e.g. in safety relevant working areas.
Due to its digital connectivity and intrinsic safety setup, SPM is capable of working collaboratively in human and machine environments.
The modular solution it can be seamlessly combined with other components of a material flow system and integrated in existing IT environments of a modern smart factory.
A web-based configurator with a user centered interface offers highly convenient planning of SPM installations.
Innovation
The Interroll Smart Pallet Mover (SPM) is a completely new development. It offers users an automation solution for areas of the material flow process in which comparable technologies were not available before.
The design is based on a disruptive concept that splits the functions "Carrying" and "Driving". This allows a simple modular mechanical structure where drive and control abilities are mutualised on a robot all along the conveyor.
Moving autonomously modular conveyor units with pallets or boxes SPM replaces manual processes which needed so far to be carried out by hand or by fork lifts.
Marktet relevance
On a global scale worldwide shipments of warehousing and logistics robots will grow from 194,000 (2018) to 938,000 (by 2022). But the average degree of automation of internal material handling in medium-sized companies in Germany is only at an upgradable level 53 percent.
Not even one in five companies (19 percent) achieves a level of automation of over 75 percent for these processes.
Nearly one in 10 companies (9 percent) has been very reluctant to invest in these processes and has an automation level of just under 25 percent.
For pallet conveyor technology companies consider robustness (58 percent), simple operation (53 percent) and high-tech design (35 percent) as the most important requirements.
(Source: Survey commissioned by Interroll and conducted by the agency Faktenkontor (Hamburg). A total of 200 production companies in Germany were surveyed by telephone in 2019. The focus was on companies with 50 to 500 employees and a turnover of up to 500 million euros)
The economic burden of poor occupational safety is estimated at 3,94 % of global GDP each year (Source: International Labour Organization (ILO), 2019
Main customer benefits
The SPM empowers customers to integrate automated smart handling solutions in predictive budget, short notice, while ensuring flexibility and scalability in operation.
Increase in productivity:
Automatic material supply of machines
No downtime due to manual activities
Up to 30 percent productivity increase
Work safety:
Keeps workers away from unsafe areas
Reduces the risks of accidents
Intuitive controls:
Simple initial setup and configuration
Online Configuration Tool
Seamless integration:
Easy integration into existing IT-environments and SOA-installations
Wi-Fi connection to IOT-Hubs within a smart factory
Flexible Scalable and modular:
Easily adaptable to site conditions
Seamless cooperation with AGVs
Ease of installation:
Low-cost, plug and play installation
No interruptions of production processes
Versatile and intelligent:
Self-optimizing controls
Makes preventive maintenance possible
Durable and robust:
Proven, reliable product
Robust, durable construction
Technical Data
Competitive Products
Gabelstapler und Hubwagen, (Forklifts and palette trucks)
Manuelle Handhabung, (Manual handling)
Video:
PW: interroll