IFOY Patronage
IFOY Sponsor
The VDMA Materials Handling and Intralogistics Sector Association is sponsor of the International Forklift Truck of the Year (IFOY).
HUSKi

H+E Produktentwicklung GmbH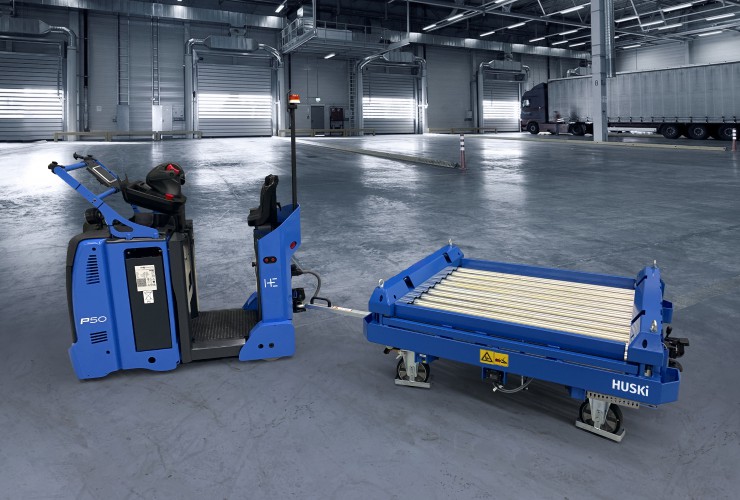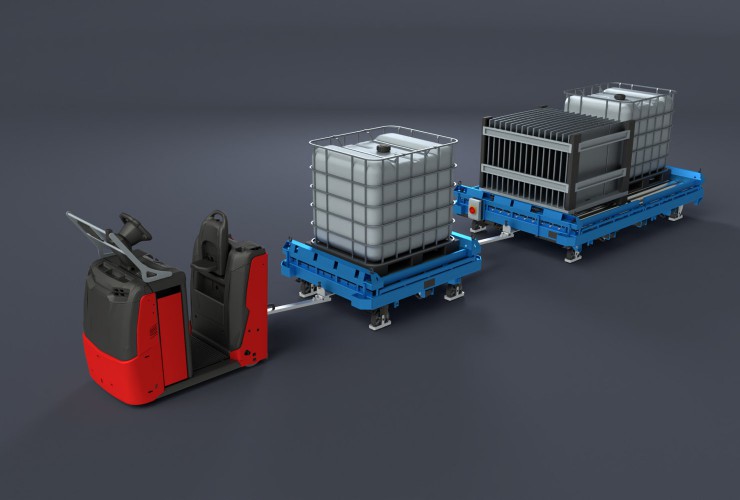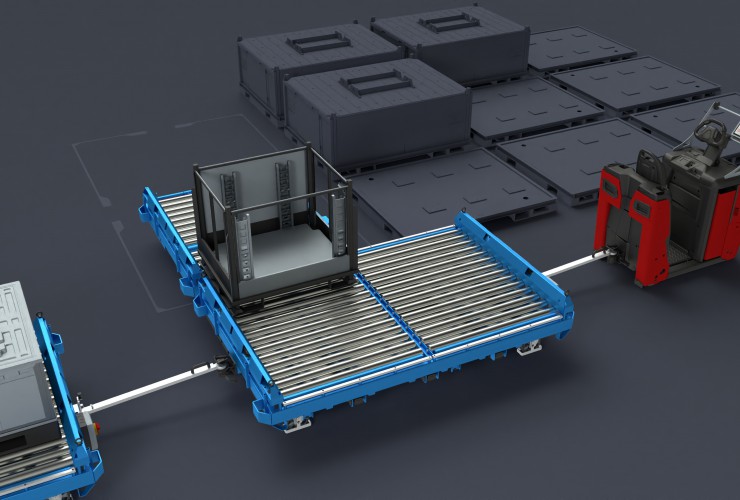 HUSKi Intralogistics
H+E Produktentwicklung GmbH
IFOY-Kategorie
Warehouse Truck "lowlifter"
Zusammenfassung
Gänzlich autonom arbeitende Fabriken im Zusammenspiel mit einer Industrie 4.0 und dem IoT (Internet of Things) sind eine der treibenden Visionen der aktuellen Zeit. Eine ganz wesentliche Fragestellung hierbei ist die Intralogistik von innerbetrieblichen Gütern. Im Bereich der Kleingüterlogistik kommt man dieser Vision schon sehr nah, anders im Bereich der Großgüter. Der HUSKi schließt die Lücke für Großgüter zwischen autonomem Fahren und einer automatischen und kontaktlosen Beschickung von Maschinen und Prozessen.
Beschreibung
Der HUSKi kommt immer dann zum Einsatz, wenn Gewichte über 500 Kilogramm (bis maximal 1.500 Kilogramm) ohne Gabelstapler oder zutun von Manipulatoren bewegt werden müssen, und diese automatisch und definiert an einer Übergabestelle aufgenommen oder abgegeben werden sollen. Bei der Übergabe kommuniziert der HUSKi aktiv mit der Prozessmaschine und leitet den Übergabeprozess ein. Er richtet seine eigene Position zur Übergabestelle sicher ein und richtet außerdem den Warenträger selbstständig aus und gibt diesen definiert ab. Durch die verbauten Sensoren ist es dem Wagen dabei möglich, auch verschiedene Warenträgergrößen zu befördern.
Im Zusammenspiel mit der Intelligenz des Schleppers (gilt für alle Schlepperfabrikate) transportiert der HUSKi seine Waren passgenau und zeitlich optimiert durch die Fabrik, jederzeit anpassbar und abgestimmt auf die Bedürfnisse der Produktion. Das erhöht nicht nur die Effizienz der Fertigung sondern minimiert auch Lagerflächen innerhalb der Fertigung und ist entsprechend ressourcenschonender und nachhaltiger als starre Logistiksysteme. Der Wagen erhält seine Energie vom Schlepper mittels 24-Volt-Steckverbindung und muss somit nicht gesondert geladen werden. Seine energiesparende Infrastruktur belastet die Batterie des Schleppers dabei nur marginal. Mit der Skalierbarkeit in Größe und Gewicht kann sich der Wagen jeglichem Arbeitsumfeld anpassen und kann auch Spezialaufgaben übernehmen.
---
Datenblatt
Gerätetyp
Technische Daten (alle Geräte)
| | |
| --- | --- |
| Antrieb | Elektro |
| Tragfähigkeit | 1500 kg |
| Eigengewicht | 800 kg |
| Bedienung | halbautomatisch / automatisch |
| Fahrgeschwindigkeit mit Last | wie Schlepper km/h |
| Fahrgeschwindigkeit ohne Last | wie Schlepper km/h |
| Hubgeschwindigkeit mit Last | n.a. m/s |
| Hubgeschwindigkeit ohne Last | n.a. m/s |
| Senkgeschwindigkeit mit Last | n.a. m/s |
| Senkgeschwindigkeit ohne Last | n.a. m/s |
| Max.Hubhöhe | n.a. mm |
| Energieverbrauch nach VDI-Arbeitsspiel | n.a. kWh/h |
| Elektro-Trucks | |
| Batteriespannung | 24 V |
| Batteriekapazität | wie Schlepper Ah |
| Batterieanschluss | wie Schlepper |
| Batteriegewicht | wie Schlepper kg |
| Leistung Fahrmotor | wie Schlepper kW |
| Leistung Hubmotor | wie Schlepper kW |
| Schlepper | |
| Nennzugkraft | 49.050 N |
| Kommissionierer/Kombigeräte | |
| Max. Greifhöhe | mm |
Sonstiges
| | |
| --- | --- |
| Es handelt sich um | Neu entwickeltes Sondermodell |
| Datum der Markteinführung | 02.11.2020 |
| Datum des Produktionsstarts | 02.11.2020 |
Innovationen
In Vergleich zu Konkurrenzprodukten ist die wichtigste Innovation des HUSKi, dass er kontaktlos, automatisiert und selbsttätig Waren großer Tonnagen bis 1.5 Tonnen Gewicht übergeben kann, dabei immer abgestimmt auf die Anforderungen der Fertigung reagiert und im Zusammenspiel mit dem Schlepper autonome Intralogistik im Großgütersektor ermöglicht. Zusätzlich ist seine große Variabilität in den zu transportierenden Waren und -trägern eine Neuerung. Seine integrierte Intelligenz und die damit verbundenen Kommunikation mit Prozessmaschinen ist einzigartig.
Marktrelevanz
Der Routenzug ist in der Intralogistik nicht wegzudenken und auch nicht durch aktuelle Produkte zu ersetzen. Rollenbahnen versperren oft den Weg. Ziel der Intralogistikbranche ist es jedoch schon lange, eine staplerfreie dabei jedoch flexible Produktion zu gewährleisten. Mit dem HUSKi ist dieser Traum nun ein Schritt näher gerückt. Bis zum Jahr 2025 sehen Experten im Intralogistiksektor ein Wachstum von mindestens 30 Prozent. Zielgruppen sind vor allem Firmen, die schon jetzt den Routenzug einsetzen oder aktuell Gabelstapler verwenden und sich das Ziel einer autonomen und flexiblen Intralogistik gesetzt haben. Weiterhin sind Zielkunden für den HUSKi Firmen, die Produktionsvorgänge haben, welche schädlich für den Menschen sind, beispielsweise durch den Einsatz von hochenergetischen Strahlungen, oder menschenfeindlichen Atmosphären.
Kundennutzen
Mit dem Einsatz des HUSKi kann der Kunde automatisiert und kontaktlos große Lasten transportieren und übergeben. Reparaturen an mechanischen Anschlägen oder Positionierhilfen werden obsolet. Zusätzlich entfällt bei der Übergabe der Lasten an eine Prozessmaschine der Einweiser für den Staplerfahrer, im Fall der autonomen Nutzung auch der Staplerfahrer selbst. Durch den intelligenten Einsatz des autonomen Routenzuges mit automatisierter Übergabe von Großgütern werden Lagerkapazitäten verringert.
Sonderausstattung (IFOY Test-Gerät)
HUSKi

H+E Produktentwicklung GmbH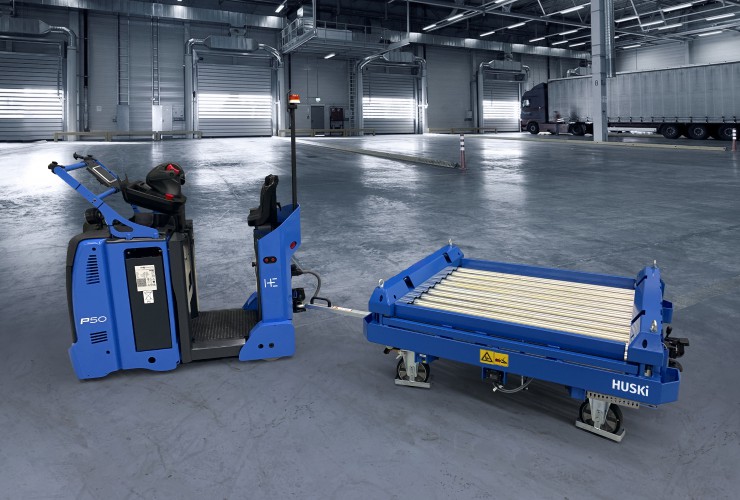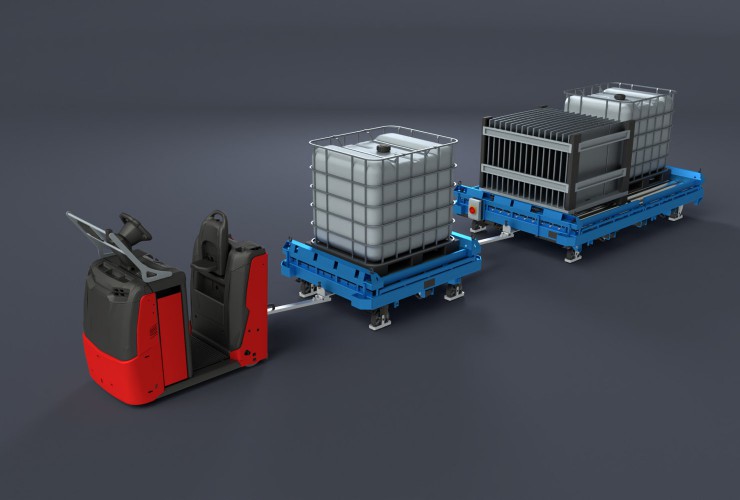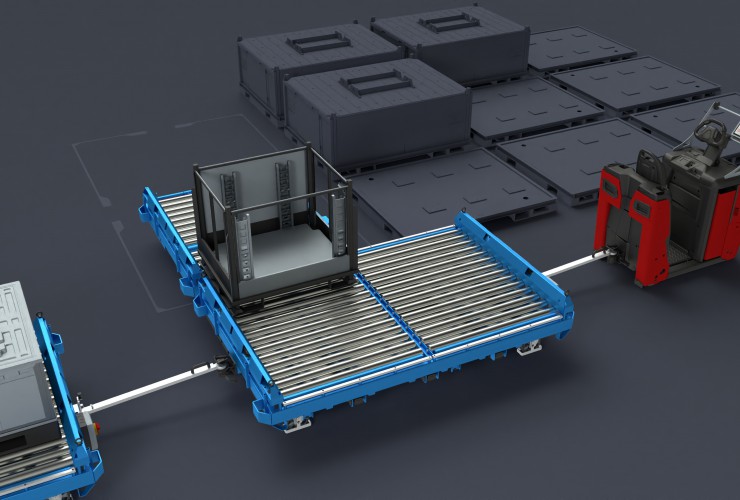 HUSKi Intralogistics
H+E Produktentwicklung GmbH
IFOY Category
Warehouse Truck "lowlifter"
Summary
Fully autonomously working factories combined with Industry 4.0 and the IoT (Internet of Things) are  the driving visions of our current time. A very important issue here is the intralogistics of internal goods. In the area of small goods logistics, this vision is already very close to reality, in contrast to the sector of large goods. The HUSKi closes the gap for large goods between autonomous driving and automatic and contactless loading of machines and processes.
Description
The HUSKi is used when weights over 500 kilogram (up to 1,500 kilogram) have to be moved without a forklift truck or without the help of manipulators, where goods have to be picked up or dropped off automatically and in a defined manner at a definded transfer point. During the transfer the HUSKi communicates actively with the process machine and initiates the transfer process. It finds its own position to the transfer point at safely and also aligns the product carrier automatically and delivers it in a defined manner. Thanks to the built-in sensors, the HUSKi can also transport different sizes of product carriers.
In combination with the intelligence of the pull-tractor (applicable for all brands), the HUSKi transports its goods through the factory in a precise and time-optimized manner, adaptable at any time and tailored to the needs of production. This not only increases the efficiency of production but also minimizes storage space within the production. This is much more effective and sustainable than rigid logistics systems. The trolley receives its energy from the tractor via a 24V plug connection and therefore free of an external charging process. Its energy-saving infrastructure places only a marginal load on the tractor's battery. With its scalability in size and weight, the HUSKi can adapt to any working environment and can also perform special tasks.
---
Data Sheet
Truck Model
Technical Data (all trucks)
| | |
| --- | --- |
| Truck Type | electro |
| Lift capacity/load | 1500 kg |
| Truck weight | 800 kg |
| Operation | halbautomatisch / automatisch |
| Driving speed with load | wie Schlepper km/h |
| Driving speed without load | wie Schlepper km/h |
| Lifting speed with load | n.a. m/s |
| Lifting speed without load | n.a. m/s |
| Lowering speed with load | n.a. m/s |
| Lowering speed without load | n.a. m/s |
| Max. lift height | n.a. mm |
| Power consumption according to VDI cycle | n.a. kWh/h |
| Electro-trucks | |
| Battery voltage | 24 V |
| Battery capacity | wie Schlepper Ah |
| Battery connector | wie Schlepper |
| Battery weight | wie Schlepper kg |
| Drive motor | wie Schlepper kW |
| Lift motor | wie Schlepper kW |
| Tow Truck | |
| Nominal towing capacity | 49.050 N |
| Orderpicking/Combitrucks | |
| Max. picking height | mm |
Miscellaneous
| | |
| --- | --- |
| This model is a | Newly developed special model |
| Date of rollout | 2020-11-02 |
| Start of series production | 2020-11-02 |
Innovations
Compared to competing products, only the HUSKi can transfer large and heavy goods up to 1.5 t. in a contactless fashion and automatically, always responding to the requirements of production and, in combination with the pull-tractor, enabling autonomous intralogistics. In addition, its great variability in goods and carriers to be transported is an innovation itself. Its integrated intelligence and the associated communication with process machines is unique.
Market relevance
It is impossible to imagine intralogistics without the route train, nor can it be replaced by current products. Roller conveyors often are blocking the way. The goal of the intralogistics industry, however, has long been to ensure forklift-free but flexible production. With the HUSKi this dream has now come one step closer. Until the year 2025 we see a growth of at least 30 percent in the intralogistics industry. Target groups are mainly companies that already use the route train or currently use forklifts and have set the goal of autonomous and flexible intralogistics. Furthermore, target customers for the HUSKi are companies that have production processes that are harmful to humans, e.g. through the use of high-energy radiation or inhumane atmospheres.
Customer Benefit
Using the HUSKi customers are enabled to transport and transfer large loads automatically and contactless. Repairs to mechanical stops or positioning aids become obsolete. Additionally, when the loads are transferred to a process machine, the separate instructor for the forklift driver is saved. In the case of autonomous driving of the route train, the forklift driver himself is saved. Storage capacities are reduced by the intelligent use of the autonomous route train with automated transfer of large goods.
Optional items (IFOY Test Truck)