IFOY Patronage
IFOY Sponsor
The VDMA Materials Handling and Intralogistics Sector Association is sponsor of the International Forklift Truck of the Year (IFOY).
arculus Fleet

arculus GmbH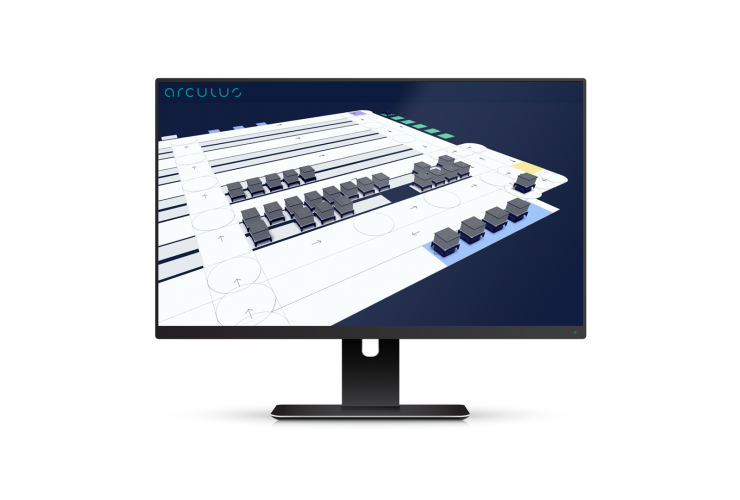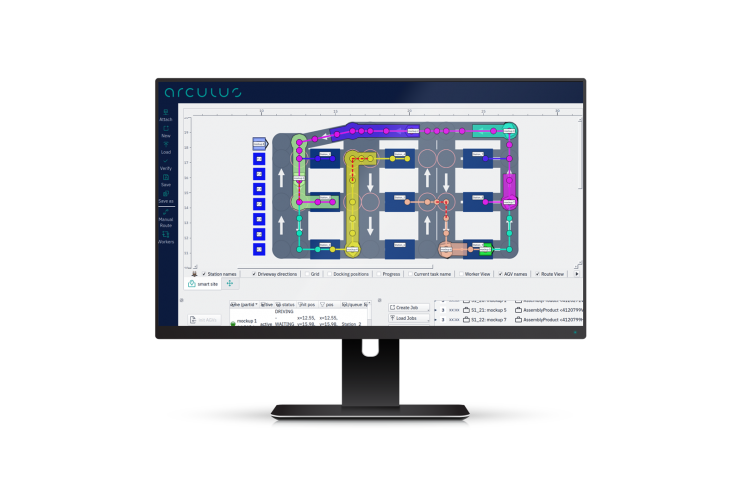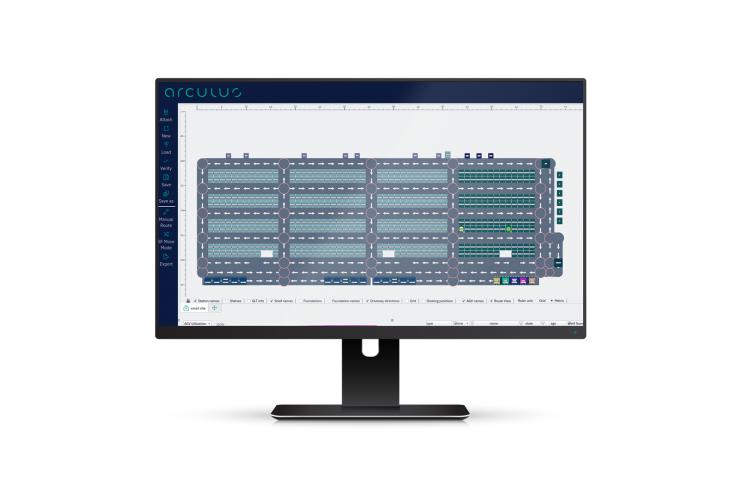 IFOY-Kategorie
Intralogistics Software
Zusammenfassung
arculus Fleet ist ein herstellerübergreifendes Flottenmanagementsystem. Es ermöglicht dem Kunden via VDA5050-Schnittstelle den Betrieb von AGVs verschiedener Hersteller auf der gleichen Fläche. Kernfunktionen sind die Planung und Optimierung von Layouts, die Hüllkurven basierte Verkehrssteuerung, sowie die prädiktive Pfadplanung. Als Teil des arculus Modular Production System kann arculus Fleet sowohl stand-alone, als auch in Kombination mit arculus Warehouse (Ware-zur-Person-Logistik) oder arculus Modular Production (dynamischer Produktfluss) implementiert werden.
Beschreibung
arculus Fleet steuert, unabhängig von der Navigationstechnologie, Kinematik und Dimension des AGVs, unterschiedliche Flotten mithilfe der VDA5050-Schnittstelle in jeder innerbetrieblichen Industrieumgebung.
arculus Fleet beinhaltet alle drei Implementierungsphasen:
Planung und Layout (Build)
Simulation (Simulate)
Betrieb (Operate)
Im Build Modus werden alle notwendigen Objekte konfiguriert:
Fahrstraßen (mit Fahrtrichtung, Geschwindigkeitsbegrenzungen)
Flotten von FTS-Fahrzeugen (Abmessung, Brems-/ Beschleunigungsbegrenzungen, kompatible Unterfahrtische, Energieverbrauch)
Transportobjekte (Abmessungen, Ausrichtung)
 Kommunikation mit automatisierten Anlagen (automatische Stationen, Rolltore, Ladestationen).
Im Simulationsmodus kann das Layout mithilfe von realitätsnahen Transportaufträgen verifiziert werden. Mit KPIs wie Transportzeiten und AGV-Auslastung sowie verschiedener Heatmaps können die geplanten Layouts ausgewertet und analysiert werden. Das optimierte Layout kann ohne weitere Anpassungen für den Betrieb verwendet werden. Während des Betriebs sind bestimmte Bediener- und Managementansichten (2D/3D-Layout, Fehlerbehebung, Auftragslisten) verfügbar und ermöglichen eine intuitive und robuste Bedienung sowie Verwaltung des Systems.
Innovation
Die Hauptdifferenzierungsmerkmale des arculus Fleet sind:
Offene Schnittstelle (VDA5050) zur Integration von AGVs/AMRs unterschiedlicher Hersteller
Dynamische Pfadplanung auf Basis von Echtzeit-Verkehrsinformationen
Vertikale Integration des Flottenmanagement mit arculus Warehouse (Ware-zu-Person) und arculus Modular Production (intelligenter Produktfluss)
arculus war Teil des VDA- und VDMA-Expertengremiums zur Standardisierung der AGV-Schnittstelle und verfügt über ein tiefes Verständnis in der Robotik. VDA5050 und das Verständnis aus der Robotik ermöglichen eine schnelle Integration und Inbetriebnahme neuer Anbieter. Anwendungsfälle mit Flotten mehrerer Anbieter ermöglichen Effizienzgewinne und eine höhere Wirtschaftlichkeit.
Die dynamische Pfadplanung kann mit Navigationssystemen wie Google Maps verglichen werden. Quelle-Senke-Beziehungen werden nicht mehr vorgegeben, sondern während der Laufzeit berechnet. Quellen und Senken werden mit Fahrstraßen verbunden, was es dem Algorithmus ermöglicht, den optimalen Pfad entsprechend der aktuellen Verkehrssituation zu berechnen.
Aufgrund der vertikalen Integration des Flottenmanagements beschränken sich die Anwendungsfälle nicht nur auf den Materialtransport (beispielsweise die Materialversorgung vom Lager an eine Montagelinie), sondern können auch um Ware-zur-Person- und modulare Produktionsanwendungen erweitert werden.
Marktrelevanz
arculus Fleet ist ein vielseitiges System für Logistik- und Produktionsanwendungen über alle Branchen hinweg und adressiert damit den 30 Mrd. US-Dollar umfassenden Lagerautomatisierungsmarkt. Immer mehr Kunden suchen nach einem generischen Flottenmanagement, statt proprietäre Lösungen für jede Flotte zu betreiben.
arculus Fleet ist bereits bei Kunden wie AUDI im Produktionsbetrieb im Einsatz (https://www.audi-mediacenter.com/de/pressemitteilungen/innovationssprung-in-der-logistikaudi-entwickelt-ersten-supermarkt-20-fuer-die-automobilindustrie-12950) und ermöglicht Effizienzgewinne und Platzersparnisse zu erzielen.  
Wettbewerber:
Synaos GmbH (syna.os logistics)
Siemens AG (simove)
Hauptvorteile für den Kunden
Intelligente Routenplanung auf Basis von Echtzeit-Verkehrsinformationen
Prädiktive Pfadplanung zur Vermeidung von Staus
Verkehrssteuerung auf Basis von dynamisch erzeugten Hüllkurven für jeden AMR
Planung, Simulation, Betrieb und Optimierung aus einem Software System
Dezidierte Ansicht für den Betrieb, die Wartung und das Management des Systems
2D-/ 3D-Visualisierung und Überwachung sowie anwenderspezifische Berichte
Basismodul für Ware-zu-Person-Anwendungen und die modulare Produktion
Technische Daten
arculus Fleet

arculus GmbH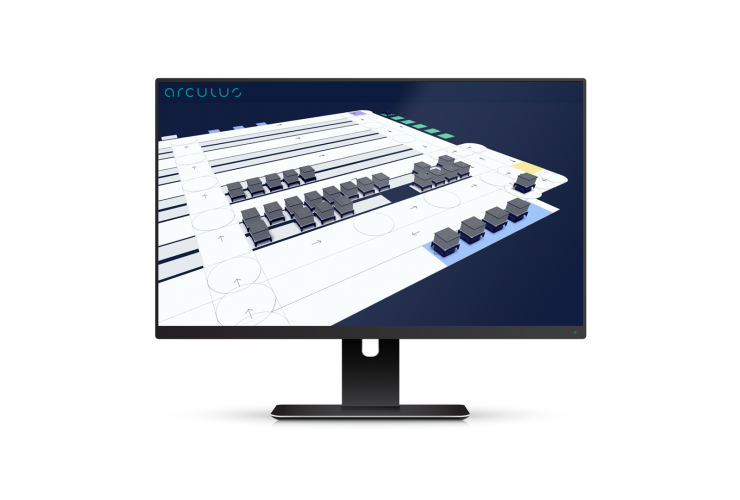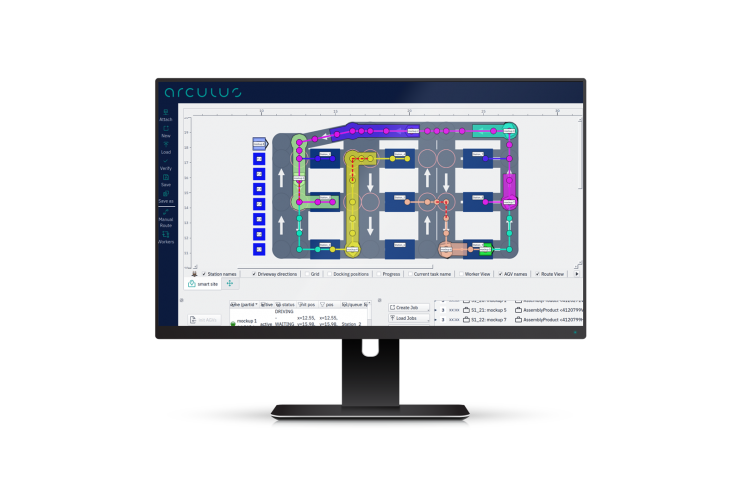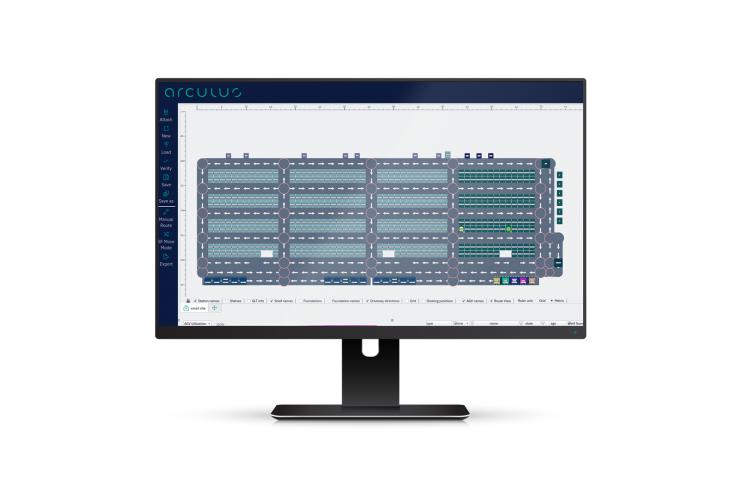 IFOY Category
Intralogistics Software
Summary
arculus Fleet is a multi vendor fleet management system. It enables customers to operate AGVs from different vendors in the same space via the standardised VDA5050 interface. Core features are the design and optimisation of layouts, envelope based intelligent traffic management, and traffic based dynamic path planning. As part of the arculus Modular Production System, it can be implemented as a standalone solution or in combination with arculus Warehouse (goods-to-person logistics) or arculus Modular Production (dynamic product flow).
Description
arculus Fleet can be used in any inhouse industrial environment for traffic management of any AGV, regardless of its navigation technology, kinematic and dimension. arculus Fleet communicates via the industry-standard VDA5050 interface.
It covers three different processes:
Plan and layout (Build)
Simulation (Simulate)
Operation (Operate)
In Build mode, all necessary objects are configured:
Driveways (including directions and speed limits)
Fleets of AGVs (with dimensions, brake/ acceleration limits, compatible carriers, energy consumption)
Transport objects (dimensions, orientations)
Machinery interaction (automatic stations, roller doors, charging stations)
In Simulation mode, the layout can be verified via representative transport orders, deriving KPIs such as transport times, AGV utilisation, and traffic heatmaps. The optimised layout can be used directly to operate the system.
During Operation mode, designated operator and management views (2D/3D layout, error recovery, job lists) are available and allow an intuitive and robust operation and management of the system.
Innovation
The main differentiators of arculus Fleet are:
An open interface for integration of any AGV/AMR via VDA5050
Dynamic path planning based on live traffic information
Vertical integration with arculus Warehouse Management (goods to person) and arculus Modular Production (dynamic product flow)
arculus has been part of the VDA and VDMA activity for standardising the AGV interface and has a deep understanding of robotics. This allows for fast integration and onboarding of new vendors. Mixed use-cases with fleets of multiple vendors will allow for efficiency gains and optimised economics.
Dynamic path planning works like navigation systems such as Google Maps. Source-sink relationships are no longer predetermined but calculated at runtime. Sources and sinks are connected to driveways, allowing the traffic management algorithm to derive the optimal path according to the current traffic in the system.
Due to the vertical integration, use cases are not limited to material handling (i.e., delivering material from a warehouse to an assembly line). Goods-to-person logistics and modular production functionality can be added while still using the same fleet management.
Marktet relevance
arculus Fleet is a versatile system for use cases across all verticals, thus addressing the warehouse automation market of 30 Billion US-Dollar. More and more customers are looking for generic fleet management instead of operating proprietary solutions for each fleet. The arculus Fleet is operated live at customers such as AUDI (https://www.audi-mediacenter.com/de/pressemitteilungen/innovationssprung-in-der-logistikaudi-entwickelt-ersten-supermarkt-20-fuer-die-automobilindustrie-12950) helping to generate efficiency gains and space savings.
Competitors:
Synaos GmbH (syna.os logistics)
Siemens AG (simove)
Main customer benefits
Smart routing and re-routing based on live traffic information
Predictive path planning to prevent the risk of congestion
Traffic control based on dynamic trajectory envelopes for each AMR
Planning, simulation, operation, and optimization in one system
Dedicated views for operators, servicing and management
2D/3D visualization and monitoring, customized reports
Core module for goods-to-person and modular production
Technical Data