IFOY Patronage
IFOY Sponsor
IFOY Partner
Messe Dortmund is official partner of the IFOY AWARD.
Cascade is official partner of the IFOY AWARD.
CHEP is official partner of the IFOY AWARD.
LTG is official partner of the IFOY AWARD.
The HERMES.Wirtschafts.Forum is official partner of the IFOY AWARD.
OPX-L 16

STILL GmbH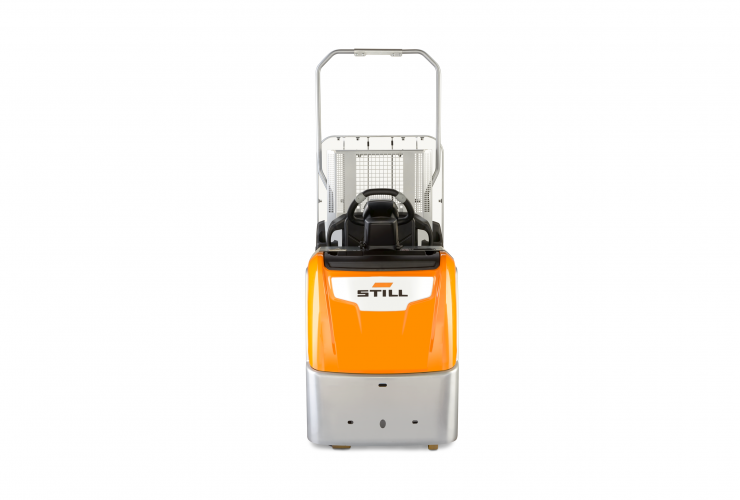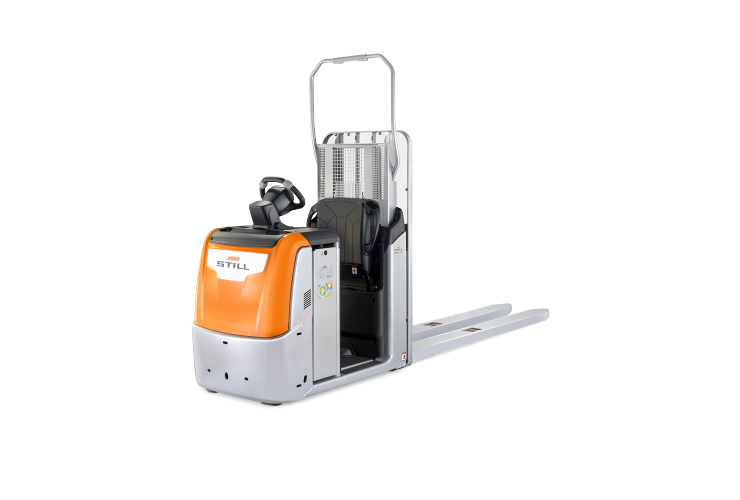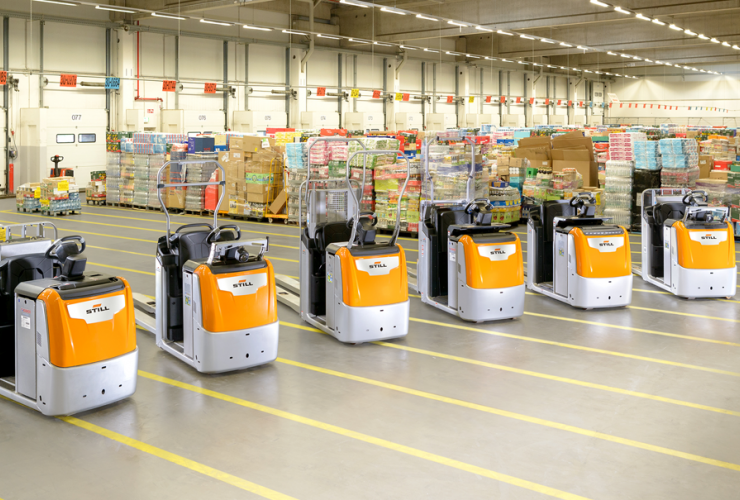 IFOY-Kategorie
Warehouse Truck
Zusammenfassung
Höhere Effizienz und ein ermüdungsfreies Arbeiten durch ausgeklügelte ergonomische Verbesserungen standen bei der Entwicklung des STILL OPX-L 16, dem Flaggschiff der neuen STILL OPX Kommissionier-Baureihe, im Fokus. Da es besonders im Einsatzgebiet der Horizontalkommissionierer auf schnelles und effizientes Arbeiten ankommt, lag ein besonderes Augenmerk auf den technischen Innovationen, die mit einer optimalen Ausgestaltung der Bedienung und des Bediener-Arbeitsplatzes kombiniert wurden. 
Beschreibung
Insgesamt neun Horizontalkommissionierer der OPX Baureihe und das Zugfahrzeug LTX 50 bilden eine am Markt einzigartige Variantenvielfalt mit dem passenden Modell für nahezu jeden Anwendungsfall. Die OPX Fahrzeugfamilie bietet zahlreiche neue Features und ersetzt die bestehende Baureihe nicht nur, sondern erweitert sie um zusätzliche Modelle: Neuzugänge sind zum Beispiel der OPX 25 und OPX 25 Plus mit einer Tragfähigkeit von 2.500 kg sowie der OPX-L 16 mit Masthub und kurzen Radarmen für ein ergonomisches Kommissionieren auch in engsten Arbeitsumgebungen. Die weiteren Varianten umfassen unter anderem ein Doppelstockfahrzeug, ein Fahrzeug mit Scherenhub sowie ein Zugfahrzeug. Die Tragfähigkeiten reichen von 1,2 bis 2,5 Tonnen. Mit Batteriekapazitäten von bis zu 620 Ah und einer Fahrgeschwindigkeit von bis zu 14 km/h bei den Plus-Modellen eignen sich die flinken Kommissionierer ideal für Mehrschichteinsätze.
Der neue OPX-L 16 ist ein Allroundtalent das seine Stärken an verschiedensten Einsatzorten voll ausspielt. Dazu zählen Zentrallager der Retailer und der Automobilindustrie genauso wie Distributionszentren der Lebensmittelindustrie oder Lagerwelten der Third Party Logistics (3PL). Kurz: Der OPX-L 16 trumpft überall dort auf, wo Ware mit einer hohen Pickdichte kommissioniert wird, lange Wegstrecken zurückgelegt werden müssen und wo höchste Effizienz gefordert ist.
Still punktet bei der OPX-Baureihe nicht nur mit einem bedienerfreundlichen Gesamtkonzept, sondern auch mit mehreren USPs. Beispiele sind der pneumatisch gefederte Fahrersitz und Fahrerstand für lange Strecken, das 5-Rad-Fahrwerk für beste Traktion sowie das neue STILL EASY Drive-Lenkrad mit ergonomischer STILL EASY Move-Bedienung.
---
| | |
| --- | --- |
| Truck Name |  STILL |
| Truck Type |  OPX-L 16 |
| Date of Test |  02.02.2018 |
Testbericht
Mit der neuen OPX-Serie will Still die Effizienz steigern und die Kommissionierermüdung reduzieren.
Einzigartig ist die große Modellvielfalt mit insgesamt neun neuen Kommissionierern. Kombiniert mit den zahlreichen neuen Funktionen, bietet Still damit für jeden Einsatz die passende Lösung. Im Rahmen der Testwoche wurde der Still OPX-L 16 auf den Prüfstand gestellt.
Bei der Entwicklung der OPX-Baureihe stand die Ergonomie des Kommissionierers im Mittelpunkt. Ziel war es, die Pickleistung zu steigern und den immer höheren Anforderungen des Marktes zum Beispiel im Hinblick auf den demografischen Wandel gerecht zu werden. Zum Beispiel sollten körperschädliche Schwingungen mit Hilfe einer pneumatischen Plattform minimiert werden, ohne die Auf- und Abstiegshöhe drastisch erhöhen zu müssen. Im Vergleich zu den Vorgängermodellen der COP- und CX-Serie beträgt der Unterschied maximal 5 mm.
Auch der Arbeitsplatz ist individuell an die Bedürfnisse des Bedieners anpassbar, um ein angenehmes maximal effizient Arbeiten zu ermöglichen. Die Lenksäule kann in der Höhe verstellt werden, ebenso wie die Rückenlehne mit Sitzoption (die es beim Testfahrzeug jedoch nicht gibt). Die Bewegungsfreiheit auf der Plattform ist ausreichend.
Für eine hohe Kurvenstabilität wurde bei fast allen Modellen die Vierradaufhängung gewählt. Für Stapler mit Plattformlift bieten die vier Räder den zusätzlichen Vorteil, dass bis in 1.200 mm Höhe (300 mm mehr) sicher gehoben werden kann. Darüber hinaus reduziert die Curve Speed Control automatisch die Kurvengeschwindigkeit und sorgt so für zusätzliche Sicherheit während der Fahrt.
Die neuen Highspeed-Kommissionierer OPX 20 Plus und OPX 25 Plus verfügen über ein 5-Rad-Fahrwerk, so dass das Antriebsrad vor allem in Kurven immer genügend Traktion hat.
Während der Arbeit hat der Kommissionierer dank Still EASY Drive, einem neu entwickelten ergonomischen und optional höhenverstellbaren Lenkrad mit integrierter Steuerung und Display, stets alle Informationen wie Batteriestatus und Betriebsstunden im Blick. EASY Drive wurde in der Kategorie "Special of the Year" ebenfalls für einen IFOY Award nominiert. Weitere Informationen zu diesem Konzept finden sich im entsprechenden Testbericht.
Ein leistungsstarker und wartungsarmer 24V/3 kW AC-Motor gibt dem Stapler die gewünschte Leistung für hohe Leistung bei geringem Energieverbrauch und langen Wartungsintervallen.
Bei allen Modellen ist es Still gelungen, den Energieverbrauch um mehr als 50 Prozent zu senken (laut VDI-Messung). Der bewährte Energieeffizienzmodus Blue-Q kann bis zu sieben Prozent Energie einsparen, ohne die Leistung signifikant zu reduzieren. Während der IFOY-Messung scheint die Einsparung von Blue-Q deutlich größer zu sein und variiert zwischen 11 und 18 Prozent, je nach Layout der Teststrecke. Die OPX-Leistung liegt leicht unter dem Klassendurchschnitt, was zum Teil auf die hohe Verzögerung durch Curve Speed Control und die geringe Beschleunigung zurückzuführen ist.
Die vielseitigen Kommissionierstapler mit Batteriekapazitäten bis 620 Ah eignen sich für den Mehrschichtbetrieb. Auf Wunsch sind die Fahrzeuge auch mit Lithium-Ionen-Batterien, Gelbatterien und integriertem Ladegerät erhältlich. Alle Batterien können je nach Kundenwunsch seitlich oder mit Hilfe eines Krans gewechselt werden.
IFOY Testfazit:
Die neue OPX-Serie besticht durch das Still EASY Drive Lenkrad, mit dem Still einem bestehenden Konzept eine neue Dimension verleiht. Das Lenkrad macht die Bedienung des Staplers noch intuitiver und benutzerfreundlicher. Die Produktivitätsleistung des OPX liegt infolge der auf Sicherheit optimierten Einstellungen leicht unter dem Durchschnitt. Der Energieverbrauch ist besser als der Marktdurchschnitt, vor allem bei maximaler Leistung. Verbesserungen am OPX sind möglich, wenn es um die scharfkantige Teile und die Geräuschentwicklung von Chassis und Rädern bei Fahrten auf weniger ebenen Böden geht.
Hard Facts
| | | | |
| --- | --- | --- | --- |
|   | Test Truck IFOY Test | Average other trucks | Value 1 to 10 |
| Productivity Max mode (picks per hour) |  261 |  303 |  6 |
| Productivity Eco mode (picks per hour) |  252  |  270 |  6 |
| Energy level Max (kWh / 1000 picks) |  2.8 |  3.3 |  8 |
| Energy level Eco (kWh / 1000 picks) |  2.4 |  2.6 |  7.5 |
| Driving speed Max (km/h) |  13 |  12.9 |   |
| Driving speed Eco (km/h) |  8.3 |  8 |   |
| Sprint speed Max (time for 10 meters) |  5.5 |  5 |   |
| Sprint speed Eco (time for 10 meters) |  6.1 |  6.2 |   |
Averages soft facts
| | |
| --- | --- |
| First impression |  7.20 |
| Load Safety |  7.50 |
| Entry / Exit truck |  7.25 |
| Working position |  7.00 |
| Activate truck |  7.50 |
| Hydraulics |  7.60 |
| Steering |  8.57 |
| Sight |  8.00 |
| Driving & Turning |  7.86 |
| Parking truck |  7.50 |
| Safety elements |  6.50 |
| General after test |  7.13 |
| Sustainability |  8.00 |
|   |   |
| Total average soft facts |  7.51 |
| Total productivity |  6.00 |
| Total Energy consumption |  7.75 |
IFOY Innovation Check
Marktrelevanz
Der OPX-L 16 von STILL stellt die Neuentwicklung und Erweiterung einer eingeführten Baureihe dar. Neu an diesem Horizontalkommissionierer ist die Ausrichtung auf hohe Leistung und ergonomische Details der Sonderausstattung. Mit diesen beiden Gestaltungsfeldern verfolgt Still das Ziel, im herausfordernden Betrieb in Handelsunternehmen und Zentrallägern eine höhere Umschlagleistung im Betrieb zu erreichen und die Mitarbeiter zu entlasten. Außerdem ist eine Variante mit verkürzten Radarmen erhältlich, mit denen engere Kurvenradien gefahren werden können, was den Einsatz auch bei schmalen Kommissioniergängen und mit begrenzten Verkehrs- und Rangierflächen möglich macht.
Da der OPX-L 16 weitgehend identisch mit herkömmlichen Horizontalkommissionierern ist, kann er ohne Schulungsmaßnahmen für das Personal in bestehenden Systemen eingesetzt werden. Trotzdem ist die Marktrelevanz nur als mittel einzuschätzen, da im harten Wettbewerb des Handels nur wenig Kosten für die ergonomische Ausgestaltung der Flurförderzeuge akzeptiert werden. Die Entwicklung des OPX-L 16 wurde mehrheitlich durch die Anforderungen aus dem französischen Markt getrieben, wo die Ergonomie einen höheren Stellenwert besitzt. Auch die Marktrelevanz der verkürzten Radarme und die damit einhergehende Manövrierfähigkeit werden nur als mittel eingeschätzt, da in den beschriebenen Einsatzbereichen für eine hohe Leistung zumeist genügend Verkehrsflächen ausgewiesen werden.
Kundennutzen
Durch den Einsatz des OPX-L 16 wird der Bediener in einzelnen Details entlastet. Die Wirksamkeit mit deutlichen Auswirkungen auf eine Verkürzung der Arbeitsspiele durch die höhere Geschwindigkeit oder auf vereinfachte Abläufe wurde jedoch nicht deutlich. Vielmehr besteht ein Nutzen darin, dass Kunden durch die zahlreichen Ausstattungsoptionen das Gerät auf ihre Bedürfnisse maßschneidern können. Dazu gehören die ergonomische Ausstattung oder auch die erhöhte Wendigkeit durch die verkürzten Radarme.
Neuheitsgrad
Die meisten ergonomischen Details des OPX-L 16 sind nicht grundsätzlich neu. Herauszuheben sind die verkürzten Radarme für mehr Wendigkeit, die in einem so kompakten Gerät mit langen Gabeln und verschiedenen Ausstattungsvarianten (insbesondere die Hubfunktionen) eine große Herausforderung für die Umsetzung darstellen.
Funktionalität / Art der Umsetzung
Der OPX-L 16 vermittelt einen soliden und robusten Eindruck. Die Entwicklung wurde in puncto Langlebigkeit und Wartungsfreiheit geführt. In Bezug auf die Ergonomie des OPX-L 16 fällt auf, dass die Einstellung der pneumatischen Dämpfung des Fahrerstandes nur stationär an einer Druckluftversorgung vorgenommen werden kann. Dies geht an den Einsatzbedingungen in einem Zentrallager vorbei, wo die Geräte im häufigen Wechsel genutzt werden. Zudem schränkt der Federspeicher den Fußraum für den Bediener des Horizontalkommissionierers ein, was den Gebrauchswert dieses Ausstattungsmerkmals reduziert, da häufiges Auf- und Absteigen zum Nutzungsprofil dieser Gerätekategorie gehört.
---
Marktrelevanz

Ø

Kundennutzen

Ø

Neuheits- / Innovationsgrad

Ø

Funktionalität  / Art der Umsetzung

Ø

++ sehr gut / + gut / Ø ausgeglichen / - weniger / - - nicht vorhanden
---
Datenblatt
Gerätetyp
Horizontalkommissionierer
Technische Daten (alle Geräte)
| | |
| --- | --- |
| Antrieb | Elektro |
| Tragfähigkeit | bis 2,5 t kg |
| Eigengewicht | kg |
| Bedienung | Stand |
| Fahrgeschwindigkeit mit Last | 9 km/h km/h |
| Fahrgeschwindigkeit ohne Last | 12 km/h km/h |
| Hubgeschwindigkeit mit Last | 0,102 m/s |
| Hubgeschwindigkeit ohne Last | 0,178 m/s |
| Senkgeschwindigkeit mit Last | 0,123 m/s |
| Senkgeschwindigkeit ohne Last | 0,123 m/s |
| Max.Hubhöhe | 1580 mm mm |
| Energieverbrauch nach VDI-Arbeitsspiel | - kWh/h |
| Elektro-Trucks | |
| Batteriespannung | 24 Volt V |
| Batteriekapazität | 620 Ah Ah |
| Batterieanschluss | |
| Batteriegewicht | 402 kg kg |
| Leistung Fahrmotor | 3 kW kW |
| Leistung Hubmotor | 2,2/5 % kW |
| Schlepper | |
| Nennzugkraft | N |
| Kommissionierer/Kombigeräte | |
| Max. Greifhöhe | 2800 mm mm |
Sonstiges
Es handelt sich um ein(e)
Vollständig neues Modell
Datum der Markteinführung
01.10.2017
Datum des Produktionsstarts
01.01.2018
Konkurrenzprodukte
Jungheinrich ECE
Linde N 20
Toyota BT Optio L
Innovationen
Eine zentrale Innovation, die alle Fahrzeugvarianten auszeichnet, ist STILL EASY Drive: ein neu entwickeltes, ergonomisches, optional höhenverstellbares Lenkrad mit integriertem Display. Auf diesem hat der Fahrer stets alle Fahrzeugparameter, wie zum Beispiel Batteriestatus und Betriebsstunden, im Blick. Dank der speziellen Kontur kann der Bediener das Lenkrad in jeder Fahrsituation perfekt umfassen. So wird die Sicherheit einfach und intuitiv erhöht – sogar bei Rückwärtsfahrten.
Ein weiterer USP ist STILL EASY Move, am Lenkrad integrierte Schaltwippen. Sie ermöglichen bei entsprechend konfigurierten Fahrzeugen die Betätigung des Masthubes und das gleichzeitige Anheben des Fahrerstandes, ohne dass dabei die Hände vom Lenkrad genommen werden müssen.
Im Markt einzigartig ist der pneumatisch gedämpfte Fahrerstand. Er lässt sich an das Gewicht des Fahrers anpassen, was Humanschwingungen deutlich reduziert. Eine weitere Option ist ein höhenverstellbarer Klappsitz für lange Fahrstrecken, der in die Rückenlehne integriert ist. Wird der Klappsitz in Kombination mit dem pneumatisch gedämpften Fahrerstand bestellt, sind diese miteinander gekoppelt, so dass auch der Sitz von der pneumatischen Federung profitiert.
Die Varianten OPX 20 Plus und OPX 25 Plus punkten mit einem innovativen 5-Rad-Fahrwerk, bei dem das Antriebsrad immer beste Traktion hat – auch und insbesondere beim Abbremsen mit Last. Und das, obwohl er nur ca. 50 % des Energieverbrauchs des Vorgängers aufweist. Ergebnis ist ein zu jeder Zeit sicheres, angenehmes und feinfühliges Fahrverhalten.
Das LED-Tagfahrlicht Plus bietet dem Bediener neben der besseren Wahrnehmbarkeit auch nützliche Informationen. Über ein Blinken in einer bestimmten Frequenz wird der Bediener über einen Error oder einen geringen Batteriestatus informiert.
Marktrelevanz
Der OPX ist in vielen Branchen zu Hause. Die Einsatzgebiete ähneln sich jedoch über die Branchen hinweg sehr. Die Fahrzeuge werden zumeist in Zentrallagern eingesetzt und bewegen sich dementsprechend ausschließlich im Innenbereich in oftmals sehr großen Hallen mit langen Kommissioniergängen. Die Kommissionierung kann sowohl in der Bodenebene als auch in der ersten Regalebene erfolgen. Darüber hinaus werden die Fahrzeuge auch für den Warentransport auf langen Wegstrecken eingesetzt. Haupteinsatzgebiete sind Zentrallager der Retailer und der Automobilindustrie genauso wie Distributionszentren der Lebensmittelindustrie oder Lagerwelten der Third Party Logistics.
Der europäische Markt für Horizontalkommissionierer lag 2015 bei 19.000 Stück und 2016 bei rund 23.000 Stück und wächst stetig. Bei einer Lebenszeit von 5 bis 7 Jahren bedeutet das eine Installed Base von circa 110.000 Fahrzeugen im Markt. Die Branche mit dem größten Marktanteil ist der Lebensmitteleinzelhandel.
Kundennutzen
Die Maximalgeschwindigkeit von 14 km/h bei den Fahrzeugvarianten OPX 20 Plus und OPX 25 Plus garantiert auch bei langen Wegstrecken jene enorme Umschlagsleistung, die die gesamte Baureihe auszeichnet. Beide Fahrzeuge punkten dank 5-Radfahrwerk mit einer einmaligen Traktion des Antriebsrades und mit einem sicheren Fahrverhalten beim Abbremsen. Die höhere Nenntragfähigkeit von 2,5 Tonnen ermöglicht den Transport von mehr Ware in der gleichen Zeit und erhöht damit die Umschlagsleistung zusätzlich.
Mit dem anhebbaren Fahrerstand erreicht der Bediener eine Greifhöhe von 2.800 mm. Dabei ist der Fahrerstand so konstruiert, dass dieser zusammen mit der Bedieneinheit, dem STILL EASY Drive-Lenkrad, nach oben fährt. So ist der Bediener in der Lage, das Fahrzeug auch in der ersten Ebene zu bewegen, was die Umschlagleistung zusätzlich maximiert.
Der besonders ergonomische Arbeitsplatz sowie die gute Dämpfung der Standplattform und des optionalen Sitzes schonen die Gesundheit der Bediener. Resultat sind ein niedrigerer Krankenstand und geringere Ausfallzeiten der Bediener.
Gewaltschäden und die damit einhergehenden Mehrkosten verhindert das sichere und feinfühlige Fahrverhalten sowie die intuitive Bedienung mit STILL EASY Drive und STILL EASY Move.
Die bessere Sichtbarkeit im Lager durch das LED Tagfahrlicht und das Safety Light senken das Unfallrisiko deutlich.
Durch die Möglichkeit, die OPX Modelle mit Li-Ion-Batterien auszustatten, lässt sich die Verfügbarkeit der Geräte durch schnelles Laden und Zwischenladen erhöhen und der Warenumschlag noch weiter beschleunigen. Diese Features machen die OPX Familie zur perfekten Symbiose aus ergonomischem Fahrkomfort und maximaler Umschlagleistung.
Sonderausstattung (IFOY Test-Gerät)
OPX-L 16

STILL GmbH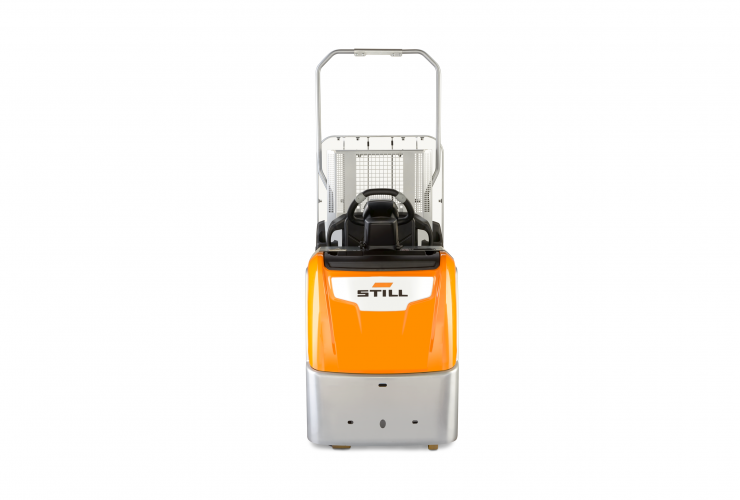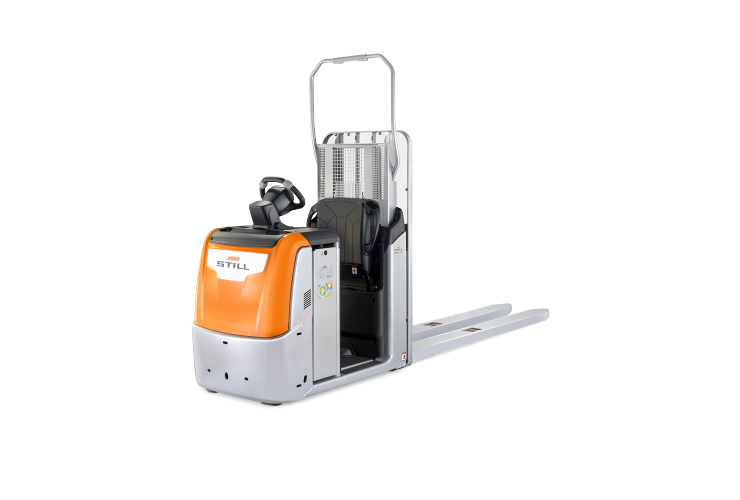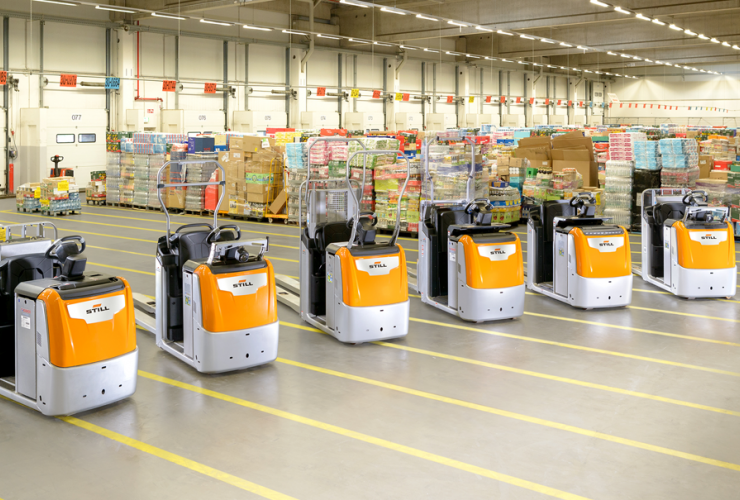 IFOY category
Warehouse Truck
Summary
Higher efficiency and fatigue free work by well-thought ergonomic improvements where the development focus of the new STILL OPX-L 16, the flagship of the new STILL OPX order picking series. As fast and efficient work is of particular importance for horizontal order picking, a special focus was put on technical innovations which were combined with optimum design of the work platform and the controls for the operator.
Description
Nine horizontal OPX order pickers and a tow tractor LTX 50 form a series of unmatched variety on the market with a suitable model for virtually any application. The OPX truck family offers numerous new features, not only replacing, but extending it by additional models: new trucks are, e.g. the OPX 25 and the OPX 25 Plus with a load capacity of 2,500 kg, or the OPX-L 16 with a mast lift and short load arms for ergonomic order picking even in tightest spaces. Other variants are a double deck truck, a truck with pantograph lift, and a tow tractor. The load capacities reach from 1.2 to 2.5 tons. Battery capacities of up to 620 Ah and driving speeds of up to 14 km/h for the Plus models make these quick order pickers ideal for multi-shift applications.
The new OPX-L 16, an all-round talent, makes full use of its strengths in different areas of application, e.g. central warehouses for retailers, the automotive industry as well as distribution centres of the food industry or third party logistics (3PL) warehouse worlds. In brief: the OPX-L 16 plays its top cards wherever goods are picked at high rates, long distances need be covered and top efficiency is needed.
With the OPX series, Still does not only score with a user-friendly overall concept, but also with a number of unique selling points like the air-suspended seat and driver's platform for long travel distances, the 5-wheel chassis for best traction and the new STILL EASY Drive steering wheel with the ergonomic STILL EASY Move controls.
---
| | |
| --- | --- |
| Truck Name |  STILL |
| Truck Type |  OPX-L 16 |
| Date of Test |  02.02.2018 |
Test Report
With the new OPX series, Still aims to increase efficiency and reduce picking fatigue.
The large variety of models with a total of nine new order pickers is unique. Combined with numerous new functions, Still offers the right solution for every application. During the test week, the Still OPX-L 16 was put to the test.
During the development of the OPX series, the focus was on the ergonomics of the order picker. The aim was to increase picking performance and to meet the ever-increasing demands of the market for example with regard to demographic change. For example, vibrations that are harmful to the body should be minimized by means of a pneumatic platform without having to increase the ascent and descent height drastically. Compared to the predecessor models of the COP and CX series, the difference is a maximum of 5 mm.
The workplace can also be individually adapted to the needs of the operator in order to ensure a comfortable and efficient working environment. The height of the steering column can be adjusted, as well as the backrest with seat option (which is not available on the test vehicle). The freedom of movement on the platform is sufficient.
For high cornering stability, the four-wheel suspension was chosen for almost all models. For trucks with platform lifts, the four wheels offer the additional advantage that they can be lifted safely to a height of 1,200 mm (300 mm more). In addition, the Curve Speed Control automatically reduces cornering speed and provides additional safety while driving.
The new OPX 20 Plus and OPX 25 Plus high-speed order pickers are equipped with a 5-wheel chassis, in that the drive wheel always has sufficient traction, especially when cornering.
Thanks to Still EASY Drive, a newly developed ergonomic and optionally height-adjustable steering wheel with integrated control and display, the order picker always has an overview of all information such as battery status and operating hours during work. EASY Drive was also nominated for an IFOY Award in the "Special of the Year" category. Further information on this concept can be found in the corresponding test report.
A powerful and low-maintenance 24V/3 kW AC motor gives the truck the desired power for high performance with low energy consumption and long maintenance intervals.
Still has succeeded in reducing energy consumption by more than 50 percent for all models (according to VDI measurements). The proven Blue-Q energy efficiency mode can save up to seven percent energy without significantly reducing performance. During the IFOY measurement, the saving of Blue-Q seems to be significantly greater and varies between 11 and 18 percent, depending on the layout of the test track. The OPX performance is slightly below the class average, partly due to high deceleration from Curve Speed Control and low acceleration.
The versatile order pickers with battery capacities up to 620 Ah are suitable for multi-shift operation. On request, the vehicles are also available with lithium-ion batteries, gel batteries and integrated charger. All batteries can be changed sideways or with the help of a crane.
IFOY test verdict:
The new OPX series impresses with the Still EASY Drive steering wheel, which gives a new dimension to an existing concept. The steering wheel makes the operation of the truck even more intuitive and user-friendly. The productivity performance of the OPX is slightly below average due to the optimized security settings. Energy consumption is better than the market average, especially at maximum performance. Improvements can be made to the OPX when it comes to the sharp-edged surface and the noise generated by the chassis and wheels when driving on less even surfaces.
Hard Facts
| | | | |
| --- | --- | --- | --- |
|   | Test Truck IFOY Test | Average other trucks | Value 1 to 10 |
| Productivity Max mode (picks per hour) |  261 |  303 |  6 |
| Productivity Eco mode (picks per hour) |  252  |  270 |  6 |
| Energy level Max (kWh / 1000 picks) |  2.8 |  3.3 |  8 |
| Energy level Eco (kWh / 1000 picks) |  2.4 |  2.6 |  7.5 |
| Driving speed Max (km/h) |  13 |  12.9 |   |
| Driving speed Eco (km/h) |  8.3 |  8 |   |
| Sprint speed Max (time for 10 meters) |  5.5 |  5 |   |
| Sprint speed Eco (time for 10 meters) |  6.1 |  6.2 |   |
Averages soft facts
| | |
| --- | --- |
| First impression |  7.20 |
| Load Safety |  7.50 |
| Entry / Exit truck |  7.25 |
| Working position |  7.00 |
| Activate truck |  7.50 |
| Hydraulics |  7.60 |
| Steering |  8.57 |
| Sight |  8.00 |
| Driving & Turning |  7.86 |
| Parking truck |  7.50 |
| Safety elements |  6.50 |
| General after test |  7.13 |
| Sustainability |  8.00 |
|   |   |
| Total average soft facts |  7.51 |
| Total productivity |  6.00 |
| Total Energy consumption |  7.75 |
IFOY Innovation Check
Market Relevance
The OPX-L 16 from Still represents the new development and expansion of an established series. A new feature of this horizontal order picker is its focus on high performance and the ergonomic details of the special equipment. With these two fields of activity, Still seeks to achieve a higher throughput rate in the company by challenging operations in retail companies and central warehouses and by relieving the workload of the staff. A variant with shortened wheel arms is also available, which can be used for tighter bend radii, making it suitable for narrow picking aisles and limited traffic as well as shunting areas.
Since the OPX-L 16 is largely identical to conventional horizontal order pickers, it can be used in existing systems without requiring staff training. Nevertheless, the market relevance can only be estimated as a medium, because in the face of tough competition from the trade, only few costs for the ergonomic design of industrial trucks are accepted. The development of the OPX-L 16 was mainly driven by the requirements of the French market, where ergonomics is more important. The market relevance of the shortened wheel arms and the associated maneuverability are also considered to be only of medium importance, since in the areas of application described above, there are usually sufficient traffic areas for high performance.
Customer Benefit
By using the OPX-L 16, the operator is relieved from individual work details. However, the effectiveness by actually shortening work cycles due to the higher speed or simplified processes was not clear. Nevertheless, one clear benefit is that customers can tailor the device to their needs through the numerous equipment options. This includes the ergonomic equipment and the increased maneuverability due to the shortened wheel arms.
Degree of Novelty
Most of the ergonomic details of the OPX-L 16 are not fundamentally new. It is important to highlight the shortened wheel arms for more maneuverability, which in such a compact device with long forks and different equipment variants (especially the lifting functions) represents a great challenge for the implementation.
Functionality / Type of Implementation
The OPX-L 16 gives a solid and robust impression. The development was made in terms of longevity and freedom from maintenance. As far as the ergonomics of the OPX-L 16 is concerned, it is noticeable that the pneumatic damping of the operator's platform can only be adjusted at a stationary compressed air supply. This does not take into account the operating conditions in a central warehouse, where the devices are used for frequent replacements. In addition, the spring accumulator restricts the foot space for the horizontal order picker's operator, which reduces the utility value of this equipment feature, as frequently ascending and descending is part of the usage profile of this equipment's category.
---
Market relevance

Ø

Customer benefit

Ø

Degree of novelty / innovation

Ø

Functionality  / Type of implementation

Ø

++ very good / + good / Ø balanced / - less / - - not available
---
Data sheet
Truck model
Technical data (all trucks)
| | |
| --- | --- |
| Truck type | electro |
| Lift capacity/load | bis 2,5 t kg |
| Truck weight | kg |
| Operation | stand-on |
| Driving speed with load | 9 km/h km/h |
| Driving speed without load | 12 km/h km/h |
| Lifting speed with load | 0,102 m/s |
| Lifting speed without load | 0,178 m/s |
| Lowering speed with load | 0,123 m/s |
| Lowering speed without load | 0,123 m/s |
| Max. lift height | 1580 mm mm |
| Power consumption according to VDI cycle | - kWh/h |
| Electro-trucks | |
| Battery voltage | 24 Volt V |
| Battery capacity | 620 Ah Ah |
| Battery connector | |
| Battery weight | 402 kg kg |
| Drive motor | 3 kW kW |
| Lift motor | 2,2/5 % kW |
| Tow truck | |
| Nominal towing capacity | N |
| Orderpicking/Combitrucks | |
| Max. picking height | 2800 mm mm |
Miscellaneous
This model is a
Newly developed model
Date of rollout
2017-10-01
Start of series production
2018-01-01
Competitive products
Jungheinrich ECE
Linde N 20
Toyota BT Optio L
Innovations
A central innovation of all truck variants is the STILL EASY Drive: a new ergonomic steering wheel with integrated display and optional height-adjustment. The display informs the driver about every truck condition, for example battery condition and operating hours. Its special contour allows a perfect hold of the steering wheel in all driving situations, increasing work safety easily and intuitively - even when reversing.
Another USP is STILL EASY Move: paddle switches placed behind the steering wheel. Depending on the configuration of the truck, they allow to operate the mast lift and raise the driver platform at the same time, without taking the hands off the steering wheel.
Unique in the market is the air-suspended, damped driver platform. Adjustable to the driver's weight, it reduces body vibrations substantially. Another option is the foldaway seat integrated in the backrest for long driving distances. If ordered in combination with the air-suspended platform, the seat is also suspended, as both components are connected.
The OPX 20 Plus and OPX 25 Plus score with an innovative 5-wheel chassis with perfect traction of the drive wheel in every driving situation - also, and in particular, when slowing down with load, resulting in safe, comfortable and sensitive driving at all times. And this with only 50 % of the power consumption in comparison to its predecessor.
The LED daytime running light plus offers the operator helpful information besides better perception of the truck. Flashing lights at different frequencies inform the driver if the battery is low or an error occurred.
Market relevance
The OPX is at home in many industries. However, across the different industries, the applications as such are very similar. The trucks are mostly used in central warehouses and therefore move indoors only, often in very large halls with long order picking aisles. Order picking is possible from floor level as well as from the first rack level. Besides this, the trucks are also used to move materials over long transport distances. Main areas of applications are central retail warehouses and warehouses for the automotive industry as well as distribution centres of the food industry or third party logistics warehouse worlds.
In 2015, the European market for horizontal order pickers amounted to 19,000 units and in 2016 to 23,000 units and is continuously growing. At a service life of 5 - 7 years, this corresponds to an installed base of approximately 110,000 units in the market. The industry with the largest share are food retailers.
Customer benefit
The maximum driving speed of 14 km/h for the OPX 20 Plus and OPX 25 Plus ensures the enormous turnover performance characteristic for the complete range, also for long driving distances. Thanks to the 5-wheel chassis, both trucks score with unique traction of the drive wheel and safe driving characteristics when braking. The higher rated capacity of 2.5 tons allows moving more goods at the same time, increasing turnover performance even more.
With the rising platform, the operator can reach to a height of 2,800 mm. Designed so that it lifts together with the STILL EASY Drive steering wheel, it allows the driver to move the truck while the platform is lifted, maximising turnover performance.
The particularly ergonomic workspace and the good damping of the stand-on platform with the optional seat protect the driver's back from strain, leading to fewer sickness leaves and fewer absences of operators.
Safe and sensitive driving characteristics and the intuitive control by the STILL EASY Drive and the STILL EASY Move prevent damage by force and respective costs.
Better visibility in the warehouse due to the LED daytime running lights and the Safety Light substantially reduce the risk of accidents.
The option to fit the OPX models with Li-Ion batteries increases the availability of the trucks due to fast charging and opportunity charging to further accelerate turnover. These features make the OPX family a perfect symbiosis of ergonomic driving comfort and maximum turnover performance.
Optional items (IFOY test truck)