IFOY Patronage
IFOY Sponsor
Weasel® bei NextLevel Logistik GmbH

SSI Schäfer AG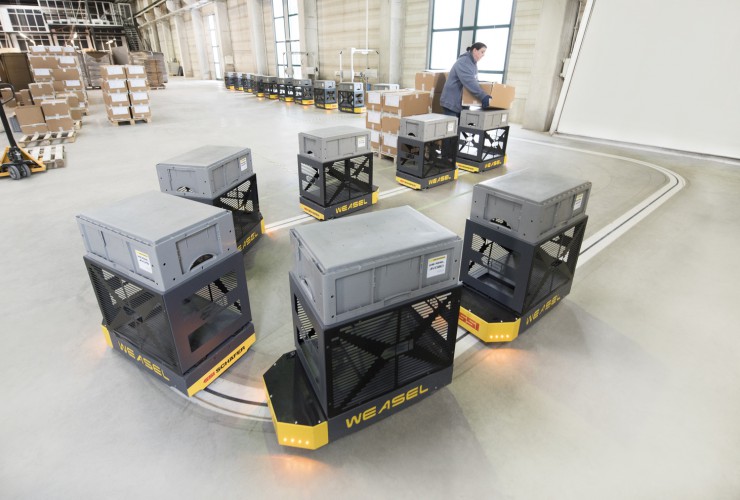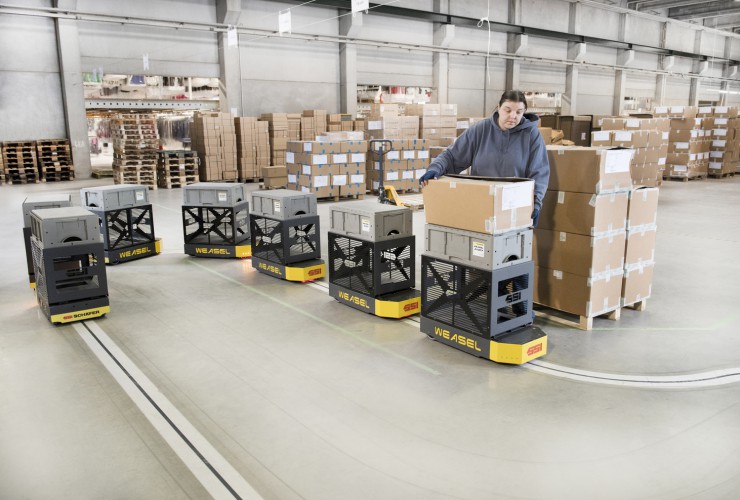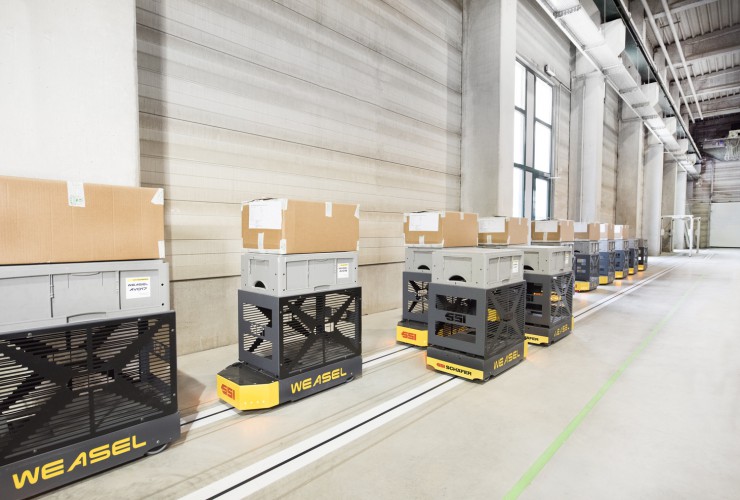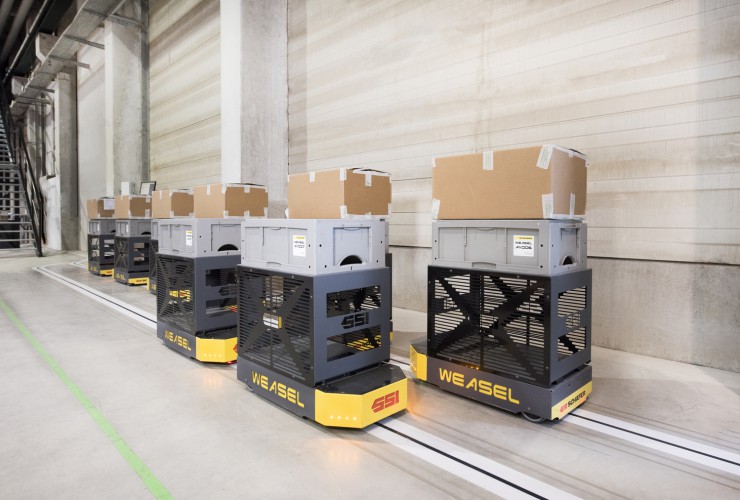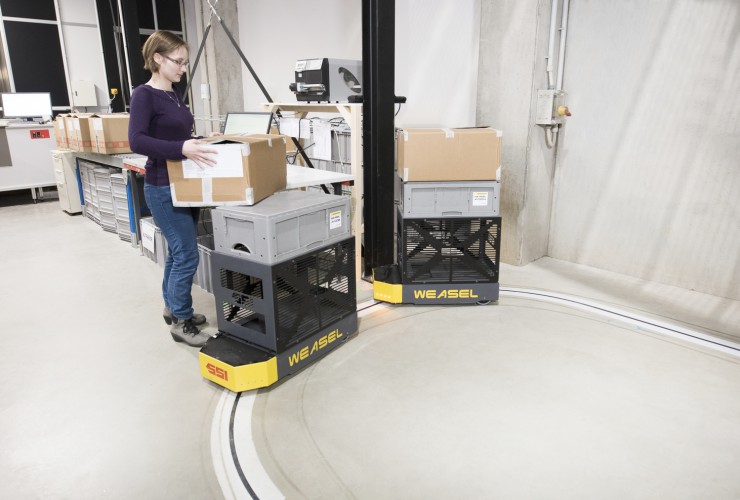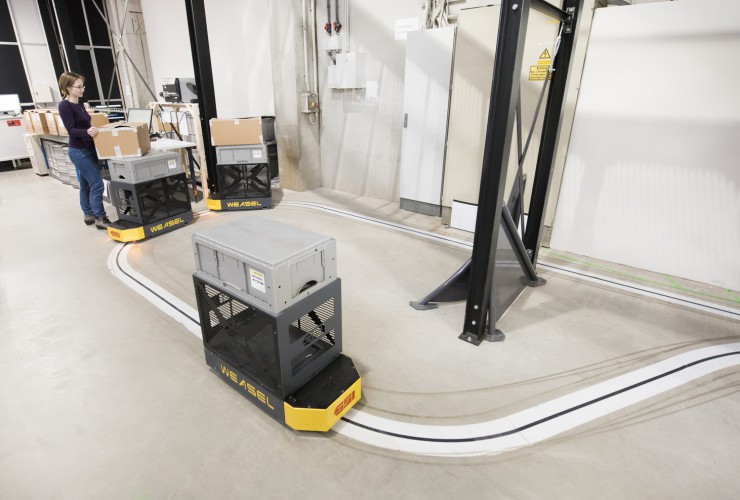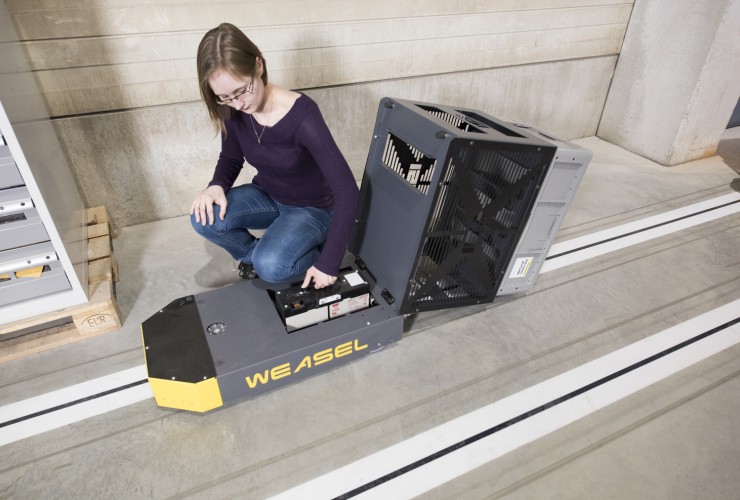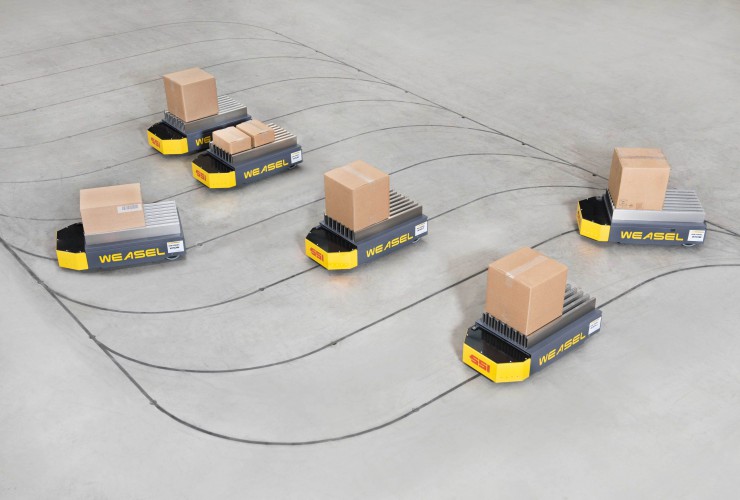 Fahrerloses Förderfahrzeug Weasel®
SSI Schäfer
IFOY-Kategorie
Intralogistics Solutions
Zusammenfassung der Lösung
SSI Schäfer realisierte eine innerbetriebliche Flottenlösung mit fahrerlosen Transportsystemen (FTS) vom Typ Weasel® bei der NextLevel Logistik GmbH nahe Eltmann, nahe Schweinfurt. Ob Behälter, Kartons, Tablare oder weitere Produkte unterschiedlichster Größen bis zu 35 kg – bei NextLevel Logistik ist Weasel für alle Transportaufgaben zwischen dem Wareneingang, den Arbeitsplätzen, dem Warenausgang bis hin zur Abfallentsorgung zuständig. Innerhalb von nur drei Tagen war die komplette Hard- und Software für das System installiert und in Betrieb genommen. Besonderheit: die automatische RFID-Pulk-Lesung im Wareneingang.
Von großem Vorteil für den im schnell wachsenden E-Commerce-Segment tätigen Fashion-Logistikdienstleister ist die Flexibilität und einfache Skalierbarkeit der Lösung: Weasel ist nicht schienengebunden und kann so in vorhandene Infrastrukturen eingebunden werden. Bequem und direkt gelangt das FTS über eine optische Leitlinie ans Ziel. Mit zunehmendem Geschäft kann die Lösung mitwachsen und sai-sonale Leistungsspitzen lassen sich ganz einfach mit zusätzlichen Weasels bewältigen.
Weasel kommt im Gegensatz zu herkömmlichen FTS ohne aufwendige Sensorik und komplexe Steuersys-teme aus. Die deutlich niedrigeren Investitionskosten eröffnen für den Kunden neue Perspektiven im Einsatz von automatisierten Transportlösungen. Besonders Unternehmen und Start-Ups, deren Geschäftsfelder und Kapazitätsanforderungen sich schnell verändern, können von diesem System profitieren, da die Vorteile von FTS in neuen Bereichen verfügbar werden. Gerade in Zeiten von Industrie 4.0 ist es für Kunden ein enormer Vorteil für Anwender ein entscheidender Vorteil. Gerade in Zeiten von Industrie 4.0 ist es für Anwender ein entscheidender Vorteil, flexibel verschiedene Bereiche im Betrieb verbinden und Prozesse im gesamten Logistikumfeld unterstützen zu können.
Kunde
NextLevel Logistik GmbH
Umsetzungszeitraum
Von:
Bis:
Bewerbungsunterlagen
PDF-Datei zur Bewerbung: NextLevel_Weasel_de_PROJEKTBERICHT.pdf
Video: WEASEL Bedienkonzept
Weasel® at NextLevel Logistik GmbH

SSI Schäfer AG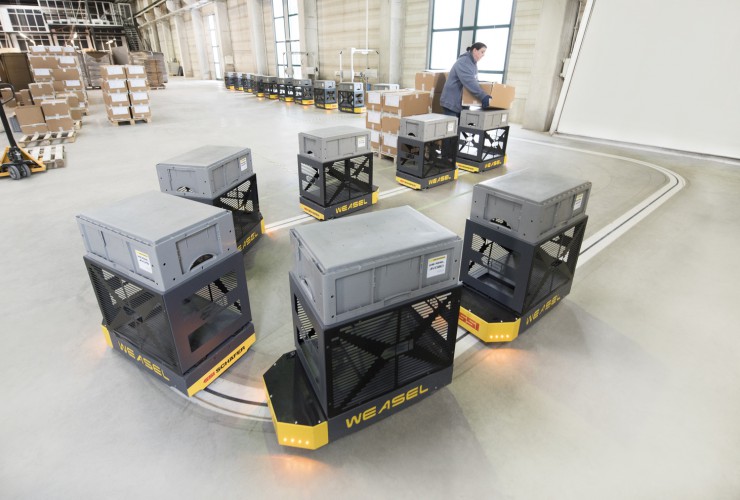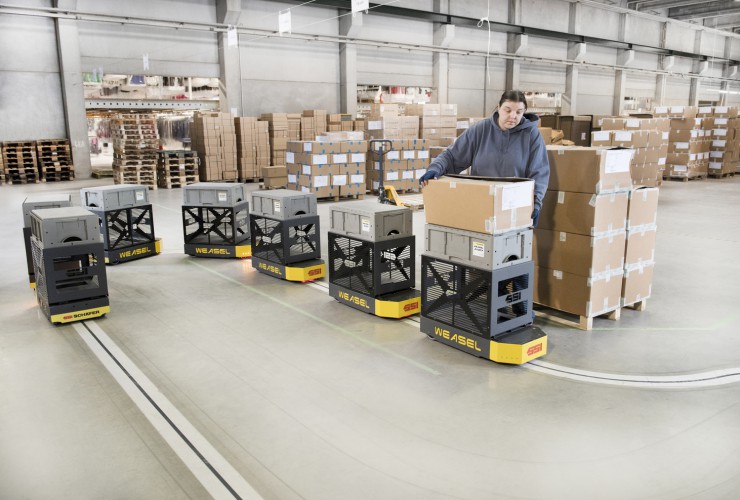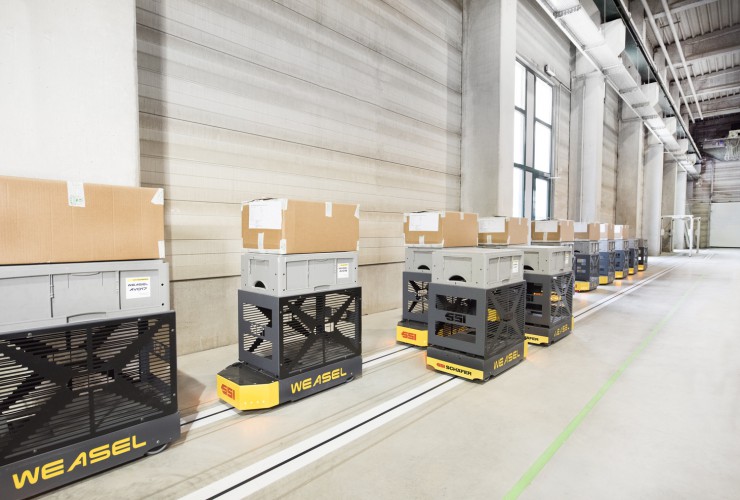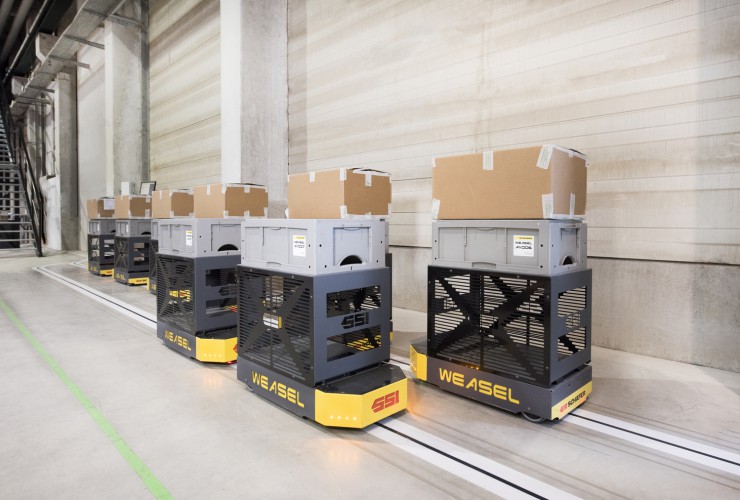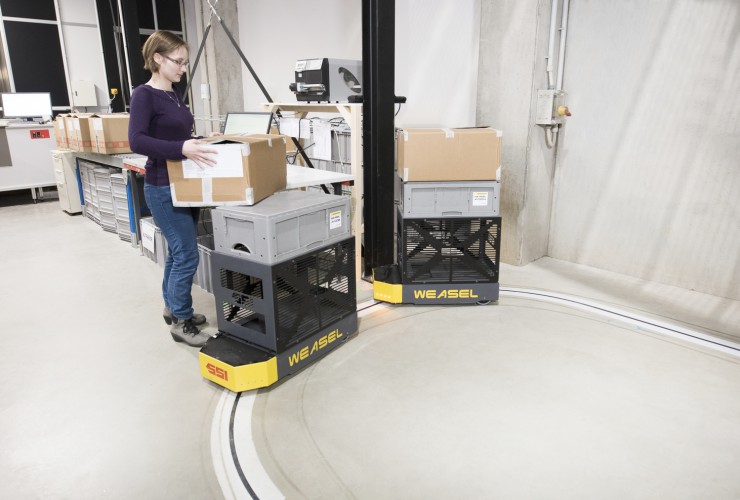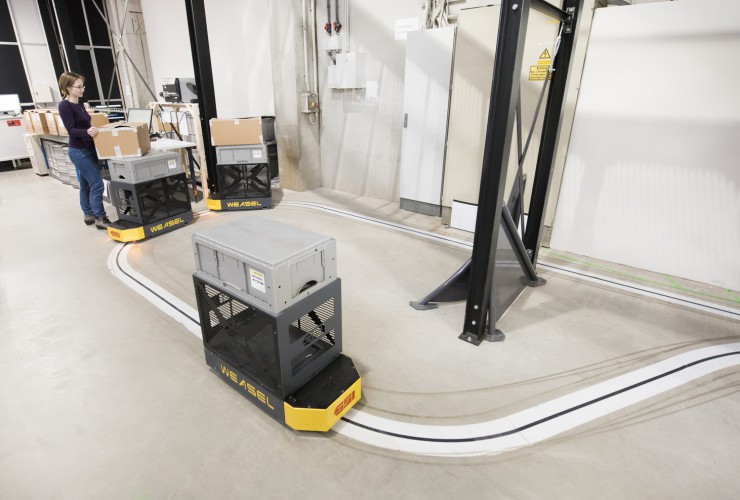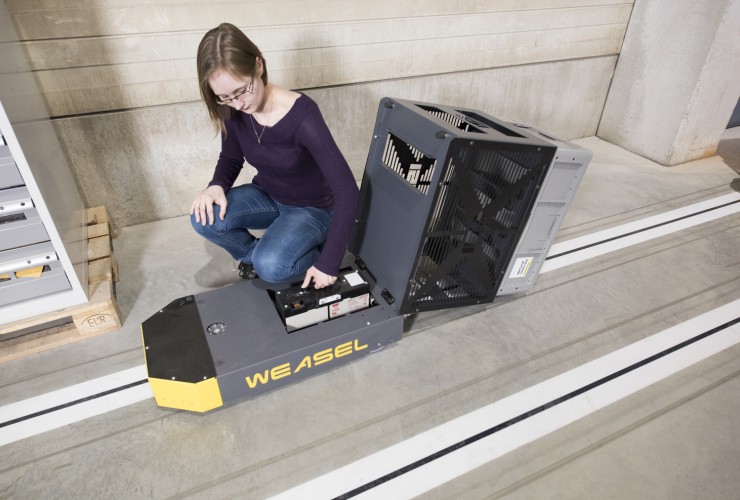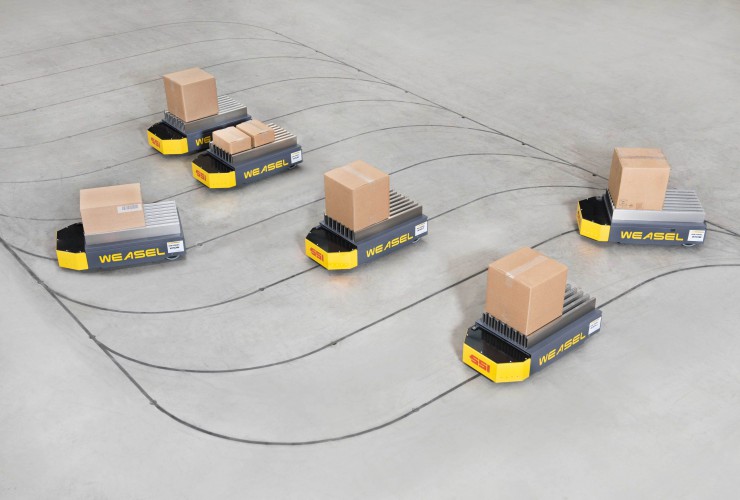 Automated Guided Vehicle Weasel®
SSI Schäfer
IFOY Category
Intralogistics Solutions
Summary of the Solution
SSI Schäfer implemented a inhouse-developed fleet solution with Weasel® driverless transport systems at the NextLevel Logistik GmbH company in Eltmann near Schweinfurt. Be it containers, cartons, trays or other products of widely varying sizes up to 35 kg – at NextLevel Logistik, Weasel is responsible for all transport tasks between incoming goods, the workplaces, goods dispatch, all the way through to waste disposal. The complete hardware and software for the system was installed and went into operation within the space of just three days. One special characteristic of the solution is the automatic RFID group reading system at the goods receipt stage.
A further major advantage from the point of view of the fashion logistics service provider active in the fast-growing eCommerce segment, is the flexibility and easy scalability of the solution: Weasel is not rail-based and can therefore be flexibly integrated in existing infrastructures. The AGV gets straight to the work sta-tions via an optical guiding line. This can be installed in a rapid and flexible manner and may be adapted. The solution can grow together with the business volume, and seasonal performance peaks can easily be handled by using additional Weasels.
Unlike conventional AGVs Weasel does not require complex sensor technology or control systems. Considerably reduced investment costs open new customer perspectives in terms of automated transport solutions. Especially companies and startups, whose business and capacity requirements can change quickly, benefit from this system since the benefits of AGVs can be deployed in new sectors. In these times of Industry 4.0 a major advantage as the Weasels connect any operation areas and support all processes in the entire logistics environment.
Customer
NextLevel Logistik GmbH
Realisation Phase
From:
To:
Entry Documents
PDF-file of entry: NextLevel_Weasel_en_CASE_STUDY.pdf
Video: WEASEL Operation Concept