IFOY Patronage
IFOY Sponsor
Traigo 48 Lithium Ion

Toyota Material Handling Europe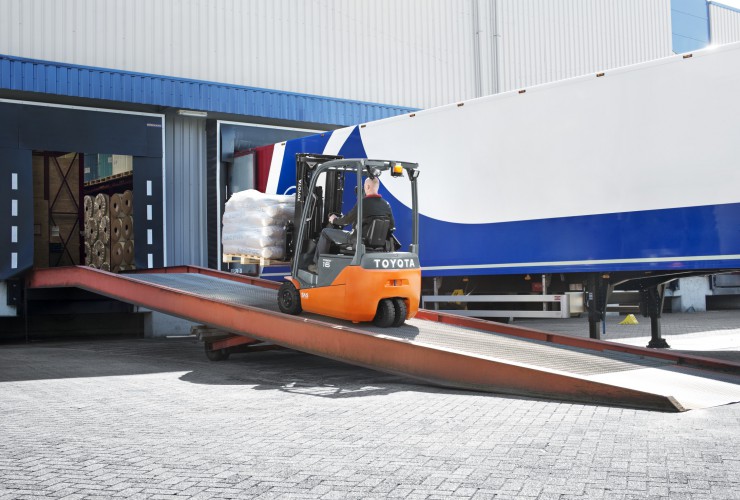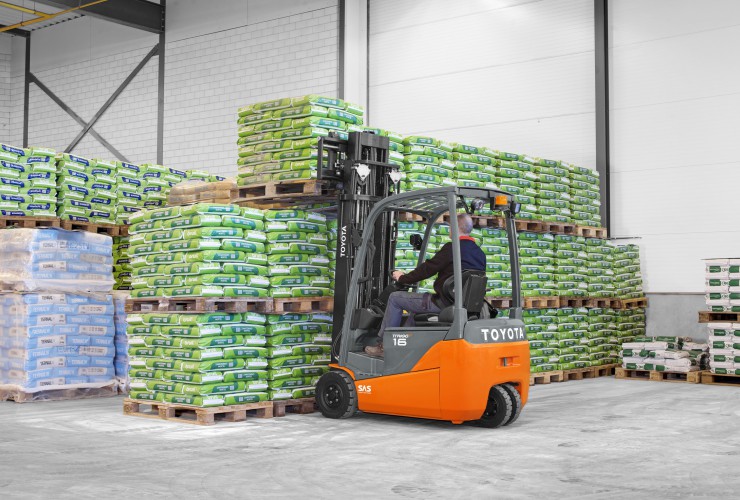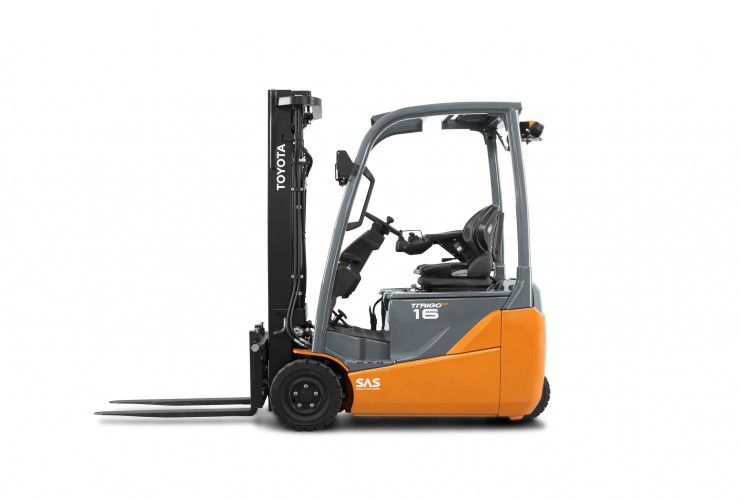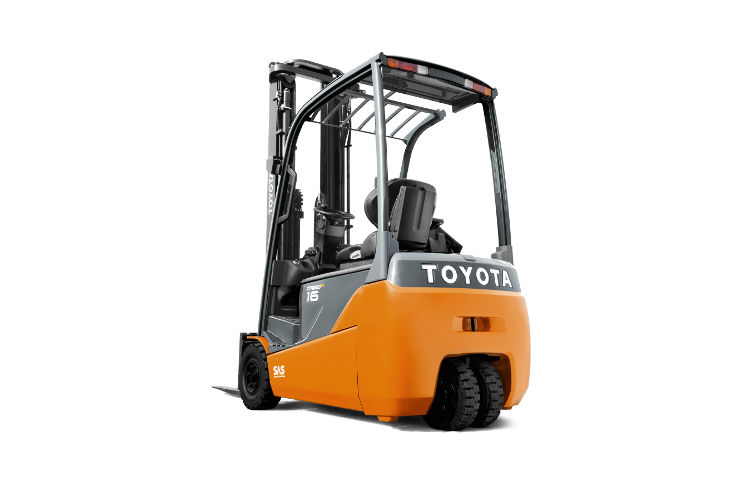 Toyota Traigo 48 Li-ion 8FBEK16T: Application
Toyota Material Handling Europe
IFOY-Kategorie
Counter Balanced Trucks bis 3.5t
Kurzcharakteristik
Der neue Toyota Traigo 48 ist der weltweit erste Gabelstapler mit 48-Volt Lithium-Ionen-Batterie auf dem Markt. Er arbeitet nicht nur außerordentlich produktiv, sondern ist auch der energieeffizienteste Elektrogabelstapler seiner Klasse.
Sein Hauptvorteil: der Traigo 48 Lithium-Ionen erreicht höchste Produktivität bei minimalem Energieverbrauch. So können bei jeder Ladung – im Vergleich zur klassischen Bleisäurebatterie – bis zu 30 Prozent Energie eingespart werden. Besonders innovativ: die Li-Ionen Batterien können auch innerhalb kurzer Pausen schnell geladen werden. Vor allem in Mehrschichteinsätzen bringt diese Technologie höchste Flexibilität und Effizienz.
Obwohl der 8FBEK16T ein Kompaktmodell ist, hebt er mühelos 1,6 Tonnen in bis zu 7,5 m Höhe. Dank der neuen elektronischen Servolenkung ist dieses Dreirad-Modell äußerst wendig und lässt sich auch in engen Bereichen bei einem Wenderadius von 1542 mm manövrieren.
Alle Gegengewichtstapler von Toyota sind serienmäßig mit dem System für Aktive Stabilität (SAS) ausgestattet. Die Vorteile u.a.:
Hubgerüststeuerung zum Schutz der Waren, 

Lenkachssynchronisation für mehr Fahrerkomfort und 

Geschwindigkeitsreduzierung bei Kurvenfahrten, so dass die Stabilität des Fahrzeugs beim gesamten Materialumschlag gewährleistet ist. 
SAS trägt damit nicht nur aktiv zur Sicherheit des Fahrers bei, sondern vermeidet auch Beschädigungen am Stapler und an der Last. Kunden profitieren von niedrigeren Kosten und einer höheren Produktivität.
Video: Traigo 48 – 360 animation clip
---
| | |
| --- | --- |
| Truck Name |  Toyota Traigo 48 Li-Ion |
| Truck Type |  Counter Balanced Truck |
| Date of Test |  IFOY 2016 |
Testbericht
Toyota Material Handling präsentierte 2015 eine neue Version des Elektro-Dreirad Staplers Traigo 48, die auch als Lithium-Ionen-Variante lieferbar ist. Diese wurde im IFOY Test geprüft. Der Lithium-Ionen-Akku liefert mehr Energie während der Stapler gleichzeitig dank des integrierten Lithium-Ionen-Pakets weniger Energie verbraucht. Der Vorteil ist laut Toyota ein im Schnitt 40 Prozent niedrigerer Energieverbrauch beim Fahren und Laden im Vergleich zum Vorgängermodell mit Bleisäure-Batterie. Damit genügt je nach Einsatzgebiet eine kleinere Batterie.
Der Lithium-Ionen-Stapler macht einen robusten Eindruck. Alle Materialien sind hochstabil, wertig und optimal aufeinander abgestimmt. Um die Auswirkungen von Vibrationen, Staub und Feuchtigkeit auf ein Minimum zu reduzieren wurde die Fahrsteuerung besser geschützt angebracht. Darüber hinaus beschwerte Toyota die Achsen und das Fahrzeug verfügt über wartungsfreie Ölbadbremsen.
Der Ein- und Ausstieg des Traigo 48 ist mit 420 mm bequem. Der Raum für den Arbeitsschuh und die rutschfeste Bodenplatte sind gut bemessen. Die geneigte Fußplatte ist fast flach und bietet ausreichend Platz auch für größere Schuhgrößen. Die Lenksäule ist äußerst robust für einen modernen Stapler, dennoch ist sie stufenlos einstellbar und lässt sich zudem mithilfe eines Speichers in jede voreingestellte Position zurücksetzen. 
Der IFOY-Teststapler ist ausgestattet mit dem optionalen Sicherheits- und Produktivitätspaket. Dies beinhaltet unter anderem ein zusätzliches Horn in der Armlehne, eine integrierte Waage in der Gabel, eine Neigungswinkelanzeige in Grad und automatische Geschwindigkeitsreduzierung bei höheren Hubhöhen. Standardmäßig verfügt der Traigo 48 über das System für Aktive Stabilität. SAS steuert und überwacht die Geschwindigkeit und Kurvenstabilität, reduziert die Neigegeschwindigkeit vorwärts und jetzt auch rückwärts in großen Hubhöhen. Zusätzlich sorgt eine Lenkradsynchronisation dafür, dass sich das Lenkrad bei der Geradeausfahrt immer in der gleichen Position befindet. Darüber hinaus kann der Fahrer per Knopfdruck auf den Kipphebel die Gabel so horizontal legen, so dass sie reibungslos unter der Last gleitet.
Seit Jahren bietet Toyota dem Fahrer eine Auswahl unterschiedlicher Fahrprogramme. Mit S, P, H und die Optimaleinstellung "SPH" stehen vier feste Einstellungen zur Verfügung, die leicht per Druckschalter umgeschaltet werden können. Das Testteam hat den Traigo 48 in P (Economy) und H (High Power) und SPH getestet, in allen Modi mit fast der gleichen Einstellung für die Motorbremse. Die Hauptunterschiede zwischen P und H liegt in der geringeren Beschleunigungsgeschwindigkeit und etwas langsameren Mastfunktionen. Die Höchstgeschwindigkeit ist bei P minimal niedriger.
Die neue elektrische Steuerung bringt laut Aussage des Herstellers eine Energieeinsparung von mehr als 20 Prozent. Dank Electric Powered Steering ist Lenken nicht nur einfacher, das einzigartige Forced Feedback System passt darüber hinaus die Servolenkung automatisch an die Geschwindigkeit des Staplers an. Manövrieren in engen Räumen wird dadurch deutlich einfacher. Der Stapler ist solide und fühlt sich sicher an. Dank der richtigen Einstellung der Motorbremse, ist Bremsen fast überflüssig. Darüber hinaus liefert die Motorbremse im Test einen Regenerationsstrom bis zu 15 Prozent des Durchschnittsverbrauchs. Zum Parken, vor allen auch an Steigungen, gibt es eine elektrische Parkbremse.
Der IFOY Test zeigt, dass der Traigo 48 im H-Modus wettbewerbsfähig ist. Der Verbrauch unterbietet den Durchschnitt deutlich. Wer die von Toyota entwickelte, optimale Einstellung wählt, erreicht sogar noch die durchschnittliche Produktivität und spart darüber hinaus viel Energie. Mit der 448 Ah-Batterie schafft der Stapler leicht eine Schicht mit nur einer Akkuladung. Im Tests zeigt sich, dass der Traigo 48 sehr geschmeidig und intuitiv ist. Die Bedienung der Mastfunktionen erfolgt etwa bequem über Minihebel in der vollständig verstellbaren Armlehne. Das Display ist informativ und zeigt auch den Neigungswinkel des Mastes an.
IFOY Testfazit:
Toyota ist bekannt für flexible elektrische Stapler mit intelligenter Technik. Mit der elektrischen Lenkung, der neuen Software und Li-Ionen-Technologie macht der Hersteller nun auch in puncto Energieeinsparung einen großen Schritt nach vorne. Wer eine Tagesschicht mit einer einzigen Akku-Ladung fahren und dennoch die Vorteile von Lithium-Ionen-Technologie nutzen will, findet im Traigo 48 Li-Ion einen ernst zu nehmenden Kandidat.
Hard Facts
| | | | |
| --- | --- | --- | --- |
|   | Test Truck IFOY Test | Average other trucks | Value 1 to 10 |
| Productivity Max mode (Pallets / 8 hrs) |  375 |  376 |  7 |
| Productivity Eco mode (Pallets / 8 hrs) |  351 |  350 |  7 |
| Energy level Max mode (kWh / 100 plts) |  8.66 (55V) / 7.56 (48V) |  10.93 |  9 |
| Energy level Eco mode (kWh / 100 plts) |  7.56 (55V) / 6.60 (48V) |  10.14 |  9 |
| Driving speed with load (km/h) |  15.65 |  15.32 |   |
| Lifting speed with load (cm/s) |  47.47 |  44.31 |   |
| Acceleration speed (time for 27,2 meters) |  7.9 |  8.54 |   |
|   |   |   |   |
| Average based on 5 year history |  Still RX20 |  Caterpillar EP15 |   |
|   |  Toyota Traigo 48 |  Jungheinrich EFG 216 |   |
|   |  Nissan TX |  Hyundai 18BT |   |
|   |  Doosan B20T-7 |   |   |
Averages soft facts
| | |
| --- | --- |
| First impression |  7.80 |
| Load Safety |  8.00 |
| Entry to truck |  7.57 |
| Seat & Sit position |  6.67 |
| Legg Space |  7.00 |
| Activate truck |  8.00 |
| Hydraulics |  8.00 |
| Steering |  7.71 |
| Sight |  8.00 |
| Driving acceleration |  8.20 |
| Driving braking |  8.00 |
| Driving & Turning |  8.00 |
| Parking truck |  6.71 |
| Safety elements |  8.63 |
| General after test |  7.75 |
| Sustainability |  8.00 |
|   |   |
| Total average soft facts |  7.75 |
| Total productivity |  7.00 |
| Total Energy consumption |  9.00 |
IFOY Innovation Check
Marktrelevanz
Die Gabelstaplerreihe Toyota Traigo 48 wird elektrisch angetrieben, hat eine Tragfähigkeit von 1,6 t (Baureihe bis 2,0 t) und eine Hubhöhe bis 7,5 m. Der elektrische Antrieb gewinnt in den Zeiten der Verschärfung von Abgasnormen an Bedeutung. Im Hallenbetrieb sind solche Gabelstapler sogar vorgeschrieben. Aus diesen Gründen wird ein größerer Kundenkreis angesprochen. Eine signifikante technische Verbesserung macht sich an der Zufriedenheit einer Vielzahl der Kunden deutlich bemerkbar.
Die wichtigste Innovation des Staplers Toyota Traigo 48 stellt die konventionelle Lithium-Ionen-Batterie dar, die zu einem flexibleren Betrieb sowie zu einem besseren Geräteausnutzungsgrad führen soll. Die Relevanz dieser Entwicklung kann als sehr hoch eingestuft werden, da die Innovation allen Kunden Vorteile bietet.
Kundennutzen
Lithium-Ionen-Batterien haben gegenüber Blei-Batterien viele Vorteile, die den Kunden eine höhere Flexibilität ermöglichen. Ein fehlender "Memory-Effekt" in Kombination mit Schnellladefähigkeit ermöglicht es den Betreibern, diese Stapler in Betriebspausen zu laden, ohne dass die Batterie dadurch starke Abnutzungseffekte zeigt. Vor allem im Schichtbetrieb können dadurch zusätzliche Batterien im Batterienpool eingespart und der Raumbedarf für die Ladestation verkleinert werden. Die Batterie kann gleichzeitig stärker entladen und deutlich effizienter aufgeladen werden. Zusätzlich wird beim Bremsen erzeugte Energie von der Batterie besser aufgenommen. Das führt dazu, dass der Kunde mit geringerem energieverbrauch und somit geringeren Betriebskosten rechnen kann.
Der Hersteller bietet eine 8-jährige Garantie (entspricht der Abschreibungsdauer des Staplers) auf die Batterie, wobei die tatsächliche Lebensdauer höher ausfallen kann. Somit übersteigt die Lebenserwartung der Lithium-Ionen-Batterien die Lebenserwartung der konventionellen Batterien deutlich und macht eine spätere Anschaffung einer Ersatzbatterie überflüssig. Insgesamt kann je nach Einsatzbedingungen mit einer Amortisation innerhalb weniger Jahren gerechnet werden.
Neuheitsgrad
Lithium-Ionen-Batterien kommen im PKW-Bereich und in der Unterhaltungselektronik zum Einsatz und gehören dort zum Stand der Technik. Eine Verwendung in Gegengewichtsstaplern stellt eine Innovation dar, auch wenn dieser Batterietyp schon seit einigen Jahren im Logistikbereich bei kleineren Flurförderzeugen eingesetzt wird.
Funktionalität / Art der Umsetzung
Toyota Traigo 48 stellt eine konsequente Weiterentwicklung der bestehenden Reihe dar, welche alternativ mit einer konventionellen Blei-Batterie angeboten wird. Eine nachträgliche Umrüstung ist dennoch möglich und benötigt nur wenige Eingriffe in das Fahrzeug und ein neues Ladegerät. Das bietet auch den konservativen Kunden ein erhöhtes Maß an Entscheidungsflexibilität.
---
Marktrelevanz

++

Kundennutzen

++

Neuheits- / Innovationsgrad

+

Funktionalität  / Art der Umsetzung

+

++ sehr gut / + gut / Ø ausgeglichen / - weniger / - - nicht vorhanden
---
Datenblatt
Gerätetyp
Elektrischer Gegengewichtstapler
Technische Daten (alle Geräte)
| | |
| --- | --- |
| Antrieb | Elektro |
| Tragfähigkeit | 1600 kg |
| Eigengewicht | 3002 kg |
| Bedienung | Sitz |
| Fahrgeschwindigkeit mit Last | 16 km/h |
| Fahrgeschwindigkeit ohne Last | 16 km/h |
| Hubgeschwindigkeit mit Last | 0.43 m/s |
| Hubgeschwindigkeit ohne Last | 0.61 m/s |
| Senkgeschwindigkeit mit Last | 0.53 m/s |
| Senkgeschwindigkeit ohne Last | 0.55 m/s |
| Max.Hubhöhe | 4700 mm |
| Energieverbrauch nach VDI-Arbeitsspiel | 4.3 kWh/h |
| Elektro-Trucks | |
| Batteriespannung | 48 V |
| Batteriekapazität | 448 Ah |
| Batterieanschluss | DIN 43 589 320 A |
| Batteriegewicht | 856 kg |
| Leistung Fahrmotor | 6x2 kW |
| Leistung Hubmotor | 11 kW |
| Schlepper | |
| Nennzugkraft | N |
| Kommissionierer/Kombigeräte | |
| Max. Greifhöhe | mm |
Sonstiges
Es handelt sich um
Weiterentwicklung mit signifikanten technischen Verbesserungen eines oder mehrerer bestehender Modelle:
Toyota Traigo 48
Datum der Markteinführung
19.10.2015
Datum des Produktionsstarts
18.01.2016
Konkurrenzprodukte
Jungheinrich EFG 216K
Linde E16
Still RX 20-16
Video
Traigo 48 – 360 animation clip
Innovationen
Der Traigo 48 mit Lithium-Ionen-Batterie beweist innere Stärke und setzt Maßstäbe in puncto Produktivität und Energieeffizienz. Die Lithium-Ionen-Batterietechnologie ist dabei entscheidend. Vor allem im intensiven Mehrschichtbetrieb spielt sie ihre Vorteile aus:
So können beispielsweise schon reguläre Arbeitsunterbrechungen wie die Mittagspause für Zwischenladungen genutzt werden. 

Ein zweiter Batteriesatz ist nicht mehr erforderlich. 

Zeit für den Batteriewechsel kann wertschöpfend genutzt werden.

Darüber hinaus ist eine Li-Ion-Batterie länger einsetzbar als eine Bleisäurebatterie und wesentlich umweltschonender. 
Das bedeutet: über die gesamte Lebensdauer des Gerätes gesehen, sinken die Total Cost of Ownership (TCO).
Die neue elektronische Servolenkung senkt nicht nur den Energieverbrauch, sondern ermöglicht dank des geschwindigkeitsabhängigen Lenkwiderstandes eine optimale Kontrolle des Gerätes. Damit entlastet sie den Fahrer.
Für ein zusätzliches Plus an Sicherheit sorgt der automatische Rampenstopp. Dieser gewährleistet eine bessere Kontrolle auf Rampen und höhere Manövrierfähigkeit. Die Toyota Antriebsmotoren arbeiten produktiver als die Vorgängermodelle und punkten durch eine starke Beschleunigung und Verzögerung. Die Steuerung ermöglicht ein feinfühliges Bedienen der Hydraulik und Fahrfunktion, so dass sich alle Bewegungen präzise durchführen lassen.
Hauptziele der Entwicklung
Hauptziel war es, einen vielseitigen und wendigen Elektrogabelstapler für niedrige Traglasten und Hubhöhen von bis zu 7.5 Metern für den täglichen Einsatz zu entwickeln. Gleichzeitig sollte das Problem langer Ladezeiten und aufwändiger Batteriewechsel gelöst werden. Der Traigo 48 mit Lithium-Ionen-Batterie ist damit ein Allrounder für Einsätze in der Halle und im Freien – wie etwa zum Be- und Entladen von Lkws oder für die Produktionsversorgung.
Die Ziele im Einzelnen:
Zwischenladen überall und zu jederzeit

Wegfall von Laderäumen, kostespieligen Belüftungssystemen und Wechselbatterien

Die hohe Produktivität geht Hand in Hand mit der Manövrierfähigkeit: der Schlüssel dazu ist das Designs des Traigo 48. Das schlanke Dreirad-Chassis, die elektrische Servolenkung und der geschwindigkeitsabhängige Lenkwiderstand ermöglicht auch an engsten Stellen müheloses und kontrolliertes Arbeiten bei allen Geschwindigkeiten. Das einzigartige SAS-System von Toyota gewährleistet eine hohe Stabilität des Staplers und gibt dem Fahrer das Vertrauen in seine Maschine. 

Nachhaltiger Einsatz und positiver Beitrag zur CO2 Bilanz der Nutzer: Die Lithium-Ionen- Technologie ist sehr langlebig – die Lebensdauer einer Lithium-Ionen-Batterie ist etwa dreimal höher als die einer Bleisäurebatterie
Kundennutzen
Energieeffizienz, gesteigerte Produktivität und Wendigkeit gepaart mit einem hohen Anspruch an Sicherheit für den Fahrer, machen den Traigo 48 mit Lithium-Ionen-Batterie zu einem echten Leistungsträger.
In Puncto Sicherheit stehen dem Fahrer ein volleinstellbares Rückhaltesystem (Operator Restraint System - ORS) mit Seitenschutz und Lendenwirbelstütze zur Verfügung. Eine verstellbare Lenksäule sorgt für maximale Beinfreiheit. Das Multifunktions-Display im Armaturenbrett ist gut sichtbar und leicht zu erreichen. Auf einen Blick versorgt es den Fahrer mit allen wichtigen Informationen. Die Parameter können an die Bedürfnisse des Fahrers oder an die Erfordernisse einer Anwendung angepasst werden.
Verbesserte Wirtschaftlichkeit: Mit dem serienmäßigen SAS-System im Traigo 48 lassen sich auch Kosten für Beschädigungen reduzieren, da das System die konstante Stabilität beim Materialumschlag kontrolliert und erhöht. Dies verhindert, dass Lasten herabstürzen können oder der Stapler umkippt.
Konstante Energie ohne Leistungsverluste: Li-Ionen Batterien ermöglichen auch in kurzen Pausen ein schnelles Laden. Damit werden Batteriewechsel unnötig. Die Kosten für Zusatzbatterien, der damit verbundene Extraplatz sowie die Personalkosten für den Aufwand der erforderlichen Batteriewechsel, entfallen.
Sonderausstattung (IFOY Test-Gerät)
Hubgerüst: FSV H=4700
OCV: 4-Wege-Minihebel
Display: Luxus
Beleuchtung: LED-Arbeitsleuchten an Front und Heck
Tasten: Tastenblock
Blinkende Rundumleuchte unter dem Dach
Notausschalter, rot
Ausziehtisch mit Rollen für Batterie
Blaue LED-Heckwarnleuchte
Li-ion Batterie
Traigo 48 Lithium Ion 8FBEK16T

Toyota Material Handling Europe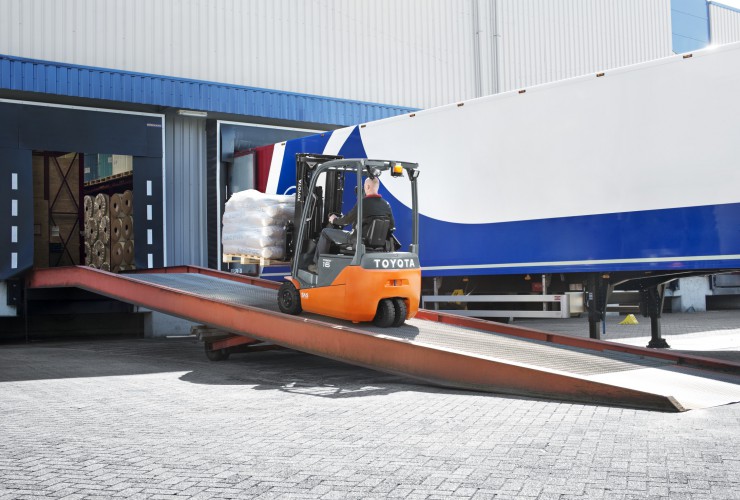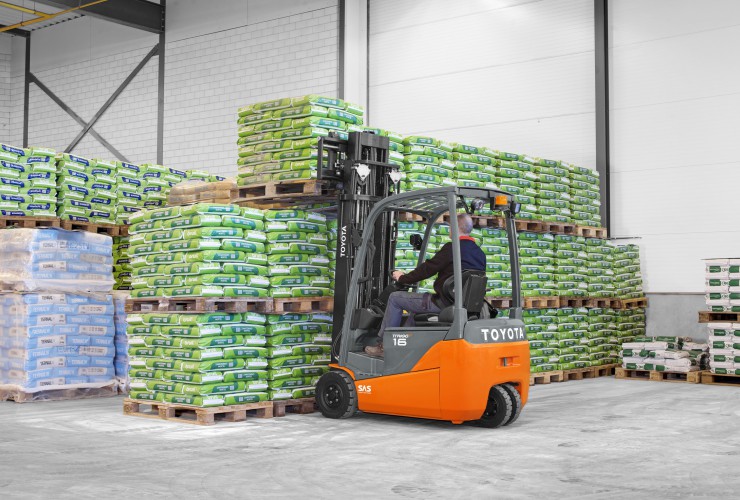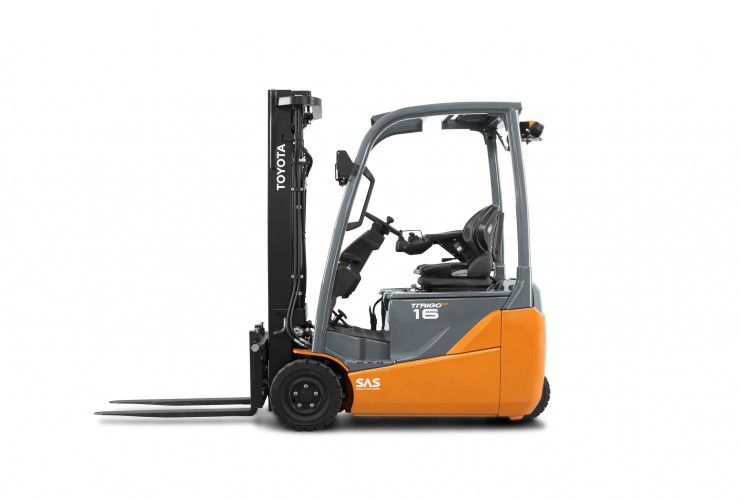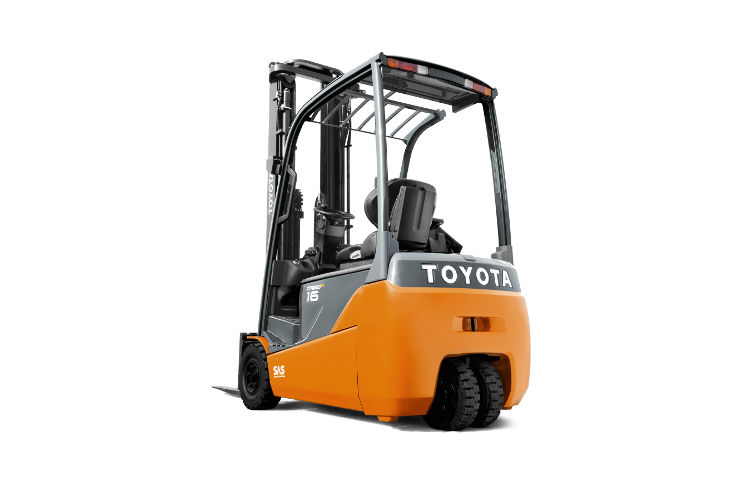 Toyota Traigo 48 Li-ion 8FBEK16T: Application
Toyota Material Handling Europe
IFOY Category
Counter Balanced Trucks up to 3.5t
Short Characteristic
As the first lithium ion 48-volt electric counterbalanced truck available on the market, the Toyota Traigo 48 Li-ion is both highly productive in intensive operations while being class-leading in energy efficiency.
In comparison to lead-acid batteries, the Li-ion battery technology saves up to 30% of energy on every charge. Lithium Ion batteries also allow for opportunity and fast charging, and therefore do not require battery change during multi-shift operations, increasing flexibility and efficiency.
The 8FBEK16T is compact but can easily lift 1.6 tonnes and reach heights up to 7.5 m. With the introduction of the electric power steering this 3-wheel model is highly manoeuvrable for easy navigation in tight areas with a turning radius of just 1542 mm.
All Toyota counterbalanced trucks are equipped as standard with the Unique Toyota System of Active Stability (SAS). SAS offers
mast control to protect the goods,

steering synchroniser for the driver's comfort and

speed reduction when cornering to maintain stability during all material handling.
SAS actively attributes not only to the safety of the driver, but also to avoiding damage to the truck and the goods, which leads to lower costs and higher productivity.
Video: Traigo 48 – 360 animation clip
---
Truck Name
 Toyota Traigo 48 Li-Ion
Truck Type
 

Counter Balanced Truck

Date of Test
 IFOY 2016
Test Report
In 2015, Toyota Material Handling presented a new version of the Traigo 48 three-wheel electric truck, which is also available in a lithium-ion version. This was the machine that underwent the IFOY test. The lithium-ion battery supplies more power while also using less energy thanks to the integrated lithium-ion package. According to Toyota, this results in an average 40 percent lower energy consumption during travel and battery loading compared to the predecessor model with lead-acid battery. This means that, depending on deployment conditions, a smaller battery might also be sufficient.
The lithium-ion truck makes a robust impression. All the materials are extremely durable, of high quality and optimally matched. The drive control system is now more effectively protected in order to minimise the effects of vibrations, dust and moisture. In addition, Toyota has weighted the axles, and the truck is equipped with maintenance-free wet brakes.
The height of 420 mm makes for convenient entering and exiting of the Traigo 48. The space for the driver's work boot and the anti-slip floor panel are generously dimensioned. The inclined foot plate is almost flat and is big enough to accommodate larger shoe sizes. The steering column is extremely robust for a modern forklift but is still steplessly adjustable and can be reset to any preset position thanks to a memory function.
The IFOY test truck was fitted with the optional safety and productivity package, which includes an additional horn in the armrest, integrated scales in the fork, a tilt angle indicator in degrees, and automatic speed reduction at higher lifting heights. The Traigo 48 is equipped as standard with the "System for Active Stability". SAS controls and monitors speed and cornering stability, and reduces the forward – and now also the reverse – tilting speed at high lifting heights. A steering wheel synchronisation feature additionally ensures that the steering wheel is always in the same position when driving straight ahead. Moreover, the driver can press the toggle lever to horizontally position the fork in such a way that it slides smoothly beneath the load.
Toyota has offered drivers a selection of different drive modes for several years now. There are now four fixed settings – S, P, H and the optimum SPH setting – that are conveniently selected via push switch. The test team tested the Traigo 48 in P (Economy), H (High Power) and SPH, using almost the same motor brake setting in all modes. The main differences between P and H are the lower acceleration and the slightly slower mast functions. The top speed is almost negligibly lower in the "P" setting. 
According to the manufacturer, the new electrical control system boosts energy efficiency by over 20 percent. Steering is easier thanks to the electric powered steering, and the unique "forced feedback system" automatically adjusts the power steering characteristics to the speed of the forklift. This makes manoeuvring in tight spaces far easier. The machine is robust and feels secure. The precision setting of the motor brake renders driver braking almost unnecessary. Moreover, during the test the motor brake supplied regenerative energy accounting for up to 15 percent of average consumption. The truck is fitted with an electric parking brake for parking, above all on uphill gradients.
The IFOY test shows that the Traigo 48 is competitive in "H" mode, with energy consumption well below the average. Customers who choose the Toyota-developed optimum setting can still achieve average productivity while saving significant amounts of energy. With its 448-Ah battery, the forklift can easily manage a full shift with one battery charge. The test showed that the Traigo 48 is extremely smooth and intuitive. The mast functions are conveniently operated via mini-levers in the fully adjustable armrest, for example. The display is informative and also indicates the tilt angle of the mast. 
IFOY test verdict:
Toyota is known for flexible electrically powered forklifts equipped with intelligent technology. With the electrical steering, the new software, and the Li-Ion technology, the company has now also made major progress in terms of energy efficiency. Customers who want to do a full-day shift with a single battery charge while enjoying the benefits of lithium-ion technology will find that the Traigo 48 Li-Ion is a serious candidate.
Hard Facts
| | | | |
| --- | --- | --- | --- |
|   | Test Truck IFOY Test | Average other trucks | Value 1 to 10 |
| Productivity Max mode (Pallets / 8 hrs) |  375 |  376 |  7 |
| Productivity Eco mode (Pallets / 8 hrs) |  351 |  350 |  7 |
| Energy level Max mode (kWh / 100 plts) |  8.66 (55V) / 7.56 (48V) |  10.93 |  9 |
| Energy level Eco mode (kWh / 100 plts) |  7.56 (55V) / 6.60 (48V) |  10.14 |  9 |
| Driving speed with load (km/h) |  15.65 |  15.32 |   |
| Lifting speed with load (cm/s) |  47.47 |  44.31 |   |
| Acceleration speed (time for 27,2 meters) |  7.9 |  8.54 |   |
|   |   |   |   |
| Average based on 5 year history |  Still RX20 |  Caterpillar EP15 |   |
|   |  Toyota Traigo 48 |  Jungheinrich EFG 216 |   |
|   |  Nissan TX |  Hyundai 18BT |   |
|   |  Doosan B20T-7 |   |   |
Averages soft facts
| | |
| --- | --- |
| First impression |  7.80 |
| Load Safety |  8.00 |
| Entry to truck |  7.57 |
| Seat & Sit position |  6.67 |
| Legg Space |  7.00 |
| Activate truck |  8.00 |
| Hydraulics |  8.00 |
| Steering |  7.71 |
| Sight |  8.00 |
| Driving acceleration |  8.20 |
| Driving braking |  8.00 |
| Driving & Turning |  8.00 |
| Parking truck |  6.71 |
| Safety elements |  8.63 |
| General after test |  7.75 |
| Sustainability |  8.00 |
|   |   |
| Total average soft facts |  7.75 |
| Total productivity |  7.00 |
| Total Energy consumption |  9.00 |
IFOY Innovation Check
Market Relevance
The trucks in the Toyota Traigo 48 forklift series are electrically powered, have a load capacity of 1.6 t (model range up to 2.0 t) and a lifting height up to 7.5 m. In times of increasingly stringent emission regulations, electrical drive concepts are playing an ever greater role; indeed, only forklift trucks of this type may be used indoors. This makes the Traigo 48 series an attractive proposition for a growing number of customers, and the high satisfaction levels of many customers underline the success of the significant technical improvements.
The most important innovation in the Toyota Traigo 48 forklift is the conventional lithium-ion battery, which is designed to allow more flexible operation and ensure an improved machine utilisation factor. The relevance of this development can be described as very high, as the innovation offers benefits for all customers.
Customer Benefit
Lithium-ion batteries have numerous advantages over lead batteries and increase flexibility for the customer. The absence of a "memory effect" together with fast charging capability allows the operator to charge these stackers during breaks without any serious wear effects on the battery. This obviates the need for extra batteries in the battery pool, particularly in shift operations, while reducing the amount of space required for the charging station. The battery can be more completely discharged and charged far more efficiently. Moreover, the energy generated during braking is taken up more effectively by the battery. This generally translates into lower energy consumption and therefore reduced operating costs. 
The manufacturer gives an 8-year warranty on the battery (corresponding to the depreciation period of the forklift), although the actual service life may be longer. This means the service life of the lithium-ion batteries is considerably longer than that of conventional lead batteries, rendering subsequent purchase of a replacement battery unnecessary. On the whole, the battery can be expected to pay for itself within just a few years depending on deployment conditions.
Degree of Novelty
Lithium-ion batteries are used in the automotive and consumer electronic sectors, where they are state of the art. Their use in counterbalanced trucks represents an innovation, even though this battery type has already been used for a number of years now in smaller materials handling machines in the logistics sector.
Functionality / Type of Implementation
The Toyota Traigo 48 is a systematic further development of the existing series and is optionally available with a conventional lead battery. Retrofitting is nevertheless possible and entails only a minor workload and a new charger. This concept also offers increased decision-making flexibility for more conservative customers.
---
| | |
| --- | --- |
| Market relevance | ++ |
| Customer benefit | ++ |
| Degree of novelty / innovation | + |
| Functionality  / Type of implementation | + |
---
Data Sheet
Truck Model
electric counterbalanced truck
Technical Data (all trucks)
| | |
| --- | --- |
| Truck Type | electro |
| Lift capacity/load | 1600 kg |
| Truck weight | 3002 kg |
| Operation | seated |
| Driving speed with load | 16 km/h |
| Driving speed without load | 16 km/h |
| Lifting speed with load | 0.43 m/s |
| Lifting speed without load | 0.61 m/s |
| Lowering speed with load | 0.53 m/s |
| Lowering speed without load | 0.55 m/s |
| Max. lift height | 4700 mm |
| Power consumption according to VDI cycle | 4.3 kWh/h |
| Electro-trucks | |
| Battery voltage | 48 V |
| Battery capacity | 448 Ah |
| Battery connector | DIN 43 589 320 A |
| Battery weight | 856 kg |
| Drive motor | 6x2 kW |
| Lift motor | 11 kW |
| Tow Truck | |
| Nominal towing capacity | N |
| Orderpicking/Combitrucks | |
| Max. picking height | mm |
Miscellaneous
This model is a
Further developments of one or more existing trucks with significant technical improvements:
Toyota Traigo 48
Date of rollout
2015-10-19
Start of series production
2016-01-18
Competitive products
Jungheinrich EFG 216K
Linde E16
Still RX 20-16
Video
Traigo 48 – 360 animation clip
Innovations
The Toyota Traigo 48 Li-ion is the first 48-volt counterbalanced truck which can be equipped with a Li-Ion battery. The truck offers the customer class-leading productivity, as well as excellent energy efficiency. The strength of the new Traigo 48 lies at the core of the truck.
The Traigo 48 with Lithium Ion battery technology, an energy-efficient innovation that brings many benefits to the processes of material handling. Li-ion batteries are smaller but have a large energy density and can be used for opportunity charging, so no battery change is required. This avoids extra space and labour that is lost working with extra batteries when taking turns charging, eventually reducing TCO (total cost of ownership).
Its new electric power steering allows for effortless steering at low speed and lowers energy consumption, which contributes to making this truck market-leading in efficiency and productivity. Force feedback steering guarantees accurate control at all driving speeds.
The drive unit utilises the latest technologies, which includes an automatic parking brake improving control on ramp and overall manoeuvrability. The Toyota drive motors offer enhanced productivity as well as strong and adjustable acceleration and deceleration. The motor controllers guarantee accurate control of truck positioning with and without load, which allows for precise material handling.
Main goals for development
The new Toyota Traigo 48 Li-ion is developed to reach the highest productivity levels whilst minimising the energy consumption. With a load capacity of up to 1.6 tonnes and lift height up to 7.5 m, the truck is ideal for working inside within pallet racking as well as working outside in the yard or in a loading bay. 
High productivity goes hand in hand with manoeuvrability, which is key to the design of the Traigo 48. With the help of the agile 3-wheel chassis and advanced steering technologies, like electric power steering and force feedback, the truck is easy to use and control even in the tightest situations and at all speeds. The unique Toyota SAS features ensure that the truck remains stable and give the driver the confidence to operate. 
With its Li-ion battery the new Traigo 48 takes a sustainable approach to delivering class-leading productivity and unmatched energy efficiency. Toyota also keeps the environment in mind, as Li-ion has an extended lifecycle which can be up to three times longer than traditional lead-acid, as well as reduces the need for multiple batteries and maintenance.
User benefits
On top of the previously mentioned energy efficiency, increased productivity and manoeuvrability improvements, Toyota has maintained its focus on the driver.
Meaning that operators of the Toyota Traigo 48 Li-ion are offered a high level of driver comfort: they benefit from a fully adjustable Operator Restraint System (ORS) with side-wings and lumbar support, as well as an adjustable steering column that offers maximum legroom. The multifunction display, easy to see and reach, gives key information at a glance. The parameter settings can be adjusted to suit the needs of the driver or application.
By operating the Traigo 48 Li-ion, customers are also able to cut down on damage costs, as the SAS features and enhanced control guarantee constant stability when handling loads. This prevents the goods from falling down or the truck to tip over.
Investing in Li-ion batteries also pays off, as the batteries provide consistent energy until completely empty with no loss in performance. Opportunity charging of the batteries also removes the requirement for battery change as well as the cost for additional batteries, and the associated extra space and manpower for battery change.
Optional items (IFOY Test Truck)
Mast: FSV H=4700
OCV: 4 way minilever
Display: deluxe
Lights: LED Front & Rear working lights
Keys: key pad
Flashing beacon under roof
Emergency red switch
Battery rollout
LED blue RR warning light
Li-ion battery