IFOY Patronage
IFOY Sponsor
RT 4020 Gabelhubwagen mit Fahrerstand

Crown Gabelstapler GmbH & Co. KG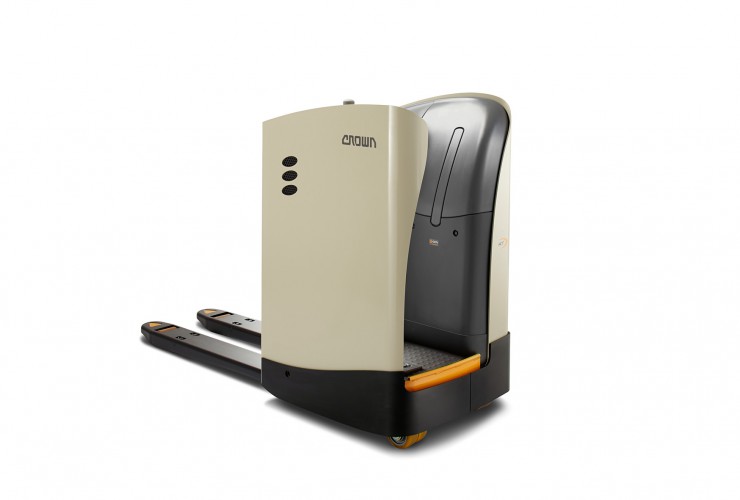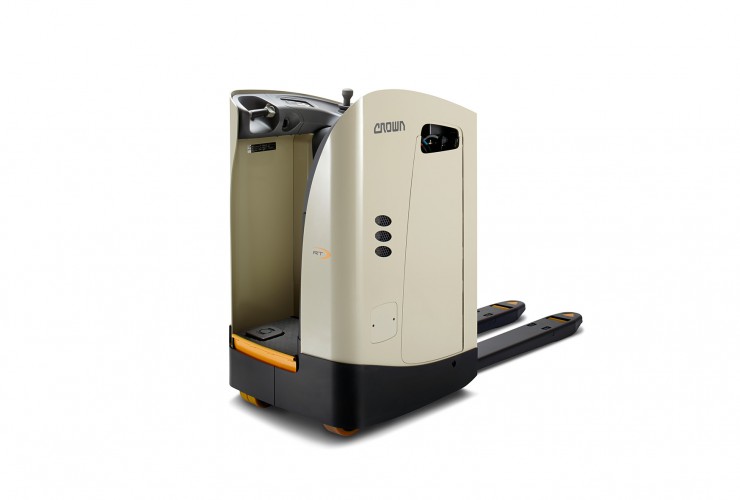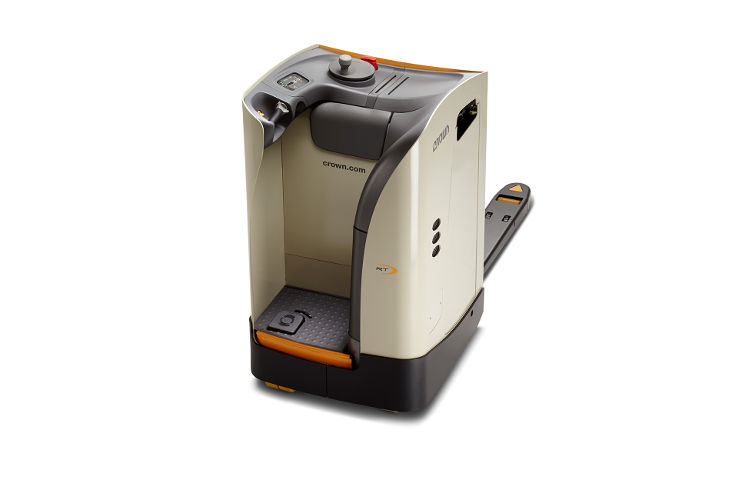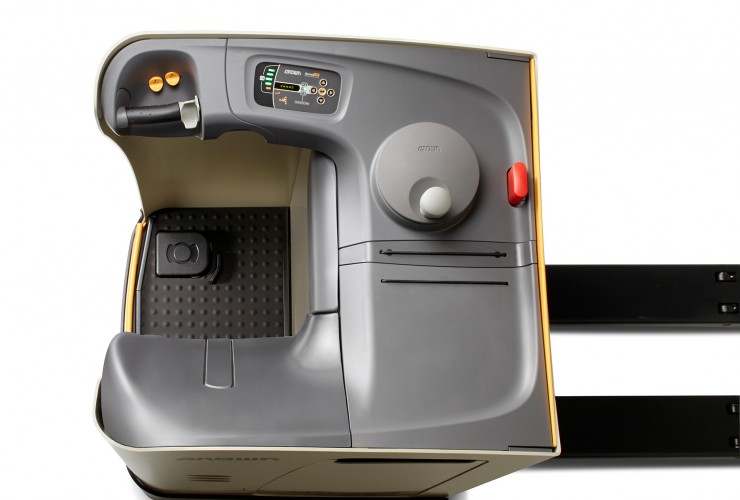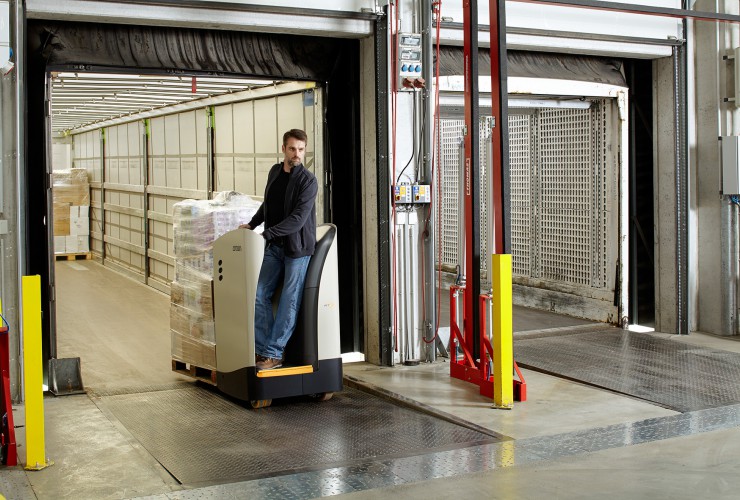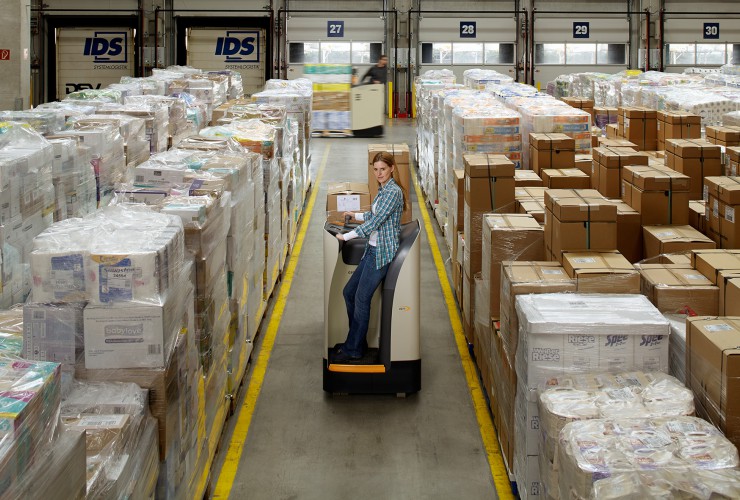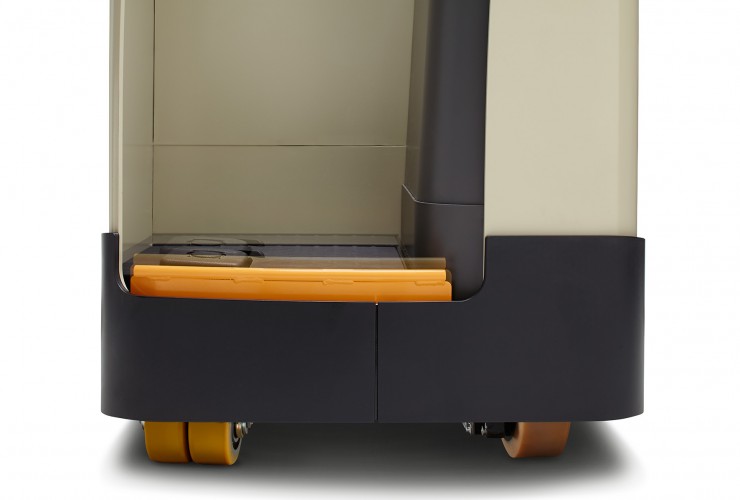 Crown RT 4020 Palettenhubwagen mit Fahrerstand
Crown Gabelstapler
IFOY-Kategorie
Warehouse Trucks (low lifters)
Kurzcharakteristik
Der Crown RT 4020 Gabelhubwagen mit Fahrerstand und einer Tragfähigkeit von bis zu zwei Tonnen ist ein äußerst wendiger, robuster Stapler mit vielen innovativen Sicherheitsfeatures. Starke Stahlabdeckungen, Crowns Einstiegsleiste mit Sicherheitsschalter, die gefederte Bodenplatte und ein ergonomisch geformtes Anlehnpolster sorgen für einen optimalen Schutz des Bedieners.
Der RT 4020 ist mit hochmoderner Technologie ausgestattet, beispielsweise dem bewährten AC-Motor von Crown und elektronischer Lenkung, und ist das seit Jahren neueste Produkt in dieser Kategorie. Er ist wahlweise in rechts- oder linksseitiger Ausführung erhältlich und für anspruchsvolle Einsatzbereiche der modernen Logistik konzipiert, wie etwa an Laderampen oder im Transport. Der leistungsstarke Drehstromantrieb, die kompakte Bauweise sowie die intuitiven und schnell ansprechenden Bedienelemente machen den RT zum perfekten Stapler für enge bzw. stark frequentierte Bereiche.
Fahrgeschwindigkeiten bis 12,5 km/h und eine Chassisbreite von nur 780 mm ermöglichen leichtes Manövrieren in engen Umgebungen und das effiziente Be- und Entladen von LKW.
Im Programm der Crown RT 4000 Serie ist auch ein Fahrersitzmodell (RT 4040) mit höhenverstellbarer Fahrerplattform erhältlich.
---
| | |
| --- | --- |
| Truck Name |  Crown RT 4020 |
| Truck Type |  Pallet Truck Stand-Up Rider |
| Date of Test |  IFOY 2016 |
Testbericht
Mit der RT 4000 Serie präsentiert Crown einen völlig neuen, schnellen Hubwagen. In der Reihe stehen zwei Modelle zur Verfügung; eine Steh-Variante mit Links- und Rechtshandbedienung für Blocklagerung und schmale Gänge sowie ein Sitz-Model, um Waren über weite Strecken zu transportieren. Im IFOY Test wurde der RT 4020 (Steh-Variante) getestet. Dieses Gerät ist mit nur 780 mm im Vergleich zur Sitz-Variante wesentlich schmäler.
Die RT 4000 Serie ist im Gegensatz zu seinem Vorgänger von Crown selbst entwickelt worden. Dies hat den Vorteil, dass verschiedene bewährte Komponenten, die Crown in den vergangenen Jahren eingeführt hat, zum Einsatz kommen. Darunter finden sich zum Beispiel der leistungsstarke, wartungsfreie Drehstrommotor, die Flügelschalter, die Lenkung oder die Plattformfederung. Auch der 4-kW-Motor wurde von Crown selbst entwickelt. Dies führt unter anderem zu einer höheren Wärmebeständigkeit.
Der Stapler ist wendig und kompakt, bietet aber dennoch ausreichend Platz für den Fahrer. Sicherheit und Ergonomie spielten bei der Entwicklung eine zentrale Rolle. Der Fokus auf Ergonomie ist unter anderem spürbar am gefederten Stehplatz, dem ebenfalls gefederten Stützrad und an der ergonomischen Rückenlehne. Die Sicherheit macht sich zum Beispiel beim "Entrybar Safety Switch" bemerkbar. Diese stellt sicher, dass die Füße des Fahrers immer innerhalb der Konturen des Fahrzeugs sind. Ist der Schalter beim Start eingedrückt, fährt der Hubwagen erst gar nicht los. Wird der Schalter während der Fahrt versehentlich gedrückt, rollt der Stapler langsam und sicher zum Stehen. Der rechte Fuß-Kontakt verzögert allerdings vier Sekunden, damit der Fahrer während der Arbeit gelegentlich seinen Fuß bewegen kann, was wiederum die Müdigkeit reduziert. Auch die robusten Materialien passen nahtlos in die Sicherheitsphilosophie von Crown.
Der Lenkknopf ist ebenfalls robust und ermöglicht einen stabilen Griff beim Einstieg. Auch während der Fahrt vermitteln der Knopf und die gesamte Bedieneinheit einen soliden und angenehmen Griff. Die Rückenlehne des Testgeräts bietet unabhängig von Körperhaltung des Fahrers eine optimale Unterstützung und Seitenstabilität.
Der Crown RT 4020 ist standardmäßig ausgestattet mit Einlaufrollen in der Gabel. Darüber hinaus ist das Testfahrzeug ausgestattet mit der optionalen "WorkAssist bar" für die Montage von Klammerblatt, Terminal, Scanner oder andere Geräte.
Der RT 4020 ist Li-Ion ready. Dabei liefert nicht Crown die Lithium-Ionen-Batterie, hat jedoch in Zusammenarbeit mit einer ausgewählten Gruppe von Batterielieferanten sowohl Batterien als auch Software qualifiziert. Das Testfahrzeug selbst ist ausgestattet mit einer konventionellen Blei-Säure-Batterie (24 V/375 Ah).
Während der Kurvenfahrt wird das "Speed Reduction in Turns System" aktiviert. Das Ausmaß, in dem dies geschieht, kann eingestellt werden. Die Standardeinstellung ist nach Meinung des Testteams sehr gut. Der Stapler fühlt sich stabil an und lässt sich einfach steuern und kontrollieren.
Der Crown RT 4020 ist einfach zu handhaben und schafft eine höhere Leistung als durchschnittliche Stapler mit klappbarer Plattform. Aktuelle Daten vergleichbarer Stapler fehlen zurzeit. Der Stapler verdankt seine guten Testergebnisse den höheren Fahrgeschwindigkeiten, liegt dafür aber auch etwas höher im Verbrauch.
IFOY Testfazit:
Der Crown RT 4020 ist ideal für Anwender, die bei geringem Raumbedarf Wert auf hohe Produktivität legen. Die schmale Bauweise des Staplers eignet sich beispielsweise optimal für Palettenlagerung in engen Kanälen. Dank der Querstellung ist die Sicht in beiden Richtungen gut. Das Lenkverhalten ist anfangs etwas gewöhnungsbedürftig, wird jedoch bald intuitiv. 
Hard Facts
| | | | |
| --- | --- | --- | --- |
|   | Test Truck IFOY Test | Average other trucks | Value 1 to 10 |
| Productivity Max mode (Pallets / 8 hrs) |  752 |  703 |  9 |
| Productivity Eco mode (Pallets / 8 hrs) |  677 |  N/A |   |
| Energy level Max mode (kWh / 100 plts) |  1.92 |  1.49 |  6 |
| Energy level Eco mode (kWh / 100 plts) |  1.68 |  N/A |   |
| Driving speed with load (km/h) |  10.75 |  8.89 |   |
| Driving speed without load (km/h) |  12.63 |  10.54 |   |
| Lifting speed with load (cm/s) |  N/A  |  N/A |   |
| Acceleration speed with load (time for 10 meters) |  5.6 |  N/A |   |
| Acceleration speed without load (time for 10 meters) |  4.6 |  4.9 |   |
|   |   |   |   |
| Based average platform trucks 5 years |  BT LPE |  Linde T20 |   |
|   |  Jungheinrich ERE |  Crown WT 3000 |   |
|   |  Still EXU-S |  Hyster Spectrum |   |
Averages soft facts
| | |
| --- | --- |
| First impression |  8.20 |
| Load Safety |  7.00 |
| Entry to truck |  7.25 |
| Working position |  7.33 |
| Working space |  7.50 |
| Activate truck |  7.50 |
| Hydraulics |  7.29 |
| Steering |  7.29 |
| Sight |  8.00 |
| Driving & Turning |  8.00 |
| Parking truck |  8.00 |
| Safety elements |  8.75 |
| General after test |  8.00 |
| Sustainability |  8.00 |
|   |   |
| Total average soft facts |  7.72 |
| Total productivity |  9.00 |
| Total Energy consumption |  6.00 |
IFOY Innovation Check
Marktrelevanz
Beim Crown RT 4020 handelt es sich um einen Stand-Gabelniederhubwagen. Das Gerät ist nach Angaben des Herstellers vollständig neu entwickelt worden, orientiert sich aber an der bekannten Kategorie der Elektro-Stand-Gabelhubwagen (ESU) nach VDI 3586. Diese Geräte finden Verwendung, wenn der Anwender die maximale Nutzung der Grundfläche seines Umschlaglagers erreichen möchte und nur geringe Anteile für Verkehrswege vorsehen kann. Dies erfordert schmale und kurze Fahrzeugkonturen, die minimale Wendekreise und beste Manövrierbarkeit zulassen. Der Einsatz dieser Geräte von der LKW-Entladung bis hin zur Verteilung über längere Strecken im Umschlaglager oder Cross-Docking-Hub erfordert eine ausgewogene Kombination aus Kompaktheit für den Antrieb und den Fahrerstand verbunden mit guten Fahrleistungen. Der beschriebene Anwendungsbereich für Umschlag und Bodenlagerung weist seinen größten Marktanteil bei Logistikdienstleistern und Speditionen auf. Er wird dominiert von kombinierten Geh- und Fahr-Niederhubwagen mit ausklappbarer Standplattform. Der kleinere Anteil im benannten Anwendungsfeld wird von Stand- und Fahrersitz‑Modellen gebildet, wie es Crown hier mit dem Modell 4020 RT vorgestellt hat.
Obwohl der Niederhubwagen mit Standplattform heute den Anwendungsbereich dieses Fahrzeugtyps dominiert, besitzen die Geräte mit Fahrerstand eine gute Verbreitung. Zudem besitzt der Bereich des schnellen Umschlags eine ungebrochene Relevanz beim Warenumschlag an den Schnittstellen zum Straßengütertransport. Die zu erwartende hohe Nutzungsintensität dieses Gerätetyps und die hohen Belastungen der Mechanik in den kompakten Fahrzeugen lassen auf einen möglicherweise regelmäßigen Austausch nach einigen Nutzungsjahren schließen, so dass ein dauerhafter Markt für diese Fahrzeuge entsteht. Insgesamt ist die Marktrelevanz als gut einzustufen.
Kundennutzen
Der explizite Kundennutzen entsteht dadurch, in engen Umgebungen sehr gut zu manövrieren verbunden mit den hohen Fahrleistungen. Hinzu kommt die erfahrbar gute Zentrierung des Crown 4020 RT auf den Fahrer verbunden mit den verschiedenen Sicherheitseinrichtungen, die die Nachteile des extrem kompakten Fahrerstands ausgleichen. Das Fahrzeug reiht sich mit den Bedienelementen und den Diagnosefunktionen ein in das von Crown bekannte Konzept und stellt damit auch impliziten Kundennutzen zur Verfügung, der sich aus der Einheitlichkeit der benannten Funktionen in der Flotte eines Herstellers ergibt. Insgesamt ist der Kundennutzen als sehr hoch einzustufen, da das Gerät die Kompaktheit zur Leistungserfüllung einerseits und die Ergonomie sowie insbesondere die Sicherheitseinrichtungen sehr gut in einer Maschine umsetzt.
Neuheits- / Innovationsgrad
Der Neuheits- respektive der Innovationsgrad des Crown RT 4020 ist gut, wie er für die Weiterentwicklung einer gut eingeführten Fahrzeugklasse typisch ist. Die Innovationen liegen im Detail, wie etwa bei den Sicherheitseinrichtungen, die sowohl das Herausragen des Bedienerfußes aus der Schutzkontur des Fahrerstandes verhindern (Einstiegsleiste mit Sicherheitsschaltkontakt) als auch durch den doppelten Aufstandsschutzkontakt die Möglichkeit geben, mit dem innenliegenden Spielbein den zweiten Sicherheitsschaltkontakt wenige Sekunden zu entlasten. Dies schafft wechselnde Positionen für den Fahrer und verringern das Ermüdungsrisiko bei langanhaltender Nutzung des Gerätes. Die konsequente Gestaltung des Fahrerstandes mit Ausrichtung auf ergonomische Arbeitsbedingungen weist einzelne Neuerungen wie die Formen der Ablage auf, die zwar nicht richtungsweisend innovativ sind, aber insgesamt einen guten Neuheitsgrad erkennen lassen.
Funktionalität / Art der Umsetzung
Rein technologisch sind die benannten Eigenschaften und Funktionen gut umgesetzt. Beim Test zeigen sich die intuitive Bedienung des Gerätes und die parametrierbare Fahrcharakteristik als wichtige Faktoren, so dass der Fahrer entsprechend seines Leistungsvermögens und der Aufgabenstellung von einem ausgeglichenen bis hin zu einem sprintstarken Fahrmodus auswählen kann.
---
Marktrelevanz

+

Kundennutzen

++

Neuheits- / Innovationsgrad

+

Funktionalität / Art der Umsetzung

+

++ sehr gut / + gut / Ø ausgeglichen / - weniger / - - nicht vorhanden
---
Datenblatt
Gerätetyp
Mitfahr-Palettenhubwagen mit Fahrerstand
Technische Daten (alle Geräte)
| | |
| --- | --- |
| Antrieb | Elektro |
| Tragfähigkeit | 2000 kg |
| Eigengewicht | 694 kg |
| Bedienung | Stand |
| Fahrgeschwindigkeit mit Last | 9,0 km/h |
| Fahrgeschwindigkeit ohne Last | 12,5 km/h |
| Hubgeschwindigkeit mit Last | 0,05 m/s |
| Hubgeschwindigkeit ohne Last | 0,08 m/s |
| Senkgeschwindigkeit mit Last | 0,05 m/s |
| Senkgeschwindigkeit ohne Last | 0,08 m/s |
| Max.Hubhöhe | 211 mm |
| Energieverbrauch nach VDI-Arbeitsspiel | 0,52 kWh/h |
| Elektro-Trucks | |
| Batteriespannung | 24 V |
| Batteriekapazität | 375 Ah |
| Batterieanschluss | REMA DIN 160 A |
| Batteriegewicht | 293 kg |
| Leistung Fahrmotor | 4,0 kW |
| Leistung Hubmotor | 1,3 kW |
| Schlepper | |
| Nennzugkraft | N |
| Kommissionierer/Kombigeräte | |
| Max. Greifhöhe | mm |
Sonstiges
Es handelt sich um
Ersatz eines oder mehrerer bestehender Modelle:
RT 3500
Datum der Markteinführung
28.10.2015
Datum des Produktionsstarts
01.12.2015
Konkurrenzprodukte
Jungheinrich ESE 120
Linde T20S
STILL SU-20
Innovationen
1. Komfort und Sicherheit:
Der RT 4020 ist mit Crowns patentierter Einstiegsleiste mit Sicherheitsschalter ausgestattet. Sie deaktiviert die Fahrfunktion, sobald sich ein Fuß des Bedieners außerhalb der Fahrzeugkontur befindet. Die gefederte Bodenplatte und gefederte Stützräder fangen Stöße auf Rampen und holprigen Oberflächen auf und verringern die Rückenbelastung sowie Ermüdungserscheinungen. Das große Anlehnpolster bietet Halt, auch beim Zurücklehnen für bessere Sicht. Die Bedienelemente für Fahr-, Hub- und Senkfunktionen sind in der jeweiligen Wirkrichtung angeordnet. Dank der Arbeitsfläche mit Spanngummi sind Papiere, Etiketten, Textmarker und sonstige Arbeitsmittel stets griffbereit. Robuste Stahlabdeckungen mit abgerundeten Kanten bieten Schutz – besonders in stark frequentierten Bereichen.
2. Manövrierfähigkeit:
Der bewährte AC-Motor von Crown hält länger, entwickelt weniger Wärme und bringt effiziente Leistung, und die in rechts- oder linksseitiger Ausführung lieferbare elektronische Lenkung erlaubt präzise Steuerung – so punktet der RT 4020 mit bester Manövrierfähigkeit.
3. Zuverlässigkeit:
Der RT 4020 weist eine 8 mm starke Stahlschürze und Seitenwände aus 6 mm dickem Stahl auf und hat keine freiliegenden Kunststoffteile in Kollisionsbereichen. Die verstärkte, einteilige Stahlgabel verfügt über ein einstellbares Hubgestänge mit Zugstange. Mit den serienmäßigen Ein- und Ausfahrrollen können leere und volle Paletten quer über die Bodenbretter aufgenommen werden.
Hauptziele der Entwicklung
Crown-Studien ergaben, dass dieser Staplertyp in immer härteren, hektischeren Einsatzbereichen eingesetzt wird: schnelles Be- und Entladen, hohe Fahrgeschwindigkeiten, starker Verkehr und großer Zeitdruck sind an der Tagesordnung. Kürzere Lieferfristen und wachsende Produktvielfalt rücken diese Herausforderungen in der modernen Logistik zunehmend in den Vordergrund. Mehrere hundert Rampenfahrten am Tag können zu Knie- und Rückenschmerzen sowie Ermüdungserscheinungen führen, daher wird die Sicherheit der Bediener immer wichtiger. Crowns Hauptaufgabe bestand darin, einen robusten, schnellen und komfortablen Stapler zu entwickeln, mit dem Bediener rasch, sicher und professionell arbeiten können. In dieser Hinsicht bewährt sich die solide konstruierte, zuverlässige RT 4000 Serie. Sie sorgt für ein sicheres Fahrgefühl, und in jedem Detail zeigt sich, dass der Bediener im Mittelpunkt steht. Um zu gewährleisten, dass die Bediener für ihre Arbeit das optimale Gerät zur Verfügung haben, wurden sämtliche Bedienelemente und Berührungspunkte kritisch geprüft und getestet.
Eine weitere wichtige Herausforderung bei der Entwicklung der RT 4000 Serie waren die drei verschiedenen Bedienerplätze für die Produktfamilie – eine Fahrersitz-Version sowie zwei Modelle mit Fahrerstand und rechts- bzw. linksseitiger Lenkung. Herausgekommen sind Stapler mit einem eleganten, nutzerorientierten Design, die starke Leistung bringen, ohne bei Sicherheit und Ergonomie Kompromisse einzugehen.
Kundennutzen
Dank der starken Beschleunigung und der hohen Fahrgeschwindigkeit gehen das Be- und Entladen sowie der Transport schneller und damit produktiver vonstatten. Das schmale Chassis und das kurze Vorbaumaß, die präzise Steuerung sowie die elektronische Lenkung machen den RT 4020 äußerst wendig und manövrierfähig.
Die niedrige Einstiegsstufe, das ergonomisch geformte Anlehnpolster und die intuitiven Bedienelemente gewährleisten optimalen Fahrkomfort, und die gefederte Bodenplatte sowie die patentierte Einstiegsleiste mit Sicherheitsschalter sorgen gleichzeitig für mehr Sicherheit. Der RT 4020 ist als erster Stapler seiner Art mit diesem einzigartigen, innovativen Sicherheitsfeature versehen. Ein effektiver Schutz des Bedieners führt nicht nur zu einer geringeren körperlichen Belastung, sondern auch zu einer erhöhten Einsatzbereitschaft und gesteigerter Produktivität bei gleichzeitigen Kosteneinsparungen.
Mit seiner robusten Bauweise und dem von Crown selbst gefertigten, extrem langlebigen und effizienten Motor bietet der RT 4020 die lange Laufzeit und Zuverlässigkeit, auf die es im harten Logistikalltag ankommt. Für individuelle Anforderungen ist der Stapler optional auch in der Ausführung "Lithium-Ionen-ready" erhältlich.
Tests mit Kunden haben bestätigt, dass die Bediener die Manövrierfähigkeit des RT 4020 schätzen und sich gleichzeitig bei der Arbeit unter härtesten Bedingungen viel sicherer fühlen.
Sonderausstattung (IFOY Test-Gerät)
Crown Work Assist Clipboard
RT 4020 Stand-Up Rider Pallet Truck

Crown Gabelstapler GmbH & Co. KG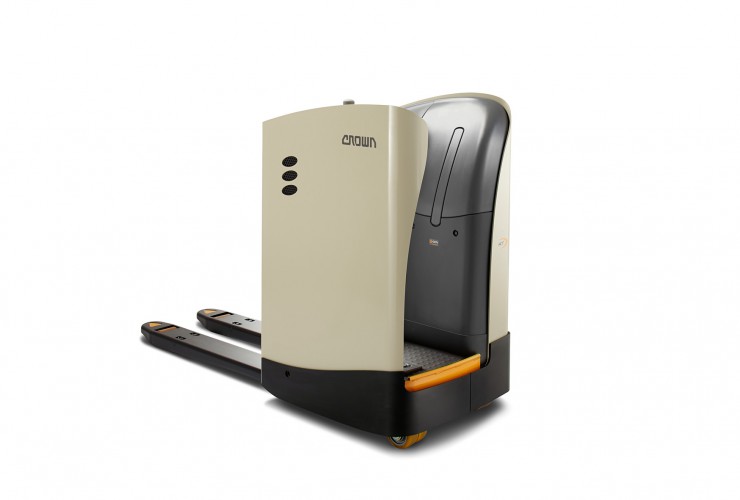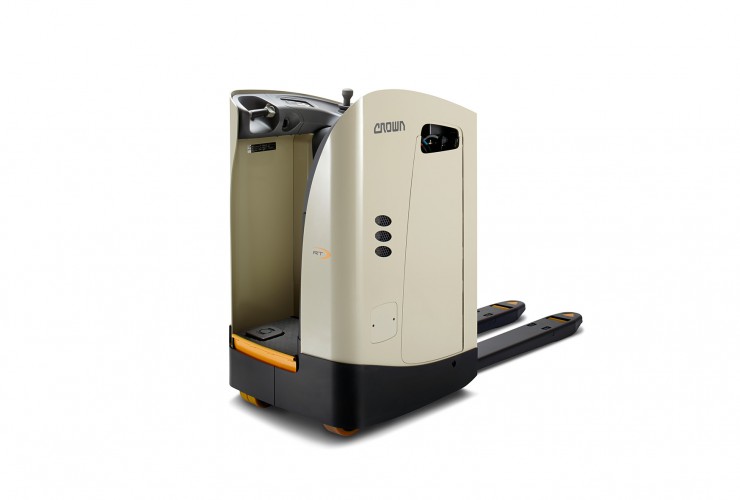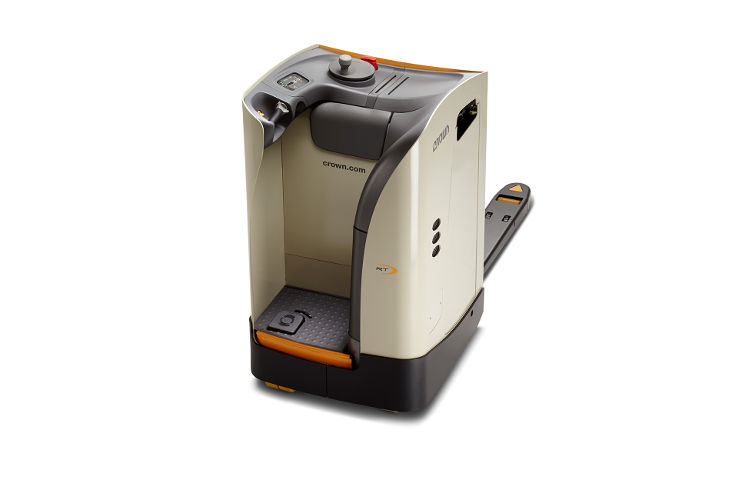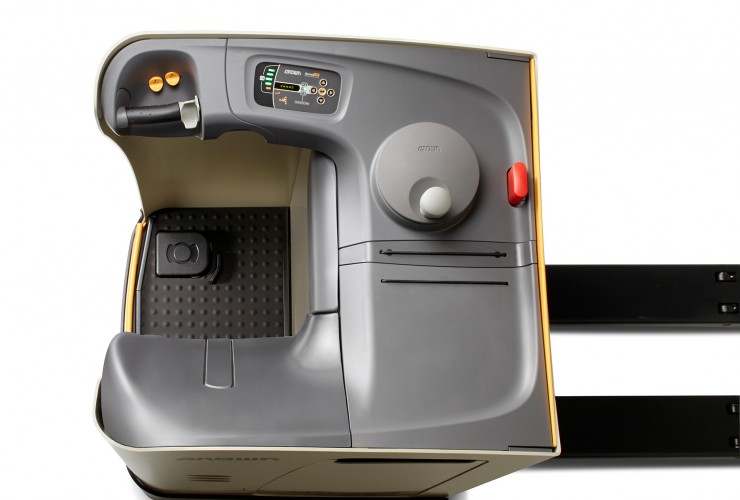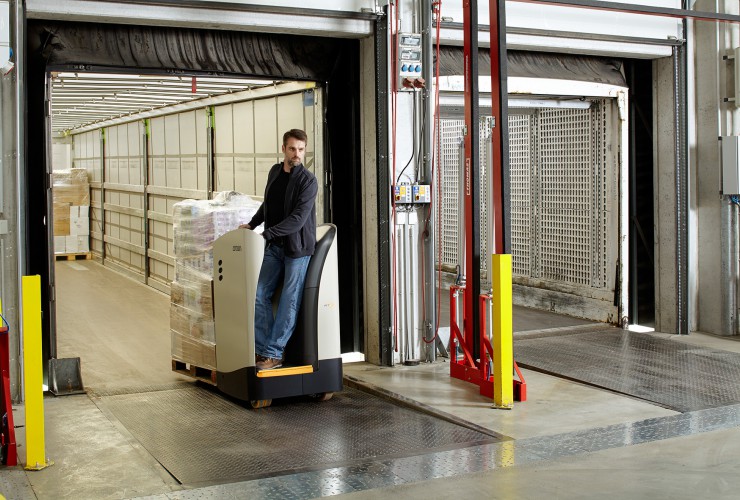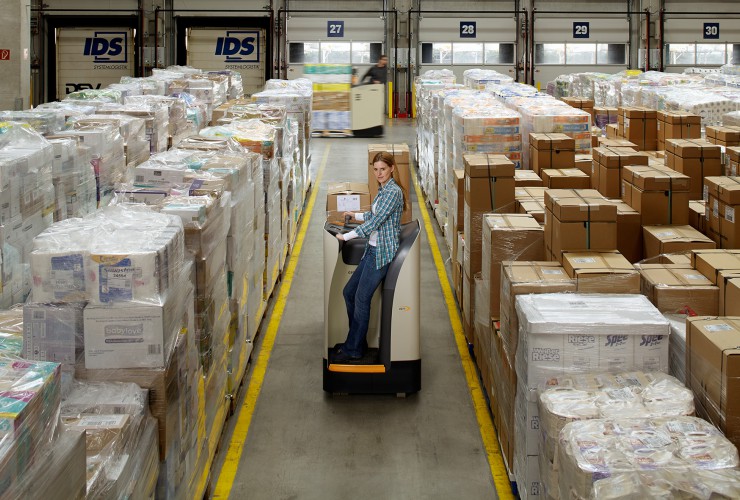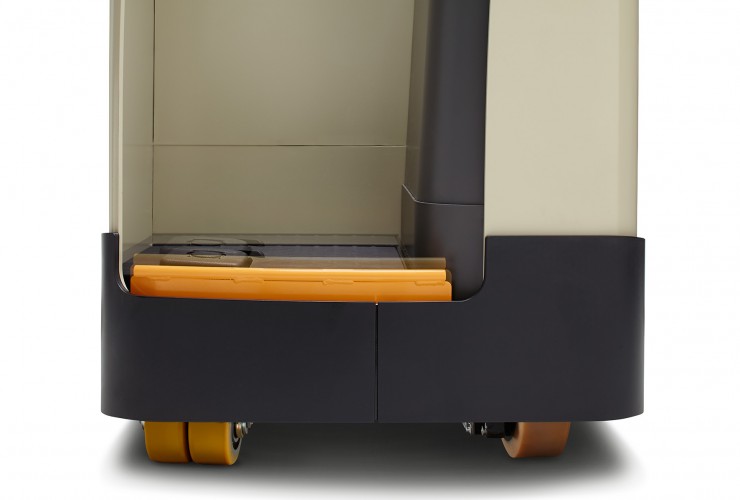 Crown RT 4020 Stand-Up Rider Pallet Truck
Crown Gabelstapler
IFOY Category
Warehouse Trucks (low lifters)
Short Characteristic
The RT 4020 stand-up rider pallet truck with lift capacities up to two tonnes combines an extremely agile and robust truck with innovative safety features. Optimum operator protection is assured by robust steel covers, Crown's Entry Bar Safety Switch, suspended floorboard, and carefully shaped wrap-around lean pad.
Incorporating the latest technology – such as Crown's proven AC motors and electric steering – the RT 4020 represents the newest product in this category for many years. Available in right- or left-hand configuration, the truck is designed for the toughest dock and transport applications in modern logistics. Powerful AC performance, compact dimensions and intuitive and highly responsive controls make the RT the right fit for busy and tight areas.
Travel speeds up to 12.5 km/h and a chassis only 780 mm wide allow easy navigation in congested areas and make for fast loading/unloading of lorries.
Also available in the Crown RT 4000 Series is a sit-down model (RT 4040) with height-adjustable operator platform.
---
| | |
| --- | --- |
| Truck Name |  Crown RT 4020 |
| Truck Type |  Pallet Truck Stand-Up Rider |
| Date of Test |  IFOY 2016 |
Test Report
With the RT 4000 series, Crown has launched a totally new and fast pallet truck. There are two models in the series, a stand up rider version with left and right-hand operation for block storage and narrow aisles as well as a seated model to transport goods over large distances. The machine in the IFOY test was the RT 4020 (pedestrian model). With a width of only 780 mm, this truck is far slimmer than the seated version.
Unlike its predecessor, the RT 4000 series was developed in-house by Crown. This has the advantage that it ensures the use of various tried-and-tested components introduced by Crown in recent years. These include such things as the powerful, maintenance-free threephase motor, the butterfly switches, the steering or the cushioned platform. The 4-kW motor is also a Crown development. Among other things, this also makes for higher heat resistance.
The truck is agile and compact yet still offers adequate space for the driver. Safety and ergonomics played a central role in the development process. In terms of ergonomics, the focus is also on the spring-mounted stand-up platform, the suspended support wheel and the ergonomically designed backrest. One of the key safety features is the "Entrybar Safety Switch", which ensures that the driver's feet are always inside the vehicle contours. If the switch is in the depressed position when the vehicle is started, the forklift will not even move. If the switch is accidentally pressed during travel, the truck slowly and safely rolls to a standstill. The right-hand foot contact has a four-second time delay, however, so that the driver can occasionally move his foot while working, and this in turn helps to reduce fatigue. The robust materials also systematically reflect the Crown "safety philosophy".
The steering knob is also robust and provides a stable grip when entering the machine. The knob and the entire control console give the driver a solid and convenient hold during travel. The backrest on the test machine offers optimum support and lateral stability irrespective of the body position of the driver.
The Crown RT 4020 is equipped as standard with pallet exit entry rollers in the fork, and the test vehicle is additionally fitted with the optional "WorkAssist bar" for mounting clipboard, terminal, scanner or other devices.
The RT 4020 is Li-Ion ready. Crown does not supply the lithium ion battery but has achieved quality certification of both batteries and software in collaboration with a select group of battery suppliers. The test vehicle itself was fitted with a conventional lead-acid battery (24 V/375 Ah).
The "Speed Reduction in Turns System" is activated when cornering, and the driver can adjust the influence of this system. In the view of the test team, the standard setting is excellent. The truck feels stable and is easy to steer and control.
The Crown RT 4020 is easy to handle and achieves better performance than average pallet trucks with fold-down platform. No representative data are currently available on comparable trucks. The favourable test results of the forklift are underpinned by its higher driving speeds, but this also means slightly higher consumption figures.
IFOY test verdict:
The Crown RT 4020 is ideal for users who attach importance to high productivity in tight spaces. The slimline design of the truck makes it the perfect machine for pallet storage in narrow channels, for example. The transverse position means visibility is good in both directions. The steering characteristics take a little getting used to but soon become intuitive.
Hard Facts
| | | | |
| --- | --- | --- | --- |
|   | Test Truck IFOY Test | Average other trucks | Value 1 to 10 |
| Productivity Max mode (Pallets / 8 hrs) |  752 |  703 |  9 |
| Productivity Eco mode (Pallets / 8 hrs) |  677 |  N/A |   |
| Energy level Max mode (kWh / 100 plts) |  1.92 |  1.49 |  6 |
| Energy level Eco mode (kWh / 100 plts) |  1.68 |  N/A |   |
| Driving speed with load (km/h) |  10.75 |  8.89 |   |
| Driving speed without load (km/h) |  12.63 |  10.54 |   |
| Lifting speed with load (cm/s) |  N/A  |  N/A |   |
| Acceleration speed with load (time for 10 meters) |  5.6 |  N/A |   |
| Acceleration speed without load (time for 10 meters) |  4.6 |  4.9 |   |
|   |   |   |   |
| Based average platform trucks 5 years |  BT LPE |  Linde T20 |   |
|   |  Jungheinrich ERE |  Crown WT 3000 |   |
|   |  Still EXU-S |  Hyster Spectrum |   |
Averages soft facts
| | |
| --- | --- |
| First impression |  8.20 |
| Load Safety |  7.00 |
| Entry to truck |  7.25 |
| Working position |  7.33 |
| Working space |  7.50 |
| Activate truck |  7.50 |
| Hydraulics |  7.29 |
| Steering |  7.29 |
| Sight |  8.00 |
| Driving & Turning |  8.00 |
| Parking truck |  8.00 |
| Safety elements |  8.75 |
| General after test |  8.00 |
| Sustainability |  8.00 |
|   |   |
| Total average soft facts |  7.72 |
| Total productivity |  9.00 |
| Total Energy consumption |  6.00 |
IFOY Innovation Check
Market Relevance
The Crown RT 4020 is a stand-up rider pallet truck. According to the manufacturer, the machine is a totally new development but is based on the familiar category of electric stand-up pallet trucks in line with VDI 3586. These trucks are preferred when the user wants to make maximum use of the floor area of his warehouse and only has small traffic areas. This calls for narrow and short vehicle contours with minimum turning circles and optimum manoeuvrability. The use of these trucks for applications from delivery truck unloading through to distribution over longer distances in the transshipment warehouse or cross-docking hub requires a balanced combination of compact design of the drive system and driver platform combined with good driving performance. These trucks are mainly used for transshipment and floor-level storage by logistics service providers and freight forwarders. This is a segment dominated by combined pedestrian and seated low lifters with fold-down stand-up platform. The smaller part of this market segment is served by stand-up and seated rider models of the type represented here by the Crown 4020 RT.
Although the low lifter with pedestrian platform is the predominant type in this vehicle segment, the machines with driver platform are also widely used. Moreover, fast transshipment operations remain of key importance at the various interfaces to road freight transport. The anticipated high intensity of use of these trucks and the high mechanical loads on the compact machines generally entails their potential regular replacement after several years of use, with the result that there is a permanent market for these trucks. On the whole, market relevance can be described as good.
Customer Benefit
The explicit customer benefit is the excellent manoeuvrability in tight areas combined with good driving performance. Added to this is the high-level focus of the Crown 4020 RT on the driver combined with various safety features that offset the disadvantages of the extremely compact driver platform. With its operating elements and diagnosis functions, the vehicle falls into place as part of the familiar Crown concept and therefore also provides an implicit customer benefit in the form of the uniformity of the said functions within the context of a fleet from the same manufacturer. Overall, the customer benefit is to be described as very high, as the truck not only possesses a compact design for its level of performance as well as ergonomic features but also and in particular has a range of safety features that are implemented in an excellent fashion.
Degree of Novelty / Innovation
The degree of novelty/innovation of the Crown RT 4020 is good, as is typical for the further development of a well-established vehicle class. The innovations can be found in the details, such as the safety features that not only prevent protrusion of the operator's foot beyond the protective confines of the platform (entry strip with safety switching contact) but also include a twin stand-up protective contact that enables the operator to use his inside free leg to disable the second safety switching contact for a few seconds and relax his foot. This ensures a frequent change of position for the driver, reducing the risk of fatigue if the truck is in continuous use for lengthy periods of time. The targeted design of the driver platform is geared towards providing ergonomic working conditions and has various new features such as the shape of the storage compartment which, while not necessarily being innovative in a trendsetting way, still reflect a good overall degree of novelty.
Functionality / Type of Implementation
In purely technological terms, the outlined properties and functions have been well implemented. During the test, the intuitive operation of the truck and the configurable driving characteristics showed themselves to be key factors, as they allow the driver to choose from a range of modes from balanced to high-acceleration mode to suit his own capabilities and the task at hand.
---
Market relevance

+

Customer benefit

++

Degree of novelty / innovation

+

Functionality / Type of implementation

+

++ Very Good / + Good / Ø Balanced / - Not so good / - - Not present
---
Data Sheet
Truck Model
Stand-Up Rider Pallet Truck
Technical Data (all trucks)
| | |
| --- | --- |
| Truck Type | electro |
| Lift capacity/load | 2000 kg |
| Truck weight | 694 kg |
| Operation | stand-on |
| Driving speed with load | 9,0 km/h |
| Driving speed without load | 12,5 km/h |
| Lifting speed with load | 0,05 m/s |
| Lifting speed without load | 0,08 m/s |
| Lowering speed with load | 0,05 m/s |
| Lowering speed without load | 0,08 m/s |
| Max. lift height | 211 mm |
| Power consumption according to VDI cycle | 0,52 kWh/h |
| Electro-trucks | |
| Battery voltage | 24 V |
| Battery capacity | 375 Ah |
| Battery connector | REMA DIN 160 A |
| Battery weight | 293 kg |
| Drive motor | 4,0 kW |
| Lift motor | 1,3 kW |
| Tow Truck | |
| Nominal towing capacity | N |
| Orderpicking/Combitrucks | |
| Max. picking height | mm |
Miscellaneous
This model is a
Replacement of one or more existing models:
RT 3500
Date of rollout
2015-10-28
Start of series production
2015-12-01
Competitive products
Jungheinrich ESE 120
Linde T20S
STILL SU-20
Innovations
1. Operator Comfort and Safety:
The truck features Crown's patented and proven Entry Bar Safety Switch, protecting operators from serious foot injuries by deactivating travel when the operator places a foot outside the truck perimeter. Suspended floorboard and spring-loaded castor wheels reduce shocks from dock boards and rough floors, offering best-in-class ride comfort and minimising back strain and operator fatigue. The wrap-around lean pad enables the driver to adopt the best position for visibility and ease of control. Traction and lift/lower controls are oriented to the intended direction and a large desktop/storage area with bungee cord for A4 size papers, labels, markers and other work essentials further improve operator convenience. Robust steel covers with rounded corners protect the operator, especially in congested areas.
2. Agility:
The proven Crown-built AC motors run longer, cooler and more efficiently. Combined with smooth and precise electronic steering, available both in right- and left-hand configuration, the RT 4020 delivers impressive agility.
3. Reliability:
The RT 4020 features 8-mm reinforced steel skirts and 6-mm thick steel wrap-around sidewalls with no exposed plastic parts in impact areas. Reinforced, one-piece high tensile steel forks with adjustable pull-rod linkage and standard pallet entry and exit rollers let the load arms traverse pallet bottom boards whether the pallet is empty or full.
Main goals for development
Crown's research showed that this product category faces increasingly tough and busy applications with intense dock works, high travel speeds, heavy traffic and severe time pressure. Shorter deadlines and growing product diversity bring these challenges more and more to the fore in modern logistics. Driving over ramps and dock boards hundreds of times per day can result in knee and back pain and overall operator fatigue, so safety is becoming an increasingly important requirement. The main task for Crown was to design a truck that is robust, fast and comfortable while keeping operators safe and helping them perform tasks quickly, safely and skilfully. In this respect, the solid and reliable RT 4000 Series builds confidence, and every feature makes it clear that the operator is central to the design. Every touchpoint was critically researched and tested to ensure that each operator has the best tool for the job.
Another key challenge in developing the RT 4000 Series was to create three different operator compartments for this low-volume product family: a sit-down version and two stand-up models with right- and left-hand steering. The solution is an elegant, user-centered design delivering high performance without compromising ergonomics.
User benefits
Operators benefit from increased productivity through faster dock and transport work with powerful acceleration and high travel speeds. With its narrow chassis with short headlength, precise controls and electric steering, the RT 4020 is agile and highly manoeuvrable.
Low entry step, ergonomically-shaped soft foam wrap-around lean pad and intuitive controls enhance operator comfort while the suspended platform and patented Entry Bar Safety Switch increase safety. The RT 4020 is the first product in its class to offer this innovative and unique safety feature. Protecting the operator against physical stress and strain also improves uptime and productivity, while at the same time saving costs.
With its robust construction and highly durable and efficient Crown-built motors, the RT 4020 offers the durability and reliability needed for the toughest logistics applications. To meet individual demands, Crown also offers an optional Lithium-Ion-Ready configuration. 
Test customers confirmed that operators like the agility of the RT 4020 while at the same time feeling much more secure when working in the hardest conditions.
Optional items (IFOY Test Truck)
Crown Work Assist Clipboard