IFOY Patronage
IFOY Sponsor
EKX 516

Jungheinrich AG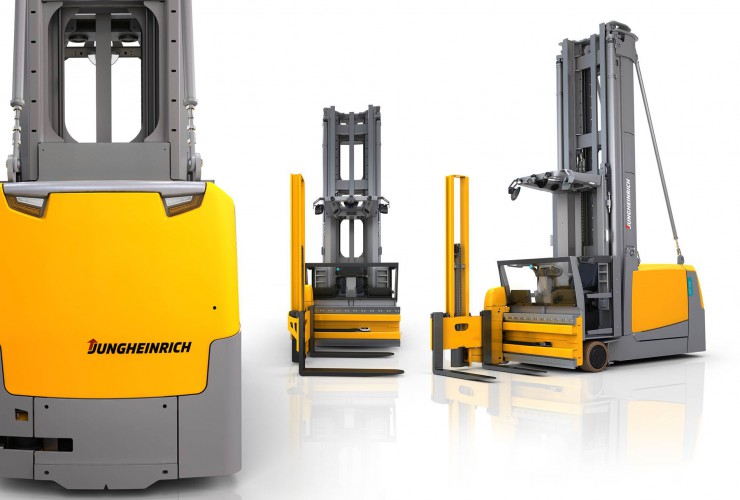 IFOY-Kategorie
Kurzcharakteristik
Jungheinrich stellt den neuen 80-Volt-Hochregalstapler, den EKX der Baureihe 5, vor. Das Fahrzeug wird ausschließlich im Schmalgang eingesetzt und kann sowohl zum Ein- und Ausstapeln von Paletten oder Gitterboxen als auch zur Kommissionierung einzelner Artikel genutzt werden.
Das Schmalganglager zeichnet sich dadurch aus, dass es die Lagerflächen optimiert, indem es die Arbeitsgangbreiten mehr als halbiert. Durch den Einsatz von Schmalganggeräten wird die Hubhöhe mit 17.500 mm Höhe verdreifacht. Im Vergleich zu Breitganglagern ist es so möglich, doppelt so viele Paletten auf gleicher Fläche unterzubringen.
Bei dem Fahrzeug handelt es sich um einen komplett neu entwickelten Schmalgangstapler vom Typ Elektro-Kommissionier-/Dreiseitenstapler. Beim sogenannten Man-up Gerät wird der Fahrer zusammen mit der Last nach oben gehoben, was einen flexiblen und sicheren Arbeitseinsatz gewährleistet. Mit einer um 100 kg erhöhten Grundtragfähigkeit von 1.600 kg und einer Gesamthubhöhe von 17,5 m, einem Leistungsplus von 0,5 m, ist der neue EKX 514-516 Benchmark im Markt.
Die Charakteristik des Fahrzeugs beinhaltet – neben dem neuen unverkennbaren Designkonzept –eine intelligente Leichtbauweise, ein innovatives System zur Schwingungsdämpfung sowie die neue Motorentechnologie auf Basis von Synchron-Reluktanzmotoren. Diese von Jungheinrich neu entwickelten Motoren sind ein Quantensprung in Sachen Energieeffizienz und erzielen den im Staplereinsatz höchstmöglichen Wirkungsgrad von IE3.
---
| | |
| --- | --- |
| Truck Name |  Jungheinrich EKX 516 |
| Truck Type |  Combi Truck |
| Date of Test |  IFOY 2016 |
Testbericht
Mit der Einführung der neuen EKX 5-Reihe legt Jungheinrich die Messlatte im Segment der Hochregalstapler höher. Eine neue Motorentechnologie, modernste Steuerungstechnik und Leichtbau ergeben eine weitere Verbesserung der Energieeffizienz. Ein innovatives Konzept dämpft darüber hinaus Mastschwingungen.
Der neue Schmalgangstapler hebt Lasten bis zu 1600 kg, 100 kg mehr als bisher in diesem Segment. Die maximale Hubhöhe wurde im Vergleich zum Vorgängermodel mit 0,5 Meter auf insgesamt bis 17,5 Meter erhöht.
Der Neuling ist das erste Lagergerät mit einer für die Intralogistik neu entwickelten Motor-Technologie: der Synchronreluktanzmotor. Diese Motoren nutzen die Kraft, die von einem sich ändernden magnetischen Widerstand (Reluktanz) verursacht wird, wodurch etwa 93 Prozent der Energie in Leistung umgewandelt wird. Der Energieverlust wird so halbiert. Im Vergleich zum Vorgängermodell, bedeutet dies laut Hersteller eine weitere Reduzierung des Energieverbrauchs um 15 Prozent. Kombiniert mit der Leichtbauweise soll sich damit die Energieeffizienz deutlich verbessern. Die angestrebte Energieeinsparung von 15 Prozent wird jedoch im IFOY Test nicht erreicht. Das Testteam vermutet, dass nach der Feinabstimmung für das Steuern der Hydraulikfunktionen in der täglichen Praxis der Verbrauch weiter sinkt. Dies bestätigte auch ein ausführlicher Praxistest, bei dem sowohl das Vorgängermodell als auch der neue EKX eingesetzt wurde und in dem neue EKX 516 minimal wirtschaftlicher und 10 Prozent produktiver abschnitt.
Dank der verbesserten Energieeffizienz kann Jungheinrich garantieren, dass die Fahrzeuge mit nur einer Batterieladung problemlos im Zweischichtbetrieb eingesetzt werden können. Damit entfällt die Notwendigkeit für Ersatzbatterien, Wechselstationen, teure Werkzeuge und zeitraubenden Personaleinsatz.
Mit der Einführung der neuen EKX Series präsentiert Jungheinrich erstmalig ein neues, patentiertes System zur Dämpfung der Mastschwingungen. Das System bietet die Möglichkeit, auch in Höhen von bis zu zehn Metern auf nicht-optimalen Böden bequem, sicher und effizient zu arbeiten – auch bei einer Erhöhung der Geschwindigkeit um etwa 30 Prozent. Floor Pro schützt zudem Last und Stapler, da Vibrationen reduziert werden und das Beschädigungsrisiko sinkt. Dies führt zu Rückgang der Wartung und Instandhaltung. Die Mastbewegungen des Staplers sind merklich ruhiger und das Fahrzeug fühlt sich kräftig an.
Auf nicht superflachen Böden, die eigentlich nicht für den Einsatz von Hochregalstapler gedacht sind, reduziert das optionale Floor Pro Modul das Schwenken des Mastes und der Kabinen beträchtlich, wodurch der Stapler auch in anderen Lagerbereichen eingesetzt werden kann.
Für einen effizienten Einsatz bietet der neue EKX 516 verschiedene Module zur Prozessoptimierung im Lager, wie zum Beispiel Lagernavigation, RFID, Höhe- und Entfernungsmessung. Mithilfe der Logistik-Schnittstelle von Jungheinrich können LVS-Aufträge drahtlos zum Staplerterminal gesendet werden. Wie bei seinem Vorgänger, übersetzt die Schnittstelle die Befehle und gibt die Informationen direkt weiter an die Fahrzeugsteuerung. Der Stapler kennt seine aktuelle Position und die Position des nächsten Jobs, ermittelt automatisch die effizienteste Diagonalfahrt, der Fahrer muss nur noch losfahren.
Darüber hinaus bietet die EKX eine geräumige Kabine mit einem übersichtlichen Bedienpaneelen und viel Stauraum für geschäftliche und persönliche Gegenstände. 
IFOY Testfazit:
Mit dem neue EKX verbessert Jungheinrich sein Top-Produkt im Hochregalsegment. Die neue Technologie spart Energie und dank Floor Pro ist der Schmalgangstapler auch auf weniger guten Lagerböden effizient einsetzbar. Den maximalen Wirkungsgrad liefert der EKX 516, wenn er in Kombination mit Lagernavigation eingesetzt wird.
Hard Facts
 
Test Truck IFOY Test
Average other trucks
Value 1 to 10
Productivity Max mode (Pallets / 8 hrs)
 339.23
 309.93
 8
Productivity Eco mode (Pallets / 8 hrs)
 N/A
 N/A
 
Energy level Max mode (kWh / 100 plts)
 13.3
 13.4
 7
Energy level Eco mode (kWh / 100 plts)
 N/A
 N/A
 
Driving speed with load (km/h)
 10.4
 10.4
 
Lifting speed with load (cm/s)
 57.5
 52
 
Swivel speed (Left to right)
 11.1
 10.3
 
 
 
 
 
Other trucks
 Jungheinrich EKX 515
 

Test on 60+30 m drive and 9.2+6.6 m lift and 500 + 1000 kg

 
Averages soft facts
| | |
| --- | --- |
| First impression |  8.40 |
| Load Safety |  6.50 |
| Entry to truck |  7.29 |
| Seat & Sit position |  8.00 |
| Legg Space |  8.50 |
| Activate truck |  8.50 |
| Hydraulics |  7.75 |
| Steering |  7.71 |
| Sight |  7.50 |
| Driving acceleration |  8.00 |
| Driving braking |  8.00 |
| Driving & Turning |  8.00 |
| Parking truck |  7.57 |
| Safety elements |  8.25 |
| General after test |  8.00 |
| Sustainability |  8.00 |
|   |   |
| Total average soft facts |  7.87 |
| Total productivity |  8.00 |
| Total Energy consumption |  7.00 |
IFOY Innovation Check
Marktrelevanz
Beim Jungheinrich EKX 514-516 handelt es sich um ein hoch entwickeltes Flurförderzeug für die weitverbreitete Lagerbedienung in Schmalgängen. Der erstmalige Einsatz eines von Jungheinrich selbst entwickelten Antriebsmotors nach dem bekannten Prinzip des Synchron-Reluktanzmotors verspricht Vorteile für den Gesamtenergieverbrauch des EKX 514-516. Er berücksichtigt die Anforderungen der Anwender, die den Einsatz des FFZ mit einer Batterieladung über zwei Arbeitsschichten ohne Ladevorgang anstreben. Hohe Anforderungen bestehen einerseits an die Produktivität beim Einsatz der Geräte und andererseits an die Funktionssicherheit in den schmalen Gassen der Regallagerung. Die Produktivität wird durch die quantitativen Tests nachgewiesen. Für die Funktionssicherheit hat Jungheinrich ein fortschrittliches System zur Schwingungsdämpfung entwickelt, das verbesserte Fahreigenschaften auf unebenen Böden durch eine Verhinderung und Dämpfung der Schwingungen des ausgefahrenen Mastes erzielt.
Mit seiner nach wie vor hohen Marktdurchdringung besitzt der Elektroschmalgangstapler mit Man‑up-Funktion sowohl für die Kommissionierung als auch zur Dreiseitenbedienung im Lager selbst und in der Vorzone eine hohe Relevanz. Die neu und weiter entwickelten Eigenschaften sind kohärent mit den Anforderungen der Anwender. Deshalb ist die Marktrelevanz des Gerätes insgesamt als sehr gut zu bezeichnen.
Kundennutzen
Der explizite Kundennutzen entsteht durch die besonderen Eigenschaften des Flurförderzeugs in schmalen Lagergassen. Sowohl die dabei erzielbaren hohen Fahrleistungen als auch die Vermeidung übermäßiger Pendelbewegungen versprechen einen guten Kundennutzen in Bezug auf den Umschlag, genauso wie die Energie- und damit verbundene Kosteneinsparung durch die konsequente Ausrichtung auf energiesparende Komponenten. Außerdem ist durch neue Funktionen der PSA der zeitgleiche Betrieb von mehreren derartigen Schmalgangstaplern in einer Gasse möglich. Realisiert wird dies über die Sicherheitssteuerung des Sensorherstellers.
Das Fahrzeug verfolgt das von Jungheinrich bekannte Konzept mit bewährten Bedienelementen und Diagnosefunktionen. Damit garantiert es auch impliziten Kundennutzen, der sich aus der Gleichheit der benannten Funktionen in der Flotte eines Herstellers ergibt. Insgesamt ist der Kundennutzen als sehr hoch einzustufen, da in dem Flurförderzeug die Funktionen zur Leistungserfüllung einerseits und die Energieeffizienz andererseits sowie die Funktionen der Sicherheitseinrichtungen sehr gut umgesetzt sind. 
Neuheits- / Innovationsgrad
Der Innovationsgrad ist sehr hoch, da eine derartige passive Pendeldämpfung quer zur Fahrtrichtung in  Schmalgangstaplern nicht bekannt ist. Die Umsetzung erfolgte zudem sehr kompakt, verbunden mit einer weiteren Funktion, die in den Dämpfungsmechanismus integriert ist. Außerdem erfolgte im Rahmen der Weiterentwicklung des bekannten Staplertyps auch noch eine Gewichtsreduktion am Mast, die der Ursache der Pendelbewegung entgegenwirkt.
Eine weitere Innovation besteht in der Form des Einsatzes des seit langer Zeit bekannten Prinzips der Synchron-Reluktanzmotoren. Erstmalig wurde dieses Motorprinzip für den EKX 514-516 in einem Serien-Flurförderzeug konsequent umgesetzt. 
Funktionalität / Art der Umsetzung
Rein technologisch sind die oben beschriebenen Innovationen und Funktionen gut umgesetzt. Beim Fahrtest zeigt sich die Wirksamkeit der Pendelvermeidung und -dämpfung eindrucksvoll. Die kompakte Realisierung dieser Dämpfungsfunktion ohne Längenzunahme an der Anbauplatte in Fahrtrichtung sowie die Integration einer in Richtung beider Gangseiten wirksamen Überschubeinrichtung zeigen die hohe Kompetenz von Jungheinrich für den Fahrzeugbau und auch speziell für diesen Fahrzeugtyp.
---
Marktrelevanz

++

Kundennutzen

++

Neuheits- / Innovationsgrad

++

Funktionalität / Art der Umsetzung

+

++ sehr gut / + gut / Ø ausgeglichen / - weniger / - - nicht vorhanden
---
Datenblatt
Gerätetyp
Elektro-Kommissionier-/Dreiseitenstapler EKX 516k
Technische Daten (alle Geräte)
| | |
| --- | --- |
| Antrieb | Elektro |
| Tragfähigkeit | 1.400, 1.600 kg |
| Eigengewicht | 7.900 kg |
| Bedienung | Sitz |
| Fahrgeschwindigkeit mit Last | 12 km/h |
| Fahrgeschwindigkeit ohne Last | 12 km/h |
| Hubgeschwindigkeit mit Last | 0,6 m/s |
| Hubgeschwindigkeit ohne Last | 0,6 m/s |
| Senkgeschwindigkeit mit Last | 0,5 m/s |
| Senkgeschwindigkeit ohne Last | 0,5 m/s |
| Max.Hubhöhe | 17.500 mm |
| Energieverbrauch nach VDI-Arbeitsspiel | kWh/h |
| Elektro-Trucks | |
| Batteriespannung | 80 V |
| Batteriekapazität | 930 Ah |
| Batterieanschluss | 320 |
| Batteriegewicht | 2.178 kg |
| Leistung Fahrmotor | 9,0 kW |
| Leistung Hubmotor | 25,0 kW |
| Schlepper | |
| Nennzugkraft | N |
| Kommissionierer/Kombigeräte | |
| Max. Greifhöhe | 16.530 mm |
Sonstiges
Es handelt sich um
Vollständig neues Modell
Datum der Markteinführung
01.03.2016
Datum des Produktionsstarts
01.12.2015
Konkurrenzprodukte
Still MXX
Linde K
Toyota BT C15
Innovationen
Effizienz:
Niedrigster Flottenverbrauch seiner Klasse sowie längere Einsatzzeiten dank neuester Synchron-Motoren-Technologie. Reduktion des Energieverbrauchs um 15 Prozent im Vergleich zum Vorgängermodell. 

Top-Leistungsdaten: Hubgeschwindigkeit bis 0,6 m/s, Schubgeschwindigkeit bis 0,5 m/s. Die maximale Hubgeschwindigkeit wurde um 20 Prozent von 0,5 m/s auf 0,6 m/s verbessert.

Höhere, bereits im Standard realisierte Grund- und Resttragfähigkeit (+100 kg) dank reduziertem Kabinengewicht durch intelligenten Leichtbau.
Neueste Technologie:
Neuartiges System zur Schwingungsdämpfung erhöht Sicherheit und verbessert Fahreigenschaften bei unebenen Böden. Dies ermöglicht bis zu 30 Prozent höhere Fahrgeschwindigkeiten.
Ergonomie:
Größeres Platzangebot und mehr Bewegungsfreiheit in der Kabine für jeden Fahrer dank neuestem Bedienkonzept.

Einfache, elektrisch verstellbare Anpassung von Neigung und Höhe des Bedienpultes.

Bequemes und schnelles Auf- und Absteigen durch den niedrigsten Einstieg seiner Klasse.
Flexibilität:
Optimale Anpassung an jegliche Einsatzanforderungen dank sechs individuell wählbarer Leistungsmodule.

Erhöhte Prozesssicherheit und Zeitersparnis im Palettenhandling durch sieben modular konfigurierbare Assistenzsysteme.

Flexible Erweiterung der Einsatzbereiche vom manuellen über den halbautomatischen bis hin zum vollautomatischen Betrieb.
Alle weiteren Details können dem angehängten 3D-Tool entnommen werden.
Hauptziele der Entwicklung
Zielsetzung des neuen EKX war die bessere Abdeckung aller Marktsegmente sowie das Absichern der Kundennutzenführerschaft, um den bestehenden Marktanteil Jungheinrichs auszubauen.
Hierfür wurde ein neues Plattformkonzept entwickelt, welches durch intelligente Modularisierung und eine möglichst weite Spreizung eine bedarfsorientierte Geräte-Spezifikation ermöglicht. Zudem sollte die Position als Innovationsführer der Intralogistik weiter ausgebaut werden. Hierzu zählen die weitere Reduzierung des Energieverbrauchs sowie der Einsatz neuer Technologien, wie zum Beispiel die neuartige Schwingungsdämpfung zur Verbesserung der Unempfindlichkeit gegen Bodenunebenheiten und der hochmoderne Fahrerarbeitsplatz.
Kundennutzen
Der wesentliche Vorteil des Entscheiders liegt darin, dass die neuartige Motorentechnik zusammen mit der Leichtbauweise eine nie dagewesene Energieeffizienz des Staplers ermöglicht. In der Praxis bedeutet dies: Zwei-Schichteinsätze ohne Batteriewechsel, eine 2Shift1Charge-Garantie und somit 7.000 € Einsparung pro Jahr. Ganz im Sinne der Industrie 4.0 ist das Fahrzeug mit moderner RFID-Ortung ausgestattet und kommuniziert mit dem Warenwirtschaftssystem des Kunden. Eine ganzheitliche Vernetzung mit dem IT-System des Kunden ist somit garantiert. Das erlaubt die Anbindung von Assistenzsystemen wie der Jungheinrich Lagernavigation, die eine 25-prozentige Erhöhung der Umschlagleistung im Lager ermöglicht.
Der Fahrer verfügt zudem über mehr Bewegungsfreiheit – insbesondere im Fußraum. Ein schalterloses Zweihand-Bedienkonzept sorgt für erhöhten Komfort und Sicherheit des Bedieners. Dreh- und Angelpunkt des Arbeitsplatzes ist das elektrisch verstellbare Bedienpult. Als zentrale Steuerungs- und Informationseinheit bietet es eine Vielzahl innovativer Leistungsmerkmale. Dazu gehören unter anderem ein Farbdisplay sowie eine Folientastatur mit Ziffernblock. Über einen Zugangscode kann der Bediener individuell angepasste Fahrerprogramme abrufen. So können die freiwählbaren Leistungspakete und Assistenzsysteme direkt angesteuert werden.
Sonderausstattung (IFOY Test-Gerät)
Induktivführung

Fahrzeugterminal und Handscanner

Leistungspaket "Lift Plus" für erhöhte Hubgeschwindigkeit.

Leistungspaket "Speed Profile Plus" für gewichtsabhängige Optimierung der Geschwindigkeitsprofile.

Leistungspaket "Floor Pro" mit System zur Schwingungsdämpfung.

Leistungspaket "Sideshift Plus" mit einem zusätzlichen Schubweg von 100 mm.

Assistenzsystem "Warehouse Navigation" für die halbautomatische Zielanfahrt.

Assistenzsystem "Operation Control" mit Anzeige des Lastgewichts im Display.

Assistenzsystem "PSS Plus" mit integriertem Personenschutzsystem.

Pick by Light - Kommissionierbeleuchtung, gesteuert durch die Lagernavigation, sodass bei Zielerreichung der Kommissionierbereich angeleuchtet wird.

Stack by Light - Kommissionierbeleuchtung, gesteuert durch die Lagernavigation, sodass bei Zielerreichung der Palettenplatz angeleuchtet wird.
EKX 516

Jungheinrich AG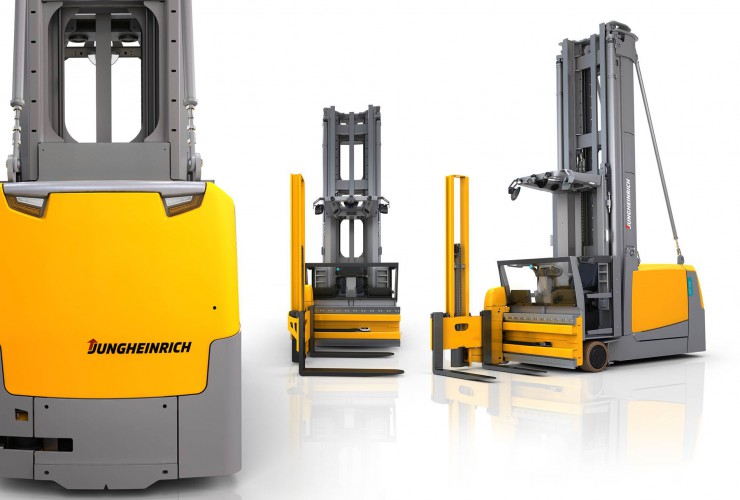 IFOY Category
Short Characteristic
Jungheinrich presents the new 80-Volt high rack stacker EKX series 5. It was exclusively developed for operation in very narrow aisles and can be used for loading and unloading pallets or pallet cages as well as for order picking individual items.
Very narrow aisle warehouses are designed to create highly optimized storage space by halving aisle widths, thus – in contrast to wide aisle warehouses – doubling the amount of pallets that can be accommodated on the same space. At the same time, the use of narrow aisle trucks allows for tripled lifting heights of up to 17,500 mm.
The EKX truck is a completely newly developed electric order picker/tri-lateral stacker. As a so-called man-up stacker, it lifts the load upwards with the driver to ensure flexible and safe operations. Compared to the previous model, the loading capacity increased by 100 kg to 1,600 kg, while the lifting height was raised by 0.5 m to a total of 17.5 m, thus rendering the EKX 514-516 benchmark in the market.
Besides the new and unmistakably striking design, the characteristics of the EKX include an intelligent lightweight construction, an innovative system for vibration damping as well as a new drive technology based on synchronous reluctance motors. These newly developed drive technologies by Jungheinrich constitute a quantum leap in terms of energy efficiency by reaching the highest possible efficiency level of IE3 in forklift operation.
---
| | |
| --- | --- |
| Truck Name |  Jungheinrich EKX 516 |
| Truck Type |  Combi Truck |
| Date of Test |  IFOY 2016 |
Test Report
With the introduction of the new EKX 5 series, Jungheinrich has raised the bar in the segment of high rack stackers. New motor technology, a state-of-the-art control concept and lightweight design generate further improvements in the area of energy efficiency, and an innovative concept dampens mast vibrations.
The new narrow aisle stacker can lift loads of up to 1,600 kg, 100 kg more than was previously the case in this segment. Maximum lifting height is 0.5 metres higher than the predecessor model at 17.5 metres.
The new machine is the first warehouse truck equipped with a new motor technology developed for the intralogistics sector – the synchronous reluctance motor. These motors use the power generated by a changing magnetic resistance (reluctance), and roughly 93 percent of the energy is converted into output – thereby halving energy losses. According to the manufacturer, this further reduces energy consumption by 15 percent compared to the predecessor model. In combination with the lightweight design of the cabin, this results in significantly improved energy efficiency. The targeted energy savings of 15 percent were not achieved in the IFOY test, however. The test team assumes that consumption will be lower in daily use following fine-tuning of the control system for the hydraulic functions. This was also confirmed by a comprehensive real-world trial comparing the predecessor model with the new EKX, in which the new EKX 516 was slightly more cost-efficient and 10 percent more productive.
Thanks to the improved energy efficiency, Jungheinrich is able to guarantee that the trucks can handle two-shift duty with just one battery charge without any problem. This renders spare batteries, changing stations, expensive tools and time-consuming personnel deployment unnecessary.
With the launch of the new EKX series, Jungheinrich presents the new, patented "Floor Pro" system for the dampening of mast vibrations for the first time. The system enables the user to work conveniently, safely and efficiently at heights of up to ten metres on non-optimum floor surfaces – also with an approx. 30 percent increase in speed. "Floor Pro" also protects the load and the truck, as it reduces vibrations and therefore the risk of damage. This in turn means less frequent servicing and maintenance. The mast movements are noticeably smoother, and the truck has a powerful feel.
When working on floors that are not absolutely flat and that are not really suitable for the use of high rack stackers, the optional Floor Pro module significantly reduces mast and cabin sway, which means the truck can also be used in a wider range of different warehouse zones.
The new EKX 516 has various modules for process optimisation in the warehouse to promote efficiency of use. These include warehouse navigation and RFID as well as height and distance measurement. WMS orders can be sent wirelessly to the truck terminal via the Jungheinrich logistics interface. As in the predecessor machine, the interface translates the commands and forwards the information directly to the vehicle control system. The truck is aware of its current position and the position of the next job. It automatically identifies the most efficient diagonal route, and all the driver has to do is drive off.
In addition, the EKX boasts a spacious cabin with well-arranged control panels and ample storage space for work and personal items.
IFOY Test verdict:
With the new EKX, Jungheinrich has improved its top product in the high rack segment. The new technology saves energy, and thanks to Floor Pro the narrow aisle stacker can also be used effectively on uneven warehouse floors. The EKX 516 achieves maximum efficiency when used in combination with a warehouse navigation system.
Hard Facts
 
Test Truck IFOY Test
Average other trucks
Value 1 to 10
Productivity Max mode (Pallets / 8 hrs)
 339.23
 309.93
 8
Productivity Eco mode (Pallets / 8 hrs)
 N/A
 N/A
 
Energy level Max mode (kWh / 100 plts)
 13.3
 13.4
 7
Energy level Eco mode (kWh / 100 plts)
 N/A
 N/A
 
Driving speed with load (km/h)
 10.4
 10.4
 
Lifting speed with load (cm/s)
 57.5
 52
 
Swivel speed (Left to right)
 11.1
 10.3
 
 
 
 
 
Other trucks
 Jungheinrich EKX 515
 

Test on 60+30 m drive and 9.2+6.6 m lift and 500 + 1000 kg

 
Averages soft facts
| | |
| --- | --- |
| First impression |  8.40 |
| Load Safety |  6.50 |
| Entry to truck |  7.29 |
| Seat & Sit position |  8.00 |
| Legg Space |  8.50 |
| Activate truck |  8.50 |
| Hydraulics |  7.75 |
| Steering |  7.71 |
| Sight |  7.50 |
| Driving acceleration |  8.00 |
| Driving braking |  8.00 |
| Driving & Turning |  8.00 |
| Parking truck |  7.57 |
| Safety elements |  8.25 |
| General after test |  8.00 |
| Sustainability |  8.00 |
|   |   |
| Total average soft facts |  7.87 |
| Total productivity |  8.00 |
| Total Energy consumption |  7.00 |
IFOY Innovation Check
Market Relevance
The Jungheinrich EKX 514-516 is a highly developed industrial truck for the extremely common activity of storing goods in narrow aisles. The first-time use of the Jungheinrich-developed drive motor based on the familiar synchronous reluctance motor principle has benefits in terms of the overall energy consumption of the EKX 514-516. It takes account of the needs of users, who aim to deploy the truck over two working shifts with one battery charge. There are high demands not only on productivity when using these machines but also with regard to functional safety in the narrow lanes that are part and parcel of shelf storage concepts. Productivity levels were confirmed in the quantitative tests. When it comes to functional safety, Jungheinrich has developed an advanced system for vibration damping that ensures improved handling on uneven flooring by preventing and cushioning the vibrations of the extended mast.
Thanks to its persisting high level of market penetration, the electric narrow aisle forklift with man‑up function is of major relevance both for order picking and for three-sided operation in the warehouse itself as well as in the pre-storage area. The new and optimised properties meet the requirements of users, and the market relevance of the machine can therefore be described as very good overall.
Customer Benefit
The explicit customer benefit derives from the special properties of the truck in narrow warehouse aisles. Both the achievable high driving performance and the avoidance of excessive oscillating motions promise a good customer benefit in terms of transshipment, as do the savings in energy and hence costs due to the systematic use of energy-efficient components. Moreover, the new functions of the PSA allow simultaneous operation of multiple narrow aisle stackers of this type in a single lane. This is made possible by a safety control system of the sensor manufacturer.
The vehicle falls in line with the familiar Jungheinrich concept of tried-and-tested control elements and diagnosis functions. It therefore also provides an implicit customer benefit in the form of the uniformity of the said functions within the context of a fleet from the same manufacturer. Overall, the customer benefit is to be described as very high, as the performance-related functions, the energy efficiency features and the functionality of the safety devices have been implemented in an excellent fashion.
Degree of Novelty / Innovation
The degree of innovation is extremely high, as this kind of oscillation damping in a direction transverse to the direction of travel was previously unknown in narrow aisle stackers. The implementation concept is also extremely compact and is combined with a further function integrated in the cushioning mechanism. In addition, the further development of this known truck type also included weight reduction at the mast, and this further helps to counteract the oscillations.
A further innovation is the way in which the familiar principle of the synchronous reluctance motor is employed. The EKX 514-516 is the first time that this motor principle has been systematically implemented in a series-produced industrial truck.
Functionality / Type of Implementation
In purely technological terms, the aforementioned innovations and functions have been well implemented. The oscillation avoidance and cushioning feature was impressively demonstrated during the field test. The compact implementation of this damping function without any increase in length of the mounting bracket in the direction of travel and the integration of a transfer device active on both sides of the aisle underline the expertise of Jungheinrich in the field of vehicle design and specifically as regards this type of machine.
---
Market relevance

++

Customer benefit

++

Degree of novelty / innovation

++

Functionality / Type of implementation

+

++ Very Good / + Good / Ø Balanced / - Not so good / - - Not present
---
Data Sheet
Truck Model
Electric order picker/tri-lateral stacker EKX516k
Technical Data (all trucks)
| | |
| --- | --- |
| Truck Type | electro |
| Lift capacity/load | 1.400, 1.600 kg |
| Truck weight | 7.900 kg |
| Operation | seated |
| Driving speed with load | 12 km/h |
| Driving speed without load | 12 km/h |
| Lifting speed with load | 0,6 m/s |
| Lifting speed without load | 0,6 m/s |
| Lowering speed with load | 0,5 m/s |
| Lowering speed without load | 0,5 m/s |
| Max. lift height | 17.500 mm |
| Power consumption according to VDI cycle | kWh/h |
| Electro-trucks | |
| Battery voltage | 80 V |
| Battery capacity | 930 Ah |
| Battery connector | 320 |
| Battery weight | 2.178 kg |
| Drive motor | 9,0 kW |
| Lift motor | 25,0 kW |
| Tow Truck | |
| Nominal towing capacity | N |
| Orderpicking/Combitrucks | |
| Max. picking height | 16.530 mm |
Miscellaneous
This model is a
Newly developed model
Date of rollout
2016-03-01
Start of series production
2015-12-01
Competitive products
Still MXX
Linde K
Toyota BT C15
Innovations
Efficiency:
Lowest fleet consumption in its class and longer operating times due to the latest synchronous motor technology.

Top performance: Maximum lifting speed was increased by 20 percent from 0.5 m/s to 0.6 m/s, traverse speed up to 0.5 m/s. 

Higher, already standardized base and residual load capacity (+100 kg) thanks to reduced truck weight using intelligent lightweight construction.

Latest technology

The new system for vibration damping increases safety and improves handling on uneven floors. This allows a 30-percent higher driving speed.
Ergonomics:
More cabin space and more freedom of movement for each driver thanks to the latest operating concept.

Easier, electrical height and tilt adjustment of the control panel.

Convenient and quick climbing into and off the truck due to the lowest entry in its class.
Flexibility:
Optimum adaptation to any application requirements thanks to six individually selectable performance modules.

Increased process reliability and time saving in pallet handling through seven modular configurable assistance systems.

Flexible expansion of the application areas from the manual to the semi- and fully automatic operation.
For further details please refer to the attached 3D tool.
Main goals for development
The new EKX's objective was to ensure better coverage of all market segments and secure our leadership of customer benefits, in order to expand Jungheinrich's current market share.
For this purpose, a new platform concept was developed, which facilitates demand-oriented customization thanks to intelligent modularization and high variant diversity. Additionally, the new EKX is supposed to advance our position as intralogistics innovation leader. This entails a further reduction of energy consumption and the use of new technologies, such as the novel vibration damping system for improved compensation of unevenness on the floor as well as a ultra-modern, ergonomic workplace.
User benefits
The main advantages for decision maker are that the new motor technology, together with the lightweight design that allows an unprecedented energy efficiency of the truck. In practical terms this means: two-shift operations without battery change, a 2Shift1Charge guarantee and thus cost savings of € 7,000 per annum. In line with the "Industry 4.0", the vehicle is fitted with modern RFID technology, communicating with the customer's ERP system. An integrated connection to the customer's IT system is also guaranteed. This allows the connection of assistance systems such as the Jungheinrich Warehouse Navigation, which facilitates a 25-percent increase in the warehouse's handling capacity.
The driver also benefits from more freedom of movement - especially in the footwell. A switchless two-handed operating concept ensures increased comfort and safety of the operator. Lynchpin of the workplace is the electrically adjustable control panel. As the central control and information unit, it offers a variety of advanced features. These include a color display and a membrane keyboard with numeric keypad. Via access code, the operator can retrieve individually adjusted drive programs. Thus, the freely selectable performance modules and assistance systems can be directly controlled.
Optional items (IFOY Test Truck)
Inductive guidance system

Radio data terminal and laser scanner 

Performance module "Lift Plus" for increased lifting speed. 

Performance module "Speed Profile Plus" for weight dependent optimization of speed profiles.

Performance module "Floor Pro" with vibration damping system.

Performance module "Sideshift Plus" with an additional reach path of 100 mm.

Assistance system "Warehouse Navigation" for semiautomatic operation. 

Assistance system "Operation Control" with notification of load weight on the display. 

Assistance system "PSS Plus" for an integrated personal protection system.

Pick by Light – order picking lights, controlled by the Warehouse Navigation for illumination of the order picking area. 

Stack by Light - order picking lights, controlled by the Warehouse Navigation for illumination of the pallet space.